Download Latest Version
This version of BlueStacks is obsolete and no longer supported. We recommend you to download the latest version. For any other queries please refer to
this link.
This tutorial is based on BlueStacks version 2.6.100.6363.
You might get issue while logging into BlueStacks account when Korean keyboard is enabled.
When you type in your password, you need to make sure the IME ("A" in English as shown in the image below) is selected. If letter "A" is not there, click on

 icon present on the task bar and it will change to letter "A".  Now enter your gmail password and proceed to the next step by clicking on forward arrow.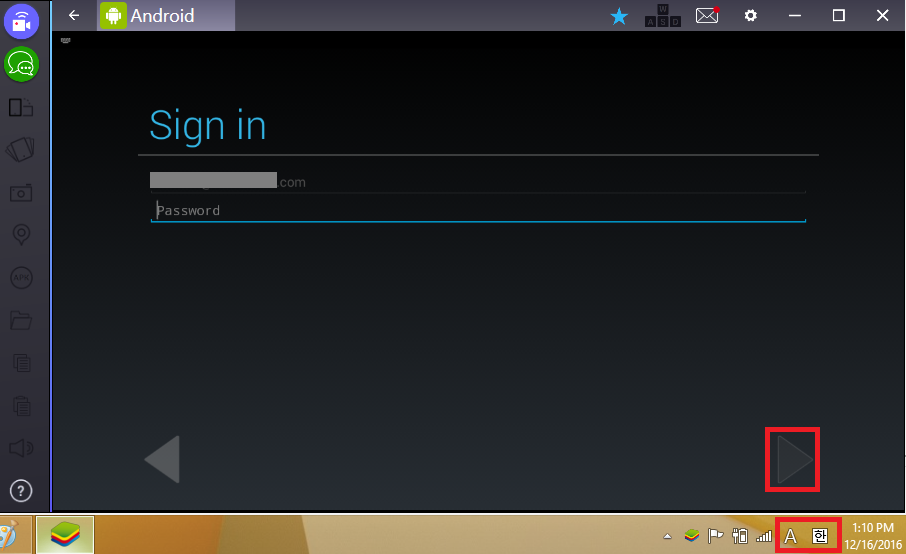 If this doesn't work, type your password on any editor (notepad/sticky notes etc.) after toggling to letter "A" , copy the text and paste on password field provided on BlueStacks login screen.
OR
You can add an "English" language keyboard from Control Panel and use it to type in your password on BlueStacks login screen.
Please refer this URL to change keyboard language:
https://bluestacks.zendesk.com/hc/en-us/articles/207280666-Changing-Keyboard-language-layout-on-BlueStacks
For further details, please contact us at support@bluestacks.com.