Download Latest Version
This version of BlueStacks is obsolete and no longer supported. We recommend you to download the latest version. For any other queries please refer to
this link.
We are glad to introduce the new controls in BlueStacks 3 to enhance overall gaming experience while playing MOBA and shooting games.
Please follow the steps given below to assign key-mappings:-
1. Launch the app and click on 'keyboard' on tool bar at the bottom to launch key mapping tool.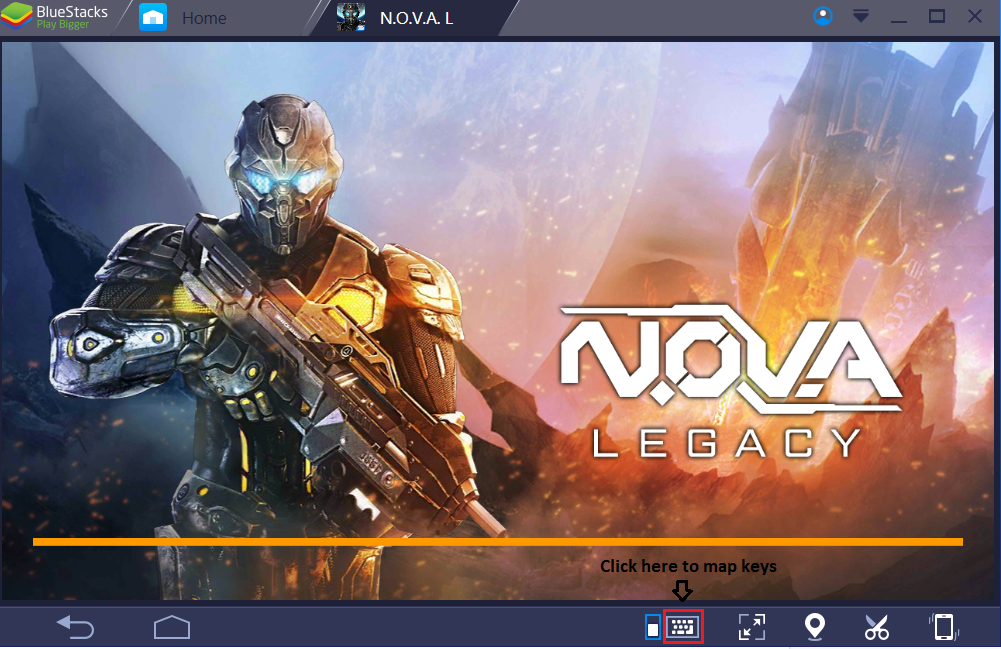 For games in which key-mapping is already defined, you will get a pop-up with the game instructions and an option to choose between MOBA mode and WASD mode.
In MOBA mode, the movement control is assigned to the mouse and in WASD mode, it is assigned to the W,A,S,D keys.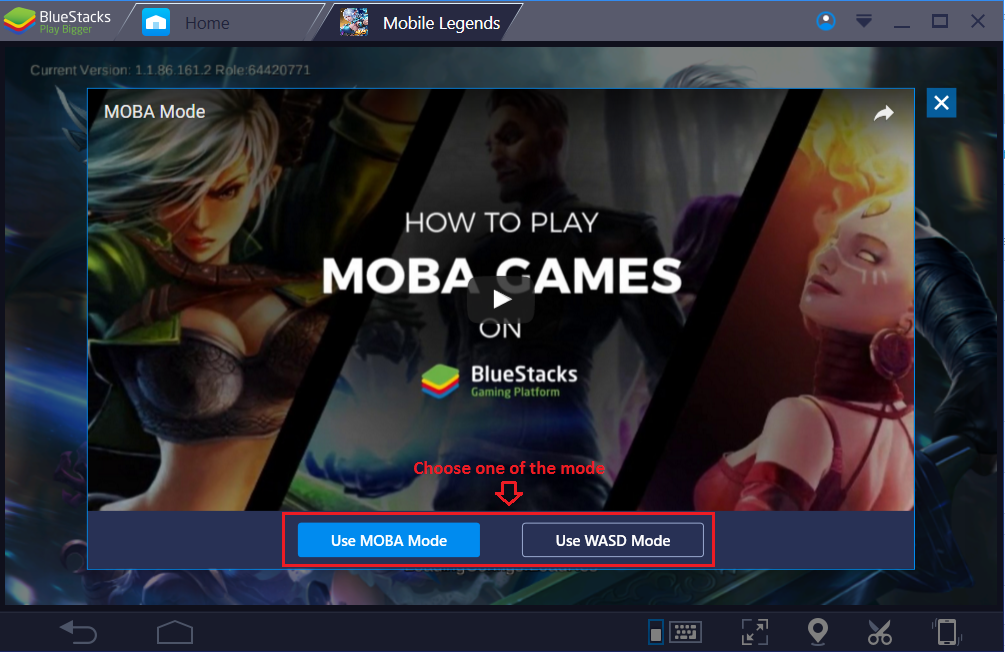 2. The key mapping tool will be enabled. You may assign different controls according to the functions within the game play. However, these controls will work only if it is supported within the app.
Spell/Skill : As the name suggest it is used to cast a spell or use a skill. Drag and place on a spell/skill button to assign a key.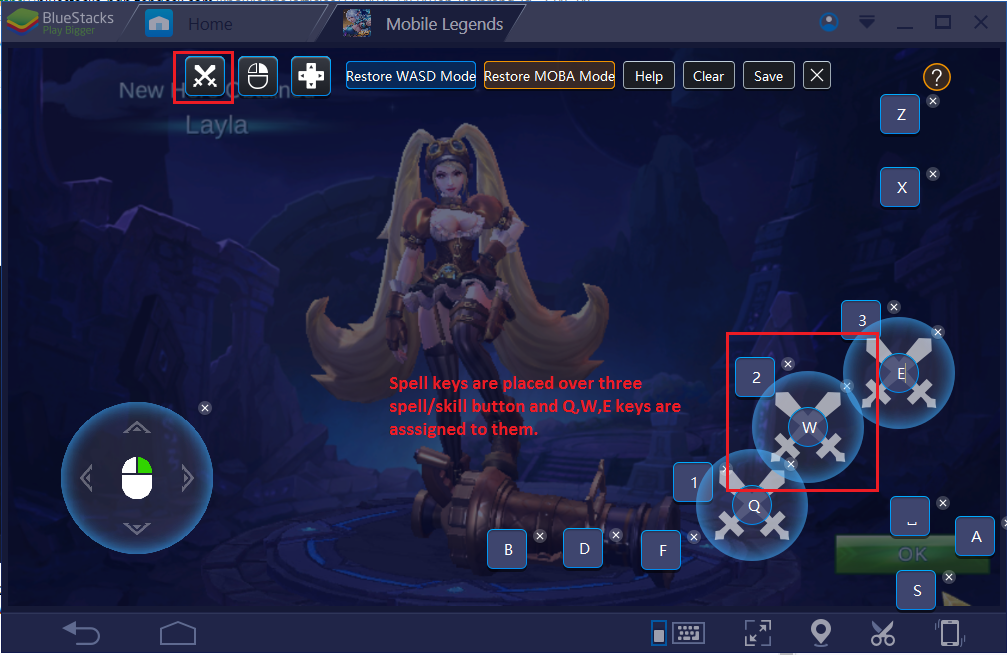 You can also set a spell direction by left clicking the mouse button after casting a spell.
Mouse Control : Drag a place on the movement keys spot/controller located on the screen. Use mouse right click to move the character freely in any direction.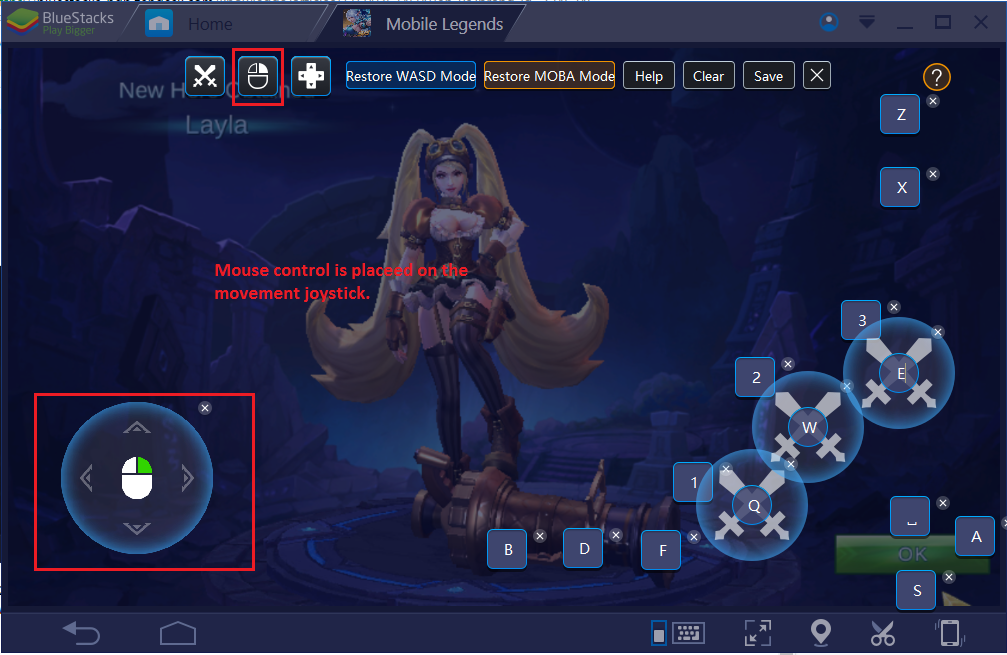 D-pad : You can also use keyboard for movement control. Drag the D-pad on the joystick control. By default, keys W,A,S,D is assigned for the up,left,down,right movement respectively. However, you may assign any key which have not been assigned.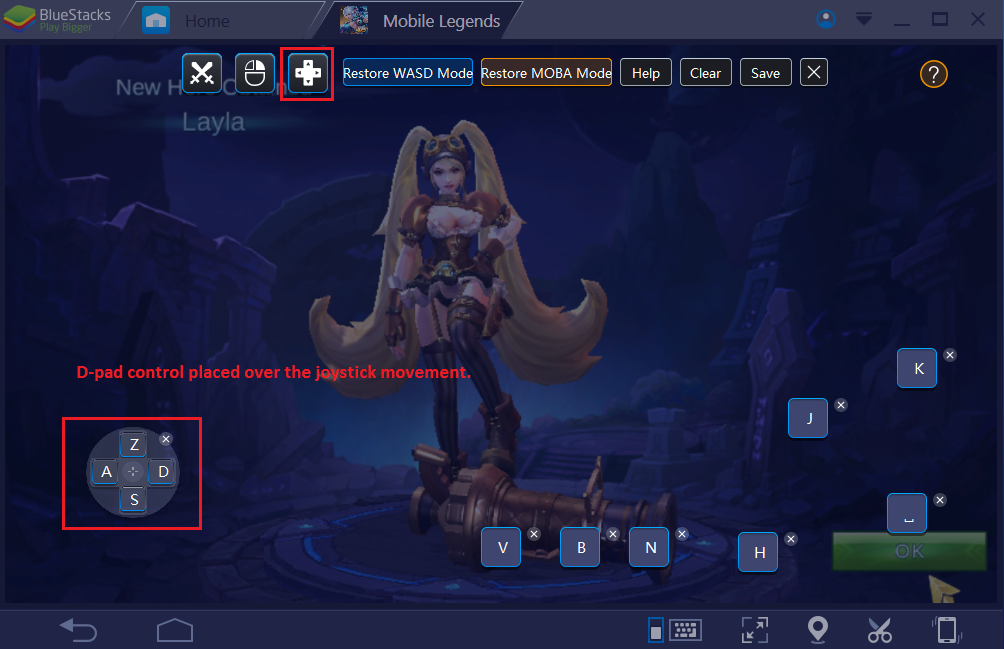 Shooting Controls:- New controls have been introduced to play shooting games through mouse. It includes:-
Cross-hair:- Drag this control to the cross-hair with in the game. Use the mouse to aim the target and right click to release the control.
Shoot :- Drag this control over the button used for shooting. Use mouse left click to shoot.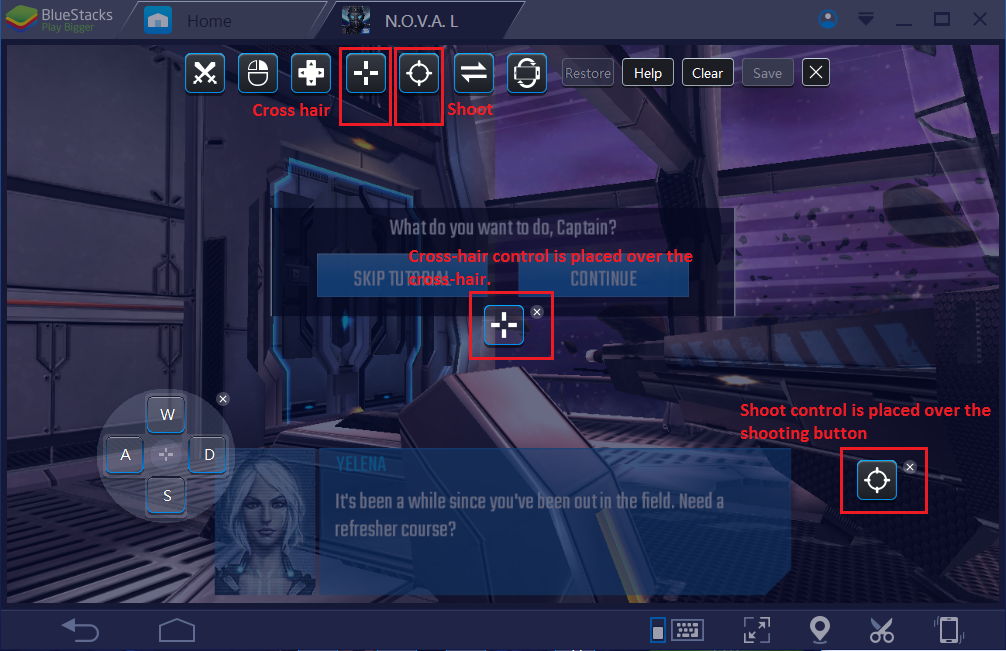 Swipe : Click on Swipe icon to assign keys for swiping/sliding in four different directions.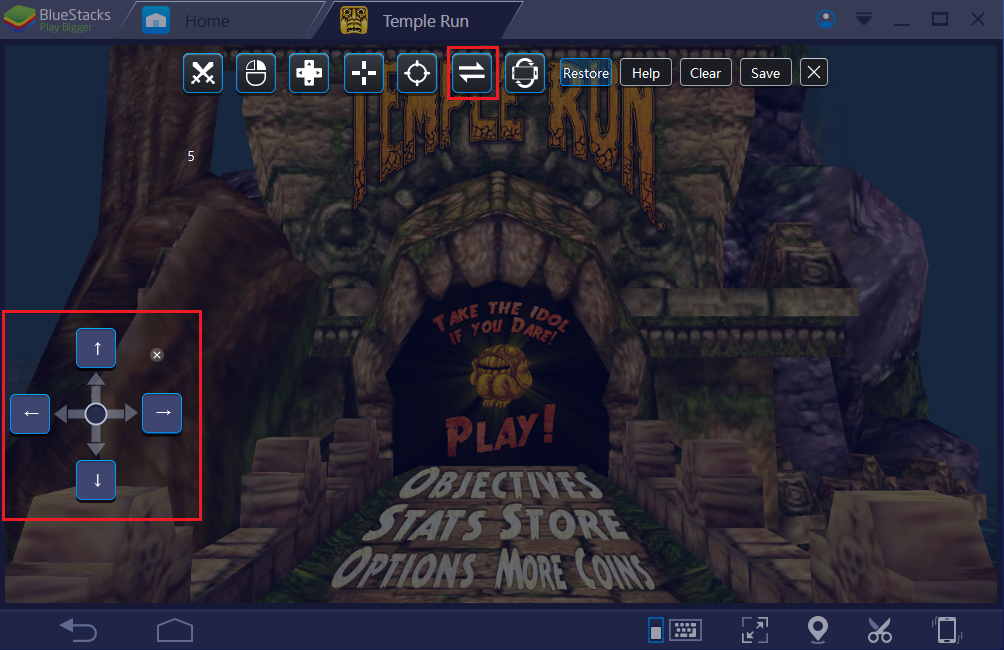 Accelerometer : For accelerometer control, click on the accelerometer icon and assign keys to the direction of tilt. There are four directions supported and you may map them as needed. You may also set the sensitivity of the tilt functions i.e. the degree of tilt.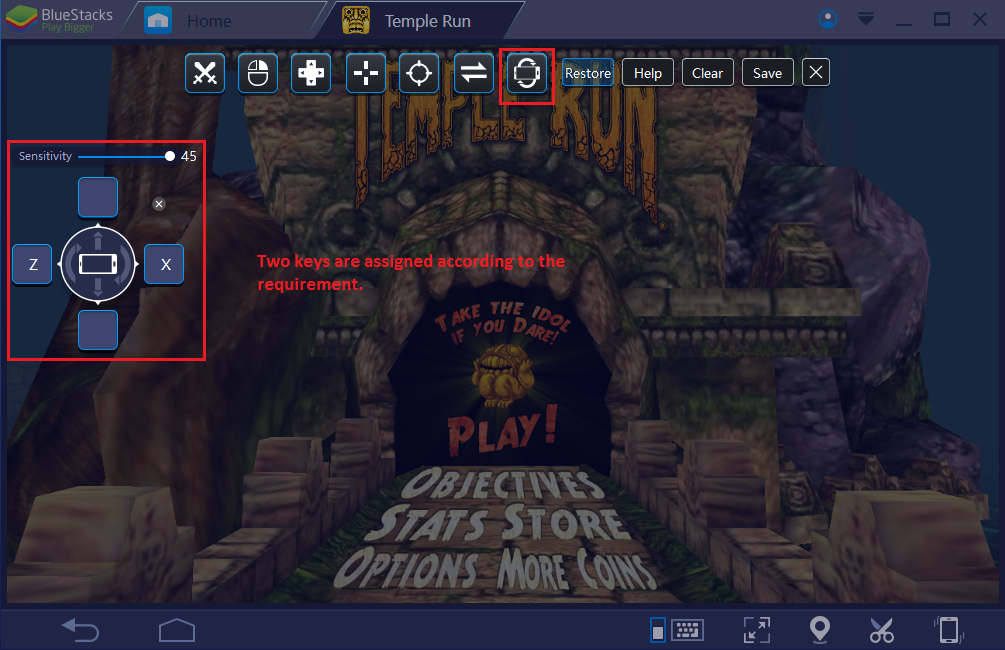 Tap : To tap/click at any point on the app. It can also be used for skill. Click on the place where you want to assign a key.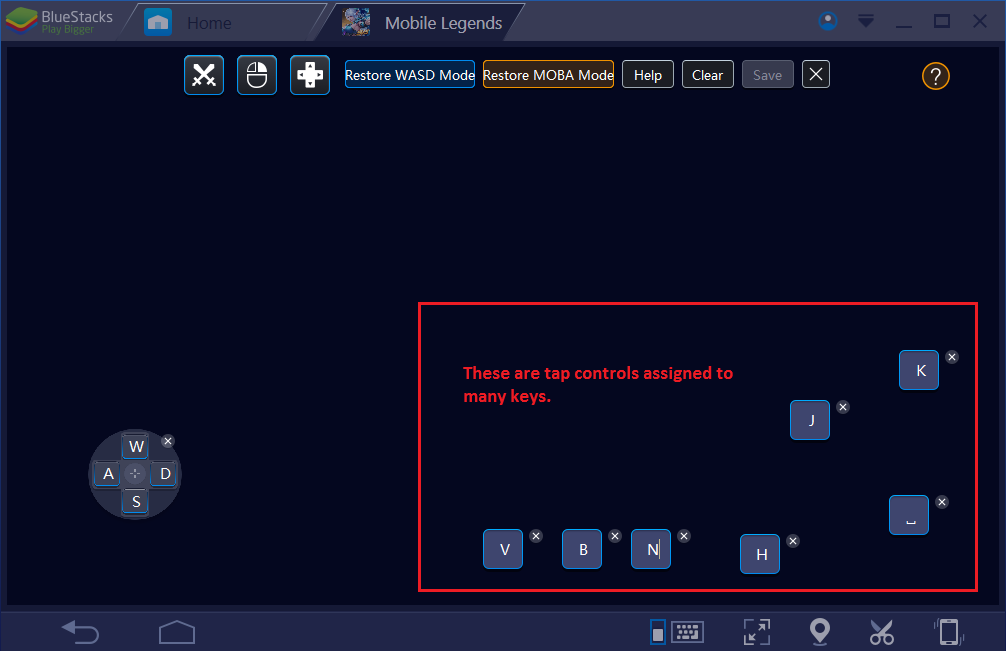 Other Controls:- It includes six different controls, these are:-
Save :-Always make sure to click on save after making changes to key-mappings.
Restore :-Click on it to restore the default key-mapping for the game. For games with MOBA mode, there would be two restore controls , one for each MOBA mode and WASD mode.
Clear :- It will delete pre-assigned key-mappings.
Help :- Click on it to check the Key-mapping instructions. In some games there would be an icon with "Question Mark", for the same purpose.
Cross :-An icon with 'X' , click on it to exit the key-mapping tool.
Toggle :- If you need to use the in-game keyboard to type, toggle to switch off the key-mappings.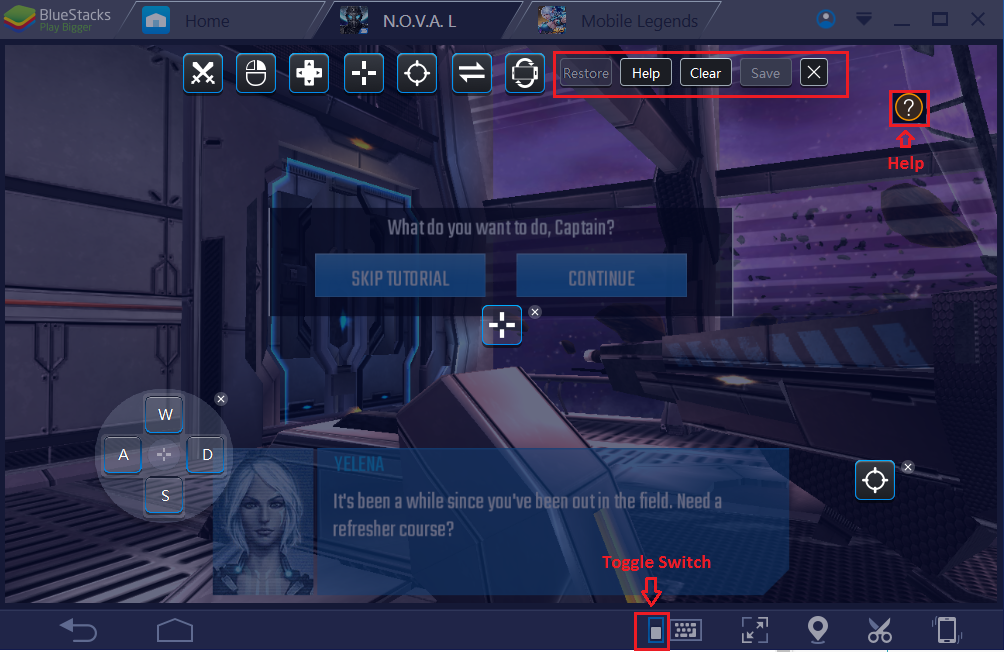 If you are still unable to map key for your app, please raise a ticket on Zendesk with subject "Key mapping required for <app name>". Also provide the link for the app in the body of the ticket & our support team will take care of your issue.
Also if you wish to get gaming console mapped for any app please raise a ticket on Zendesk similarly with subject "Key mapping required for <app name>". However this might not be possible for all apps.
If you have any further questions, please email support@bluestacks.com