Download Latest Version
This version of BlueStacks is obsolete and no longer supported. We recommend you to download the latest version. For any other queries please refer to
this link.
Purpose
To acquaint you with the new, comprehensive "Settings" menu for BlueStacks 3.
Benefits
The new Settings menu provides a central place for managing your preferences.
BlueStacks Versions affected
Client version: 3.7.34.1574 and above
Engine version: 2.10.37.8272 and above
Audience
All the users of BlueStacks 3.
Geo's affected
All Geo's
Steps:
Click on the Settings drop-down icon available on the top-bar on the right hand upper corner as shown below.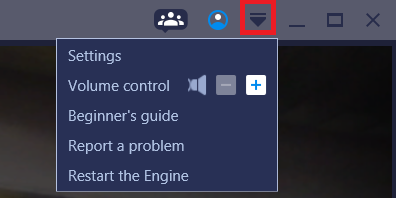 You will be able to customize BlueStacks 3 to suit your needs.
1. Settings: The details are described in How to use BlueStacks 3 Settings?
2. Volume Control: This allows you to adjust the volume of BlueStacks, clicking on the "+" and "-" buttons, you can increase and decrease the volume respectively.
3. Beginner's Guide: This will walk you through an introductory tutorial of some of the key features of BlueStacks 3.
4. Report a problem: You can easily report any issue you're experiencing on BlueStacks 3. You can find more details in How to report a problem in BlueStacks 3.
5. Restart the engine: On Click, "Restart the engine", it will restart BlueStacks' Android.
We genuinely appreciate your choosing BlueStacks. We hope you enjoy using it. If you have any further questions, please contact us at support at bluestacks dot com. Thank you very much.
Last updated on August 2, 2017.