Download Latest Version
This version of BlueStacks is obsolete and no longer supported. We recommend you to download the latest version. For any other queries please refer to
this link.
Purpose
This article will outline the options you have and the steps you can follow for upgrading from your current version of BlueStacks to the latest BlueStacks powered by N.
Benefit
Users will experience new capabilities, improvement in performance, greater robustness, stability and ease of use.
BlueStacks versions affected
Client version: 4.0.1.90 and above. 
Engine version: 4.2.1.9717 and above.
Audience
All users of BlueStacks.
Geo's affected
All Geo's
Steps
To acquaint you with three options for upgrading from your current BlueStacks version to the latest version of BlueStacks 3N.
1) Upgrade to  BlueStacks 3N while preserving all data present on your current version.
If you are using any BlueStacks version older than 3.7.44.1625 please download and install this URL version first. That installation will cause your current version to be upgraded to version 3.7.44.1625. Once the upgrade is complete, as a follow-on step, please install our latest release from www.bluestacks.com
In case you are trying to install our latest version directly, without the intermediate installation of  BlueStacks version 3.7.44.1625, you will shown a popup as in the following illustration.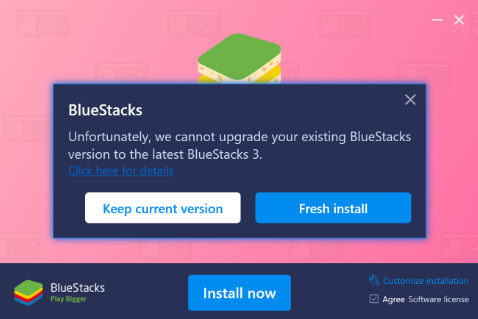 Note: You may choose any of the option mentioned in the popup and proceed accordingly.
2) Upgrade to BlueStacks 3N while losing all data present on your current version.
If you are using any older versions of BlueStacks and wish to install the latest version directly, without an intermediate upgrade to 3.7.44.1625 as recommended in the above step, your BlueStacks data will not be preserved and will not be recoverable - you will lose that data. You will first have to uninstall the current BlueStacks version. You may now download and directly install BlueStacks  www.bluestacks.com
3) Keep using your installed version
You may choose to keep using the version of BlueStacks that is already installed on your PC, in which case, you will unfortunately not be able to enjoy the benefits our latest version provides.
We genuinely appreciate your choosing BlueStacks. We hope you enjoy using it. If you have any further questions, please contact us at support at bluestacks dot com. Thank you very much.
Last updated on 12th January, 2017.