Purpose
This article describes how you can earn 1000 free Pika Points when you  refer BlueStacks 3 to your friends via Facebook, messenger, and Twitter, and your friends install and use BlueStacks 3. You can earn free stuff by redeeming the Pika Points for any of the rewards that are available currently.
Benefits
You can earn thousands of Pika Points by just inviting your friends to play games on BlueStacks 3. You can redeem these Pika Points for interesting rewards we offer time to time, such as e.g. T-shirt, gaming gear, new and colorful BlueStacks themes, Google Play gift cards and many other exciting goodies.
Audience
Regular users of BlueStacks 3 who are interested in earning rewards in addition to their gameplay.
BlueStacks versions affected
Client version: 3.52.66.1905 and above
Engine version: 2.52.66.8704 and above
Geo's affected
Available in the US as of now.
Steps
1. Click on the 'Account' or 'Pika Points' button on the top bar to access the  'Free stuff' tab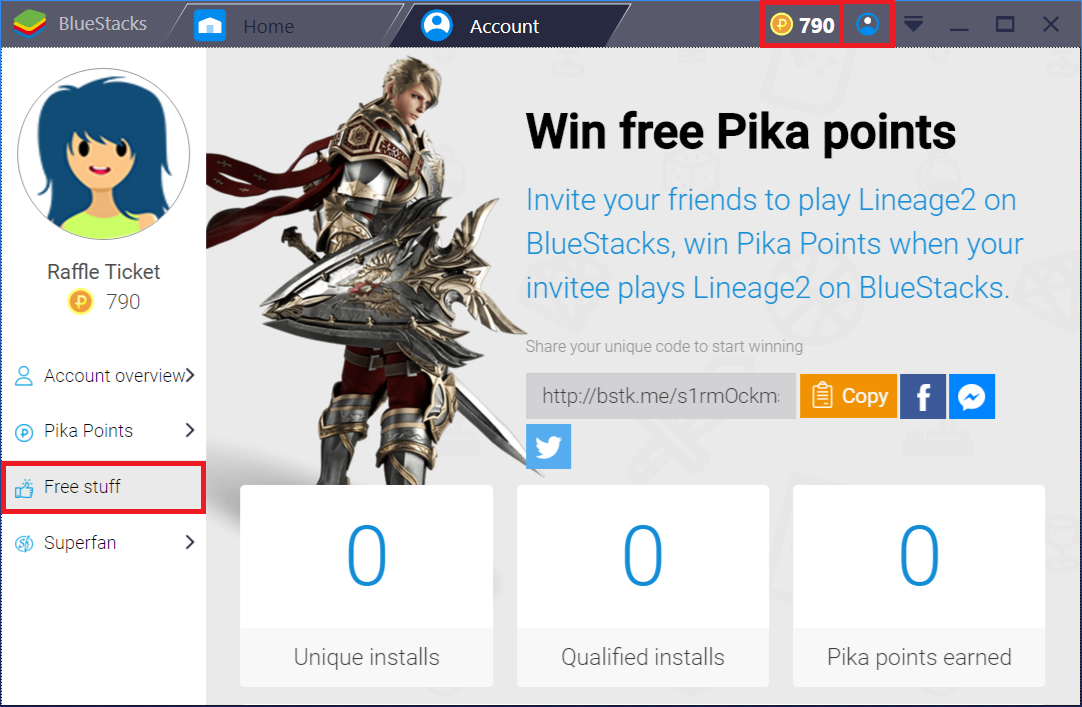 2. Click on 'Copy' button, to highlight the unique code, which is actually a BlueStacks 3 download link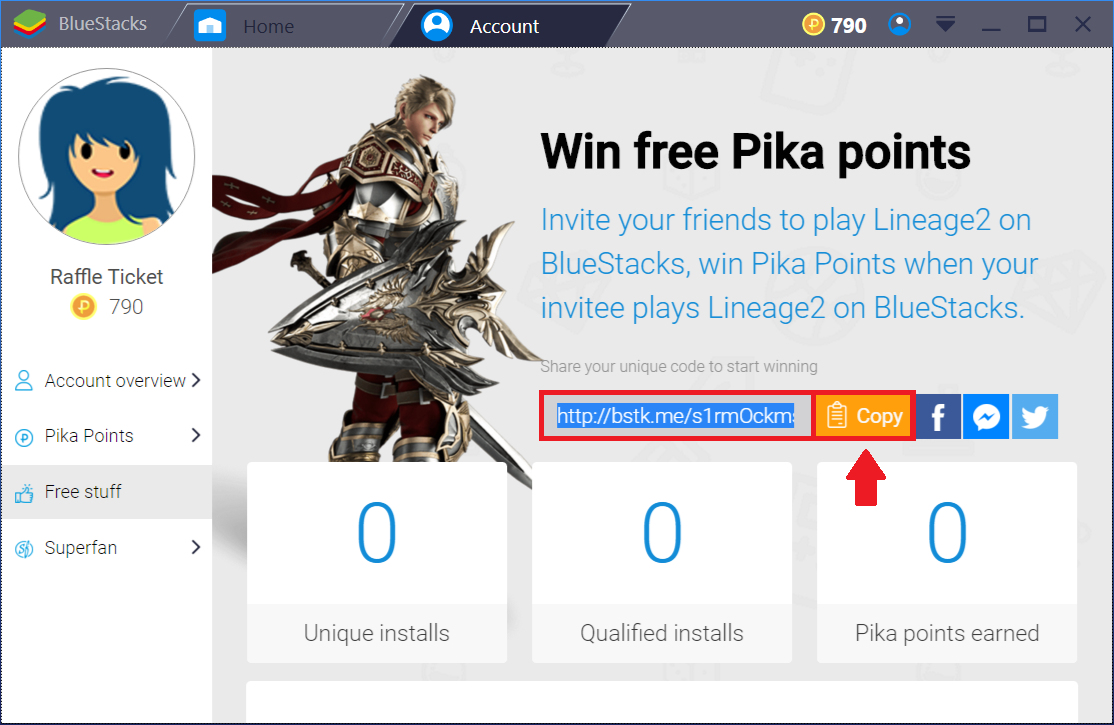 3. Now click on any social media icon (Facebook, Twitter, and messenger) through which you want to share your unique code. Upon clicking these icons, BlueStacks will redirect you to the respective social media website on the default browser of your PC.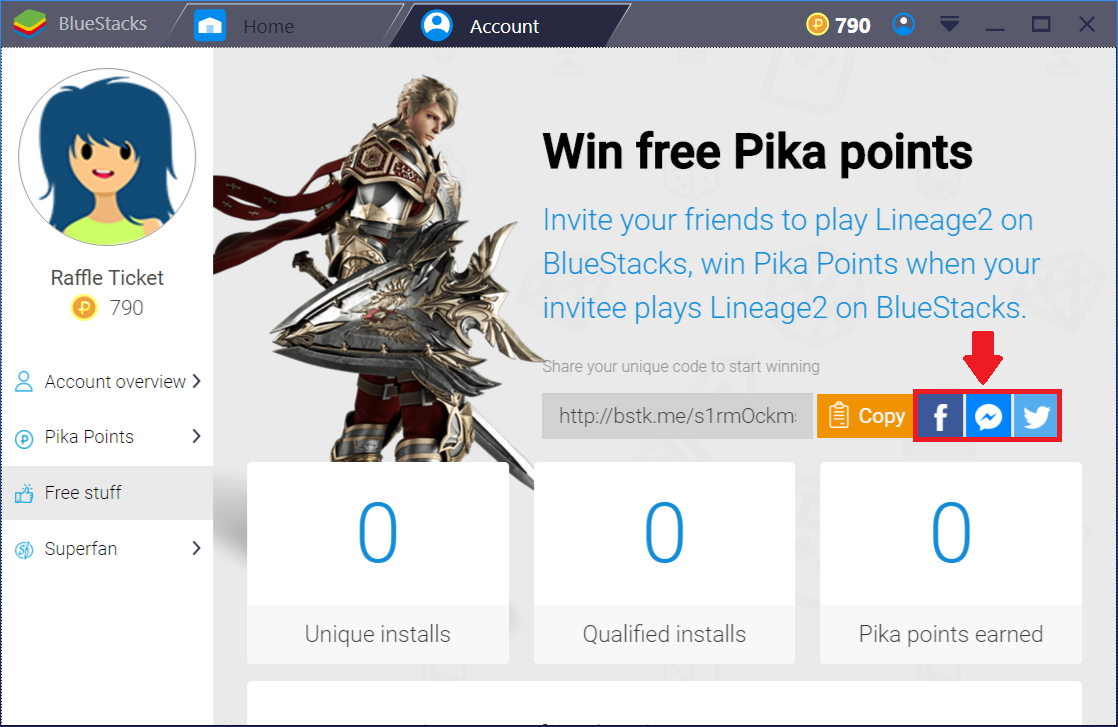 4. When your friends use your link for installing that game (and  BlueStacks 3) on their PC,  create a BlueStacks account and being playing that game, it will be treated as Qualified Install and you will earn 1000 Pika Points.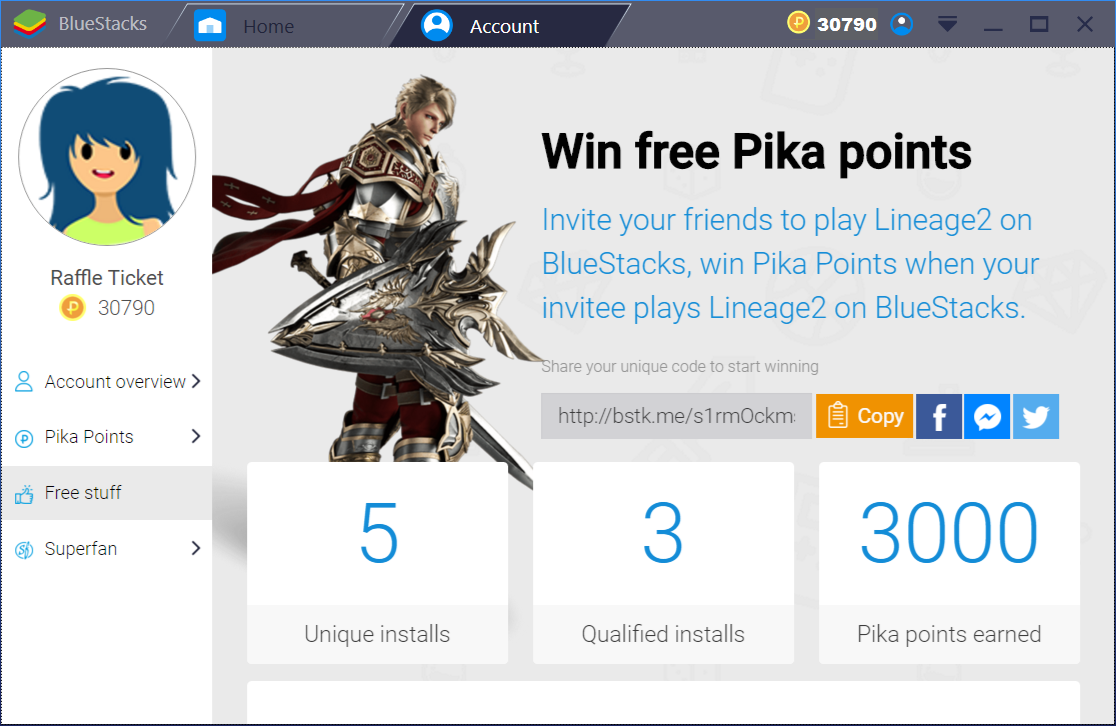 You may redeem the free points you have earned for any of the rewards that being offered currently.
We genuinely appreciate your choosing BlueStacks. We hope you enjoy using it. If you have any further questions, please contact us at support at bluestacks dot com. Thank you very much.
Last updated on December 14th, 2017.