Download Latest Version
This version of BlueStacks is obsolete and no longer supported. We recommend you to download the latest version. For any other queries please refer to
this link.
Purpose
This article will guide you to 
select
appropriate engine settings to play Black Desert Mobile on BlueStacks.
Benefits
All users who wish to play Black Desert Mobile and other games that can benefit similarly from employing the Advanced Graphics Mode.
Audience
Users who wish to play Black Desert Mobile on BlueStacks.
BlueStacks versions affected
Client version: 4.0.3.168 and above
Engine version: 4.2.5.2318 and above
Geo's affected
All Geo's where the game is available.
Steps:
Black Desert Mobile is currently available on BlueStacks 3N  only and requires advanced graphics settings to launch.
You can install BlueStacks 3N  from our official website www.bluestacks.com. Post installing BlueStacks N on your machine, you may search for Black Desert Mobile on Play Store.
Once you install the game, BlueStacks may inform you that the game requires advanced graphics engine as shown in the screenshot below.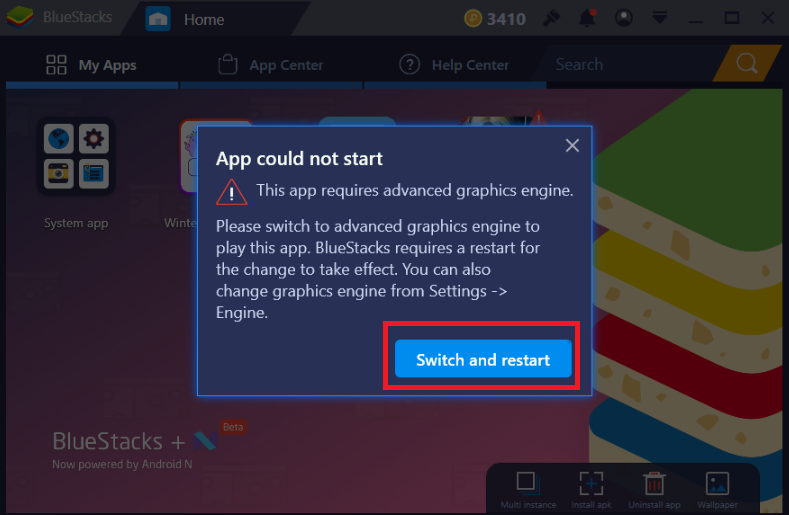 Clicking on the tab "Switch and restart" will enable this option and restart BlueStacks. Now you can launch the game again and start playing.
To switch between available graphics modes, you may refer to this article.
We genuinely appreciate your choosing BlueStacks. We hope you enjoy using it. If you have any further questions, please contact us at support at bluestacks dot com. Thank you very much.
Last updated on February 22nd, 2018.