Download Latest Version
This version of BlueStacks is obsolete and no longer supported. We recommend you to download the latest version. For any other queries please refer to
this link.
Purpose
This article will guide you on using Shuffle for BlueStacks 3 Quests.
Benefits
If you are experiencing an issue with installing any games to be played for BlueStacks Quests, you can press the Shuffle button to find another game. It provides a fair chance to participate in the BlueStacks Quest.
Audience
Everyone who participates in BlueStacks quests.
BlueStacks versions affected
Client Version:
3.56
.
76.1867
and above.
Engine Version: 2.56.77.1326 and above.
Geos affected
All Geos where BlueStacks Quest is available.
How can you shuffle?
We have introduced the shuffle game feature which lets the user change the game that is shown on BlueStacks Quest.
Click on the shuffle game button as shown in the image below.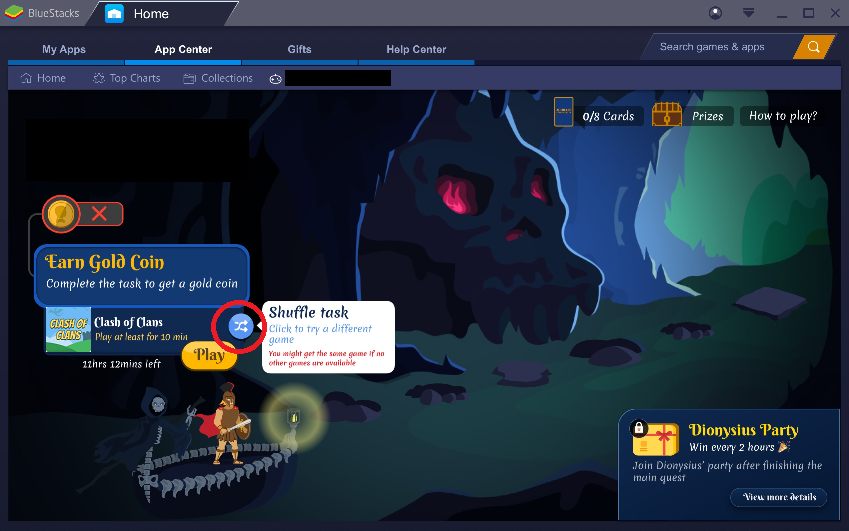 You should be able to select a different game from the originally suggested one.
When should you shuffle?
You may Shuffle if you see "This app isn't available in your country" while installing a game shown on BlueStacks Quest.
We genuinely appreciate your choosing BlueStacks. We hope you enjoy using it. If you have any further questions, please contact us at support at bluestacks dot com. Thank you very much.
Last updated on April 11th, 2018.