How will this help?
BlueStacks offers a variety of settings for you to customize according to your preferences. This article will acquaint you with these settings and show you how to use them.
---
What's new in the Settings Menu?
You can now find the performance settings at the top under the Engine tab, for much easier access.
The options to change the device profile and mobile network settings will now be available under the Device tab.
---
What are the different settings available?
To explore the various BlueStacks settings, you can click on the links below, which will then redirect you to the relevant information.
You can access the BlueStacks Settings menu either from the hamburger menu on top or the gear icon on the side toolbar, as shown below.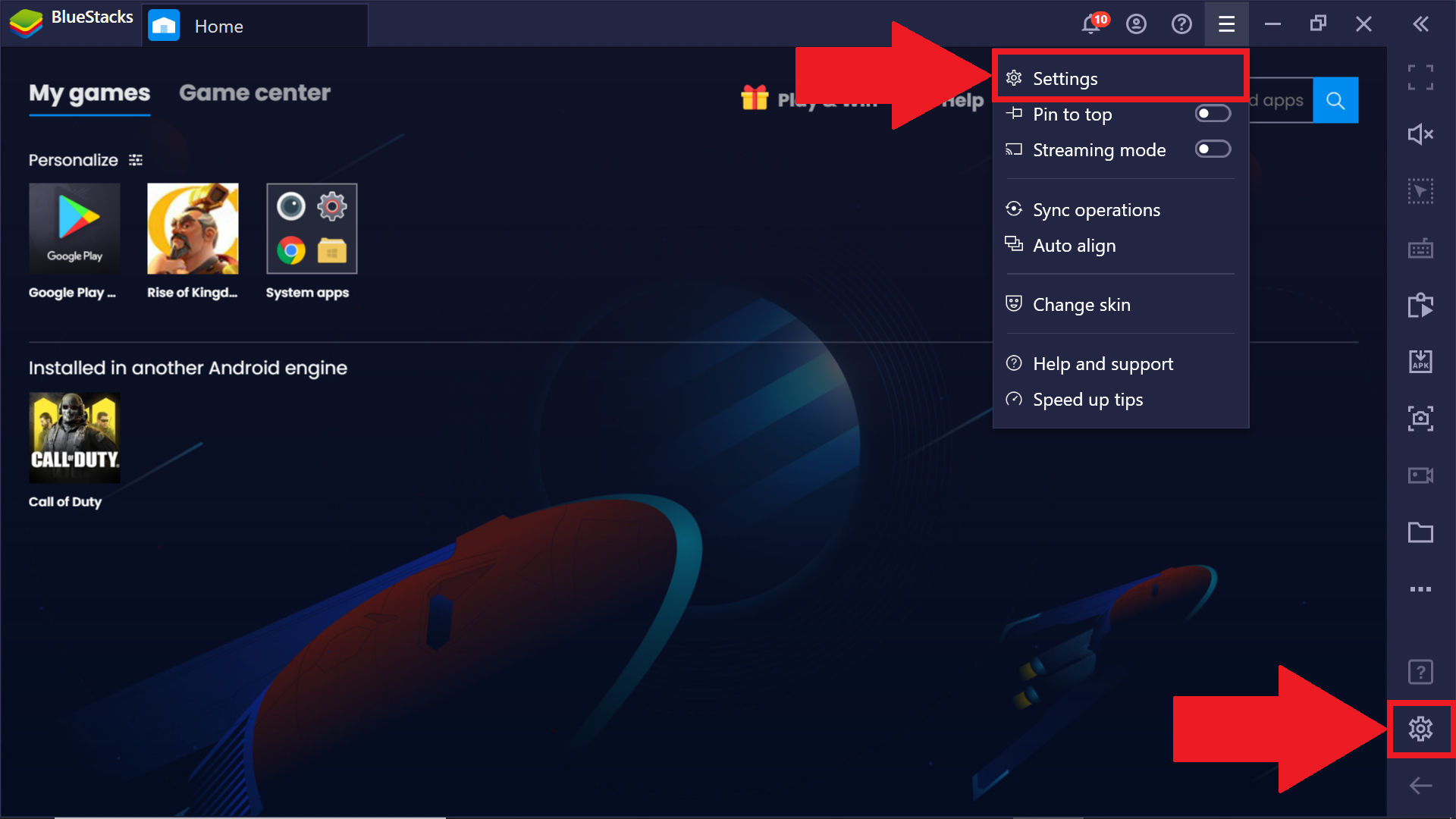 ---
Engine settings
Here you can choose from various options that can vastly affect the performance of BlueStacks, depending on your PC configuration. Let's go through all of them.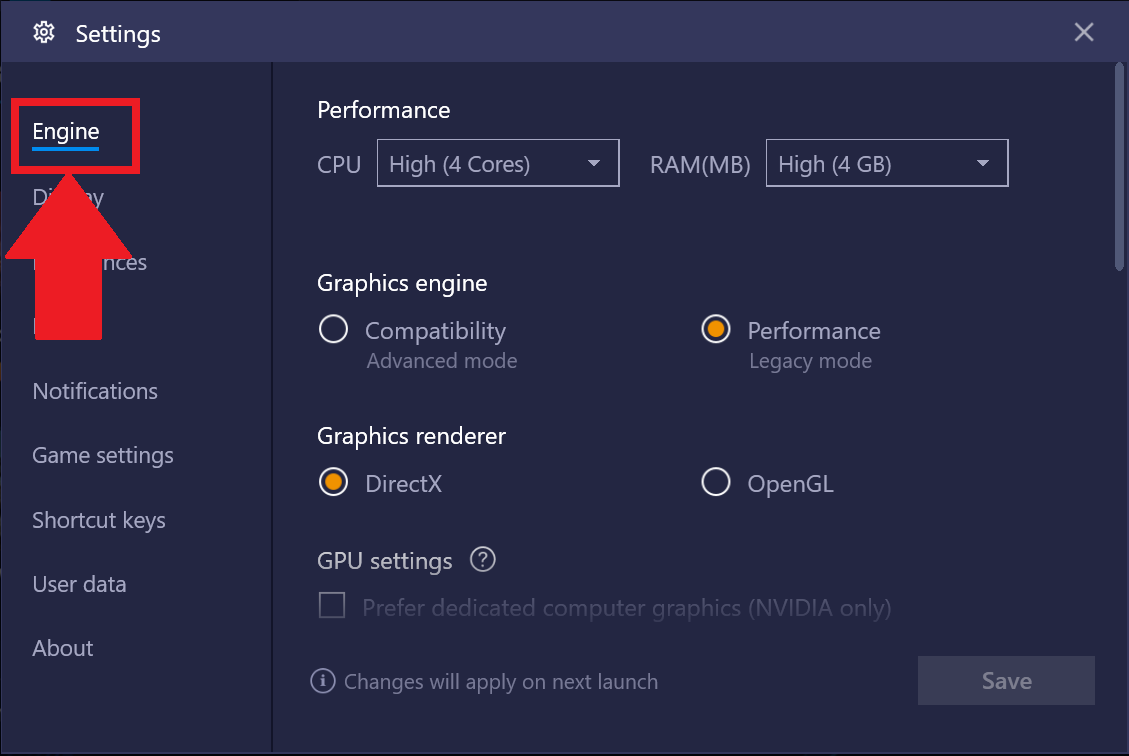 First, you will find the Performance settings. The CPU option tab lets you allocate the number of CPU cores and the RAM tab lets you allocate memory as per your desire. To enter a value of your choice which is not available in the menu, select the Custom option under CPU and RAM tabs.
NOTE: For users who have 8GB RAM or above, to achieve optimum performance in BlueStacks, please select "High" performance.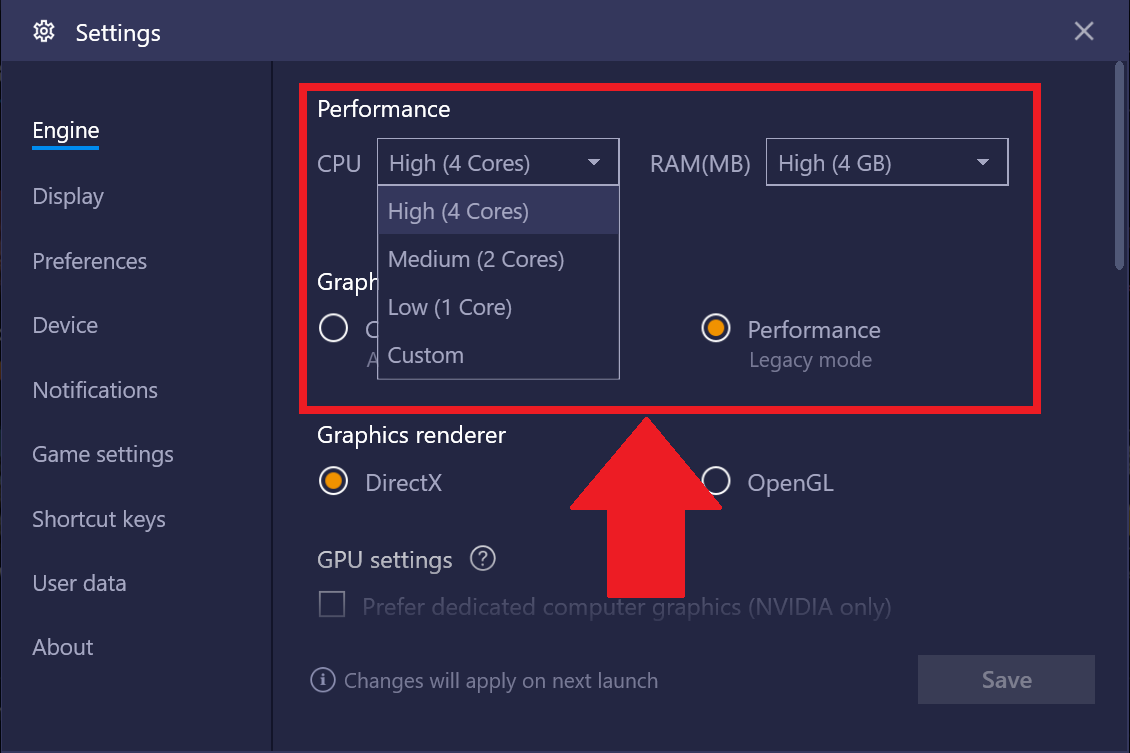 The Graphics engine option lets you choose between Compatible and Performance modes. Most games run smoothly on the Performance mode. Yet some games that require advanced graphic architecture will ask you to switch to Compatible mode before launching.
The Graphics renderer option lets you select between DirectX and OpenGL. If you switch between any of these options, you will need to restart BlueStacks for changes to take place.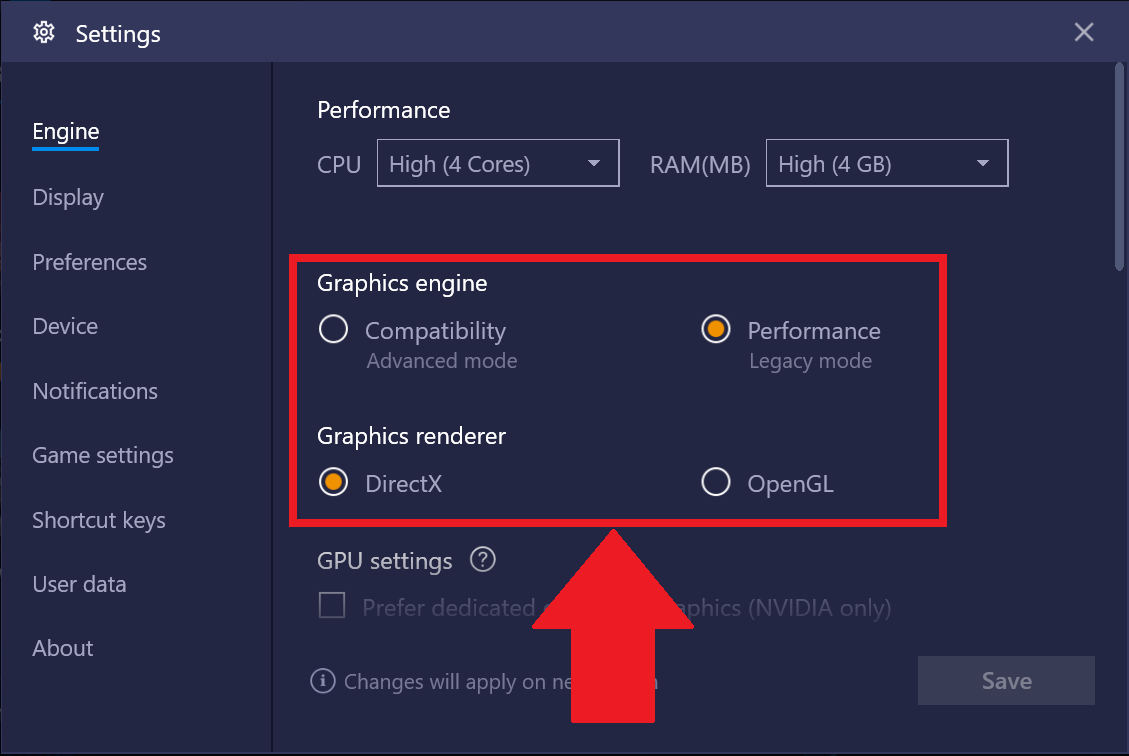 Next, you will find the GPU settings on BlueStacks, which will enable you to assign your computer's GPU to BlueStacks in order to enhance overall performance.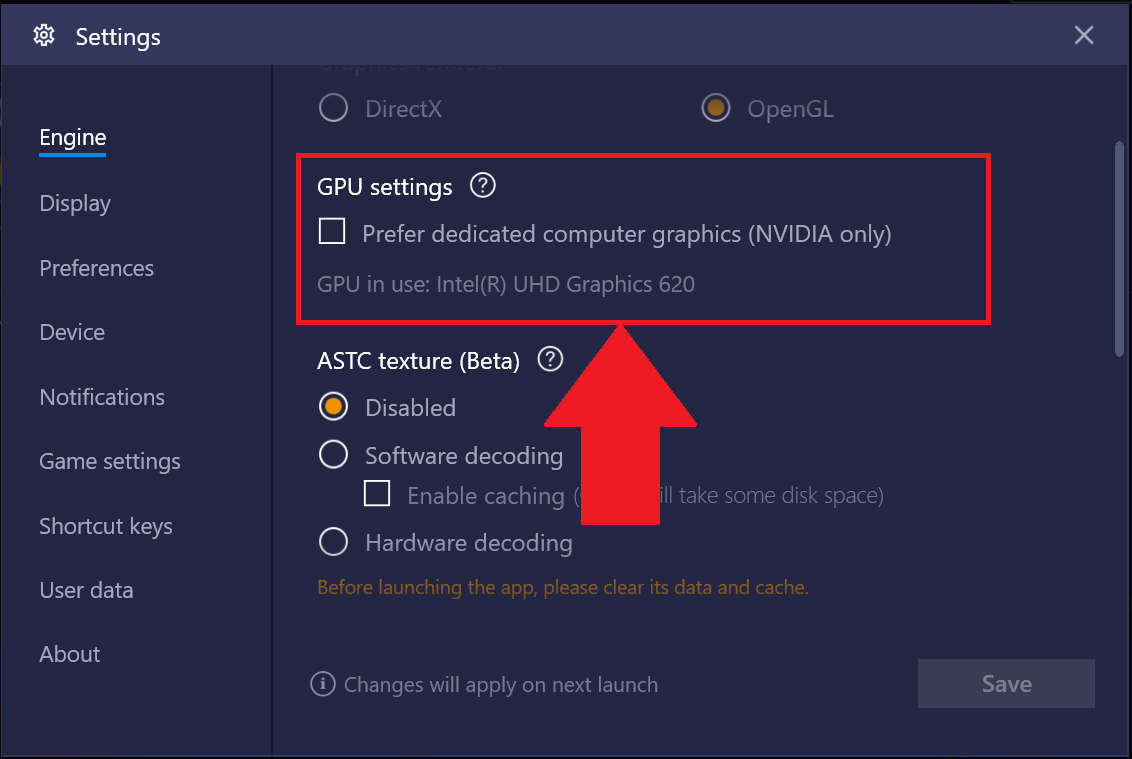 Scroll down and you will be able to select the graphics texture compression decoding method to achieve high-quality graphics using ASTC. Read this to know how ASTC settings can affect game graphics in BlueStacks.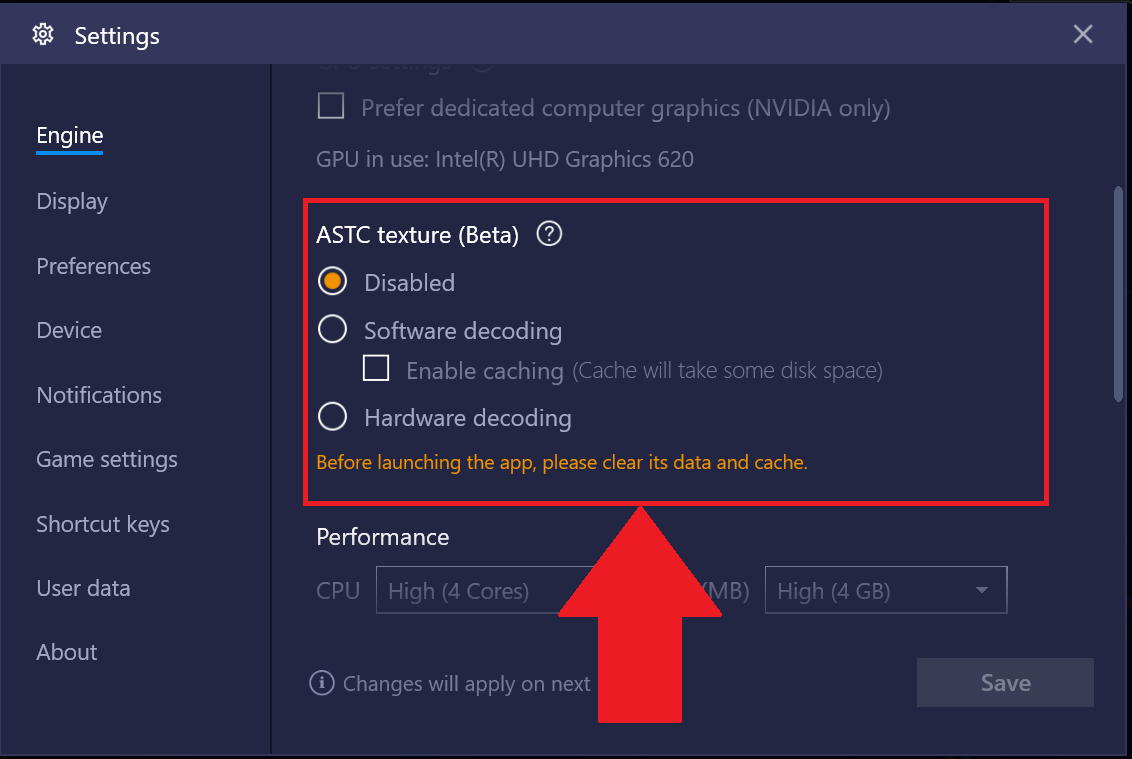 Upon scrolling down, you will see the slider to adjust FPS as shown in the screenshot below. To know more about customizing FPS (frames per second) on BlueStacks, click here.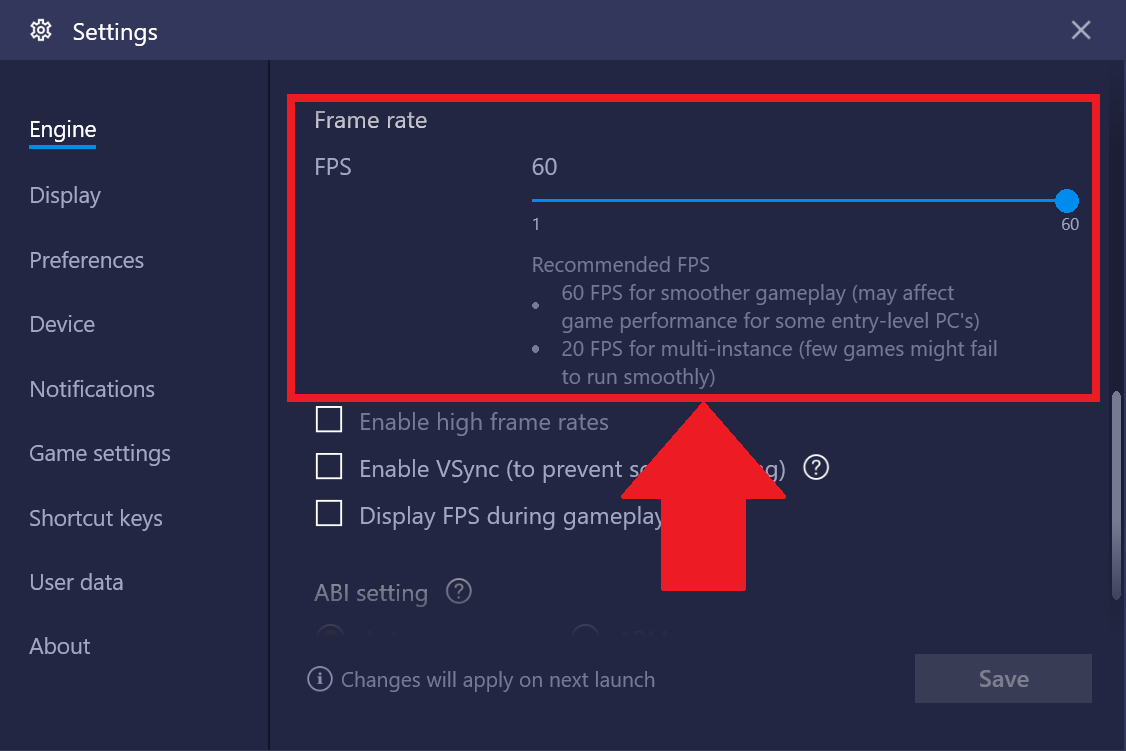 Lastly, comes the ABI setting section. With the ability to switch between the ABI, you will be able to play the games which require ARM libraries to run. This support article will tell you all about selecting the right ABI settings for BlueStacks.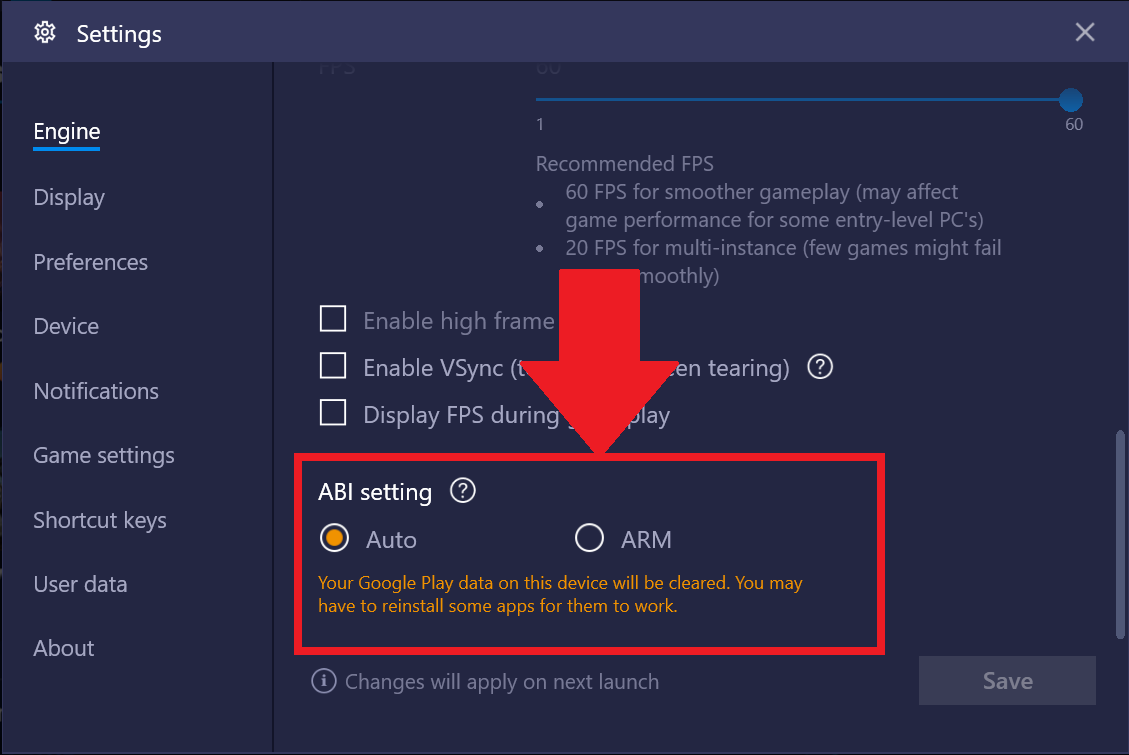 NOTE: Changes in Engine settings will take place after saving them and restarting BlueStacks.
---
Display settings
You can change BlueStacks app player orientation, customize the resolution and DPI through the Display settings menu, to enhance your viewing and gaming experiencing on BlueStacks. Please close and restart BlueStacks to make your resolution and DPI settings effective.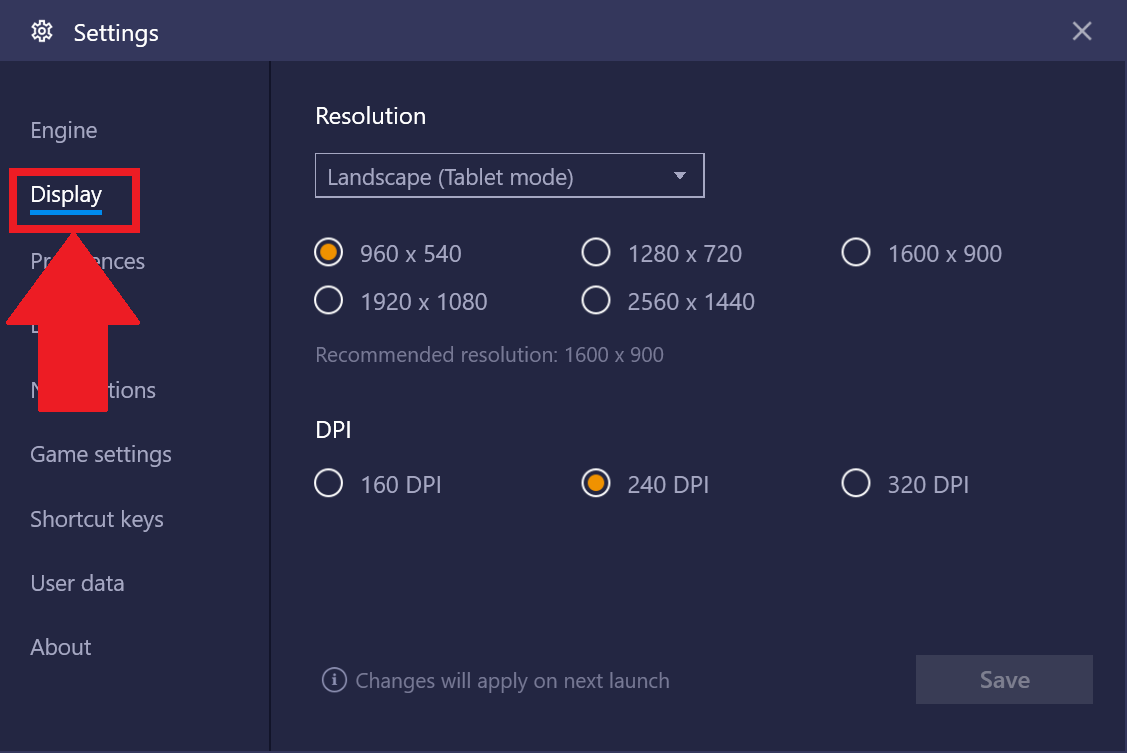 ---
Preferences settings
Within this section, you can customize the language, performance and platform related settings for BlueStacks such as switching between apps, creating desktop icons, game-pad detection and arranging side toolbar icons, and so on.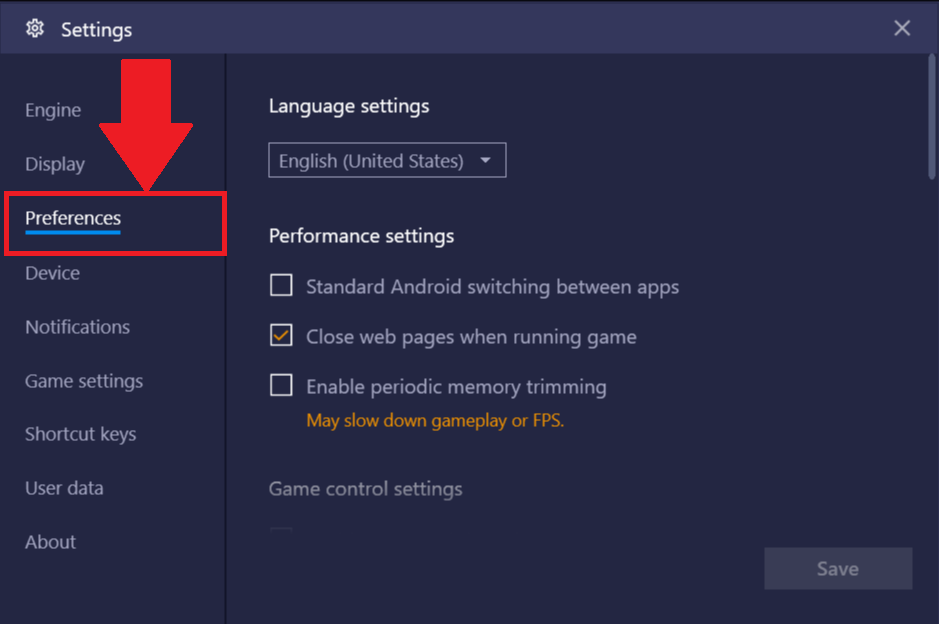 You can manage any game's in-built gamepad controls at the click of a button. To know more about Native gamepad support on BlueStacks, read this.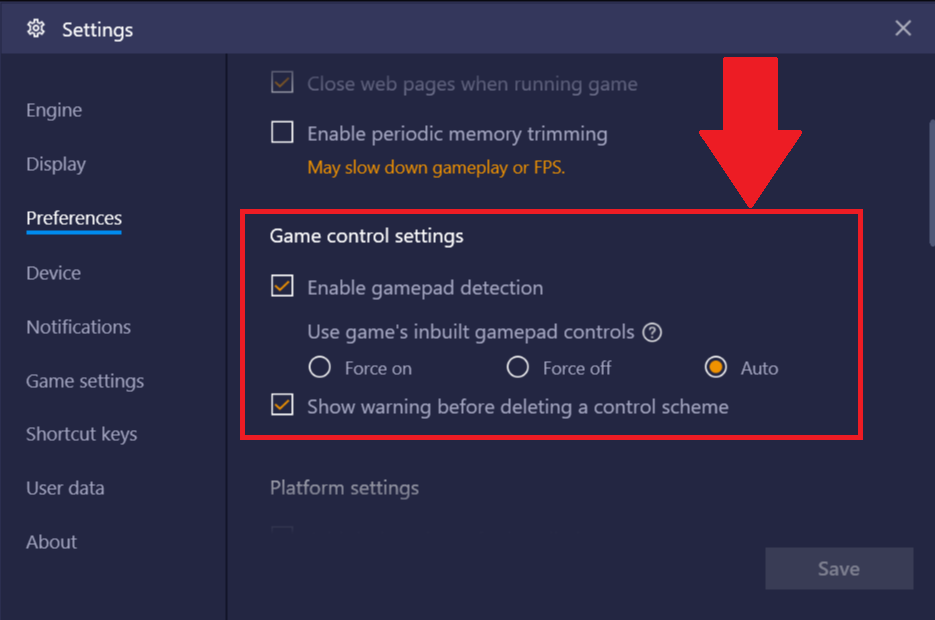 Upon scrolling down, you will find the feature that grants you complete control over BlueStacks' access to Windows Pictures and Documents folders. Simply check the box on the side to enable it.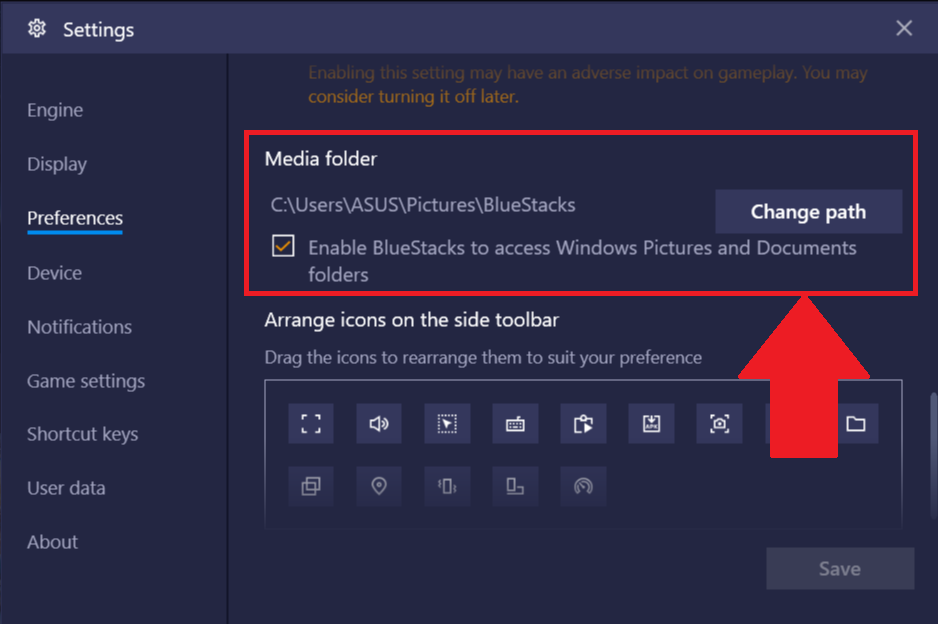 Next, you will find another feature, which lets you reorder many of the icons on the side toolbar as per your preference. To learn how to use this feature, click here.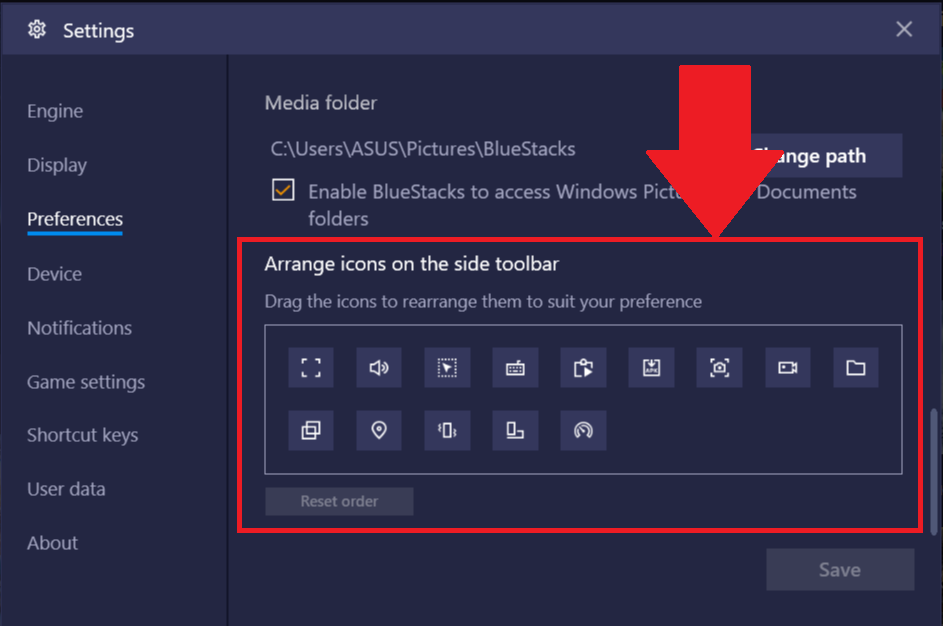 ---
Device settings
The Device tab lets you personalize the Device profiles for BlueStacks for an app that is more compatible with a certain device.
You can also choose a Mobile network provider to run apps that need your device to be connected to a certain network.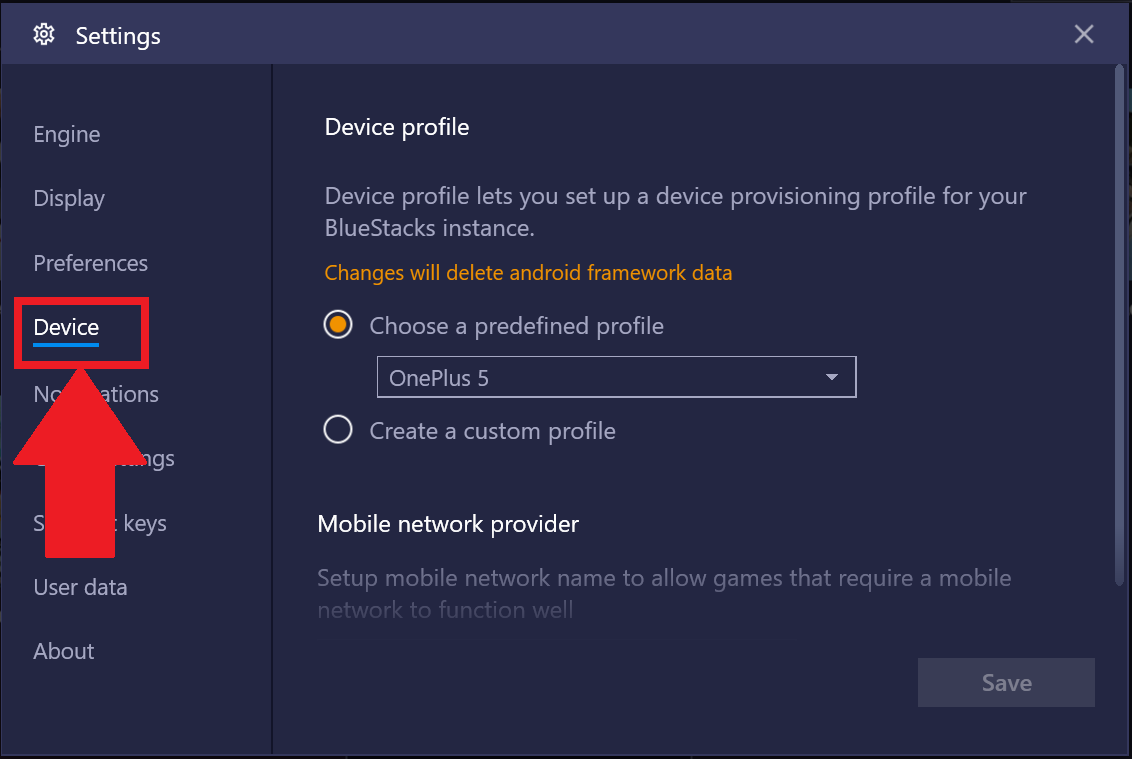 ---
Notification settings
Within this section, you can enable or disable the Notification mode on BlueStacks and customize all the notifications you may get, as per your preference.
To know more about managing your notifications on the latest version of BlueStacks, click here.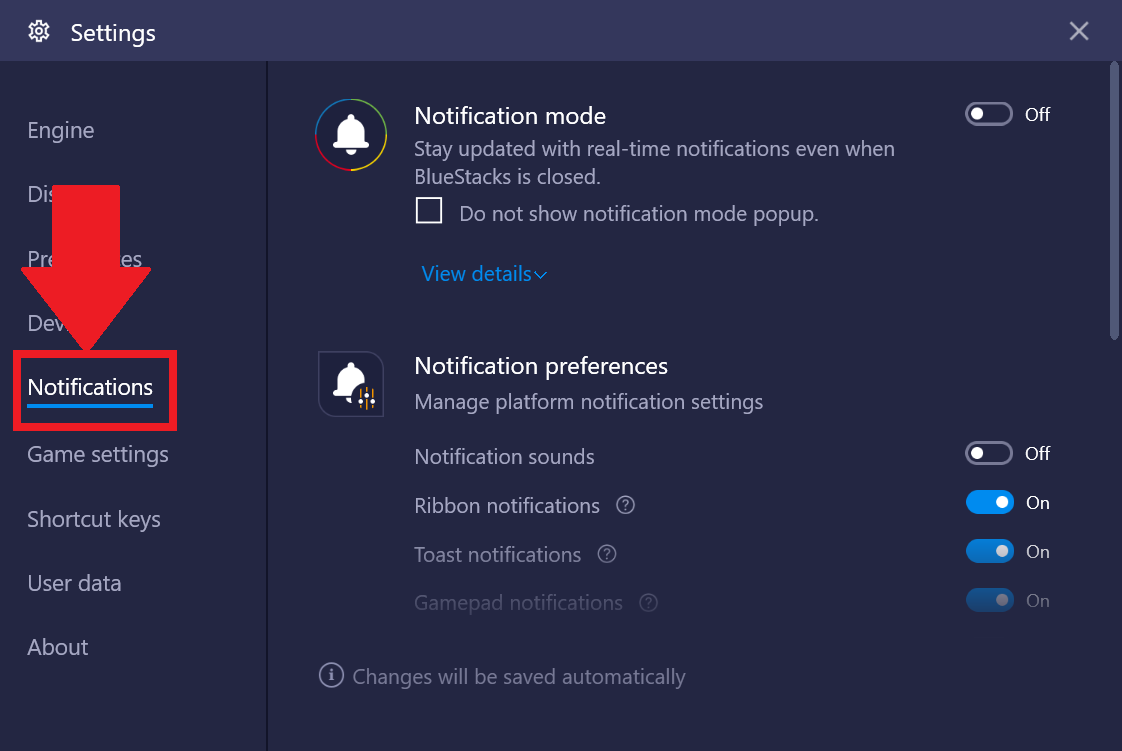 ---
Game settings
The Game settings menu lets you customize your mouse cursor and gives you game-specific information for every game. Access these settings while playing a game to get the insights specific to that game.
---
Shortcut keys
BlueStacks lets you assign shortcut keys to perform various functions with just one click. To know in-depth about how to assign keyboard shortcuts for various actions on BlueStacks, read this.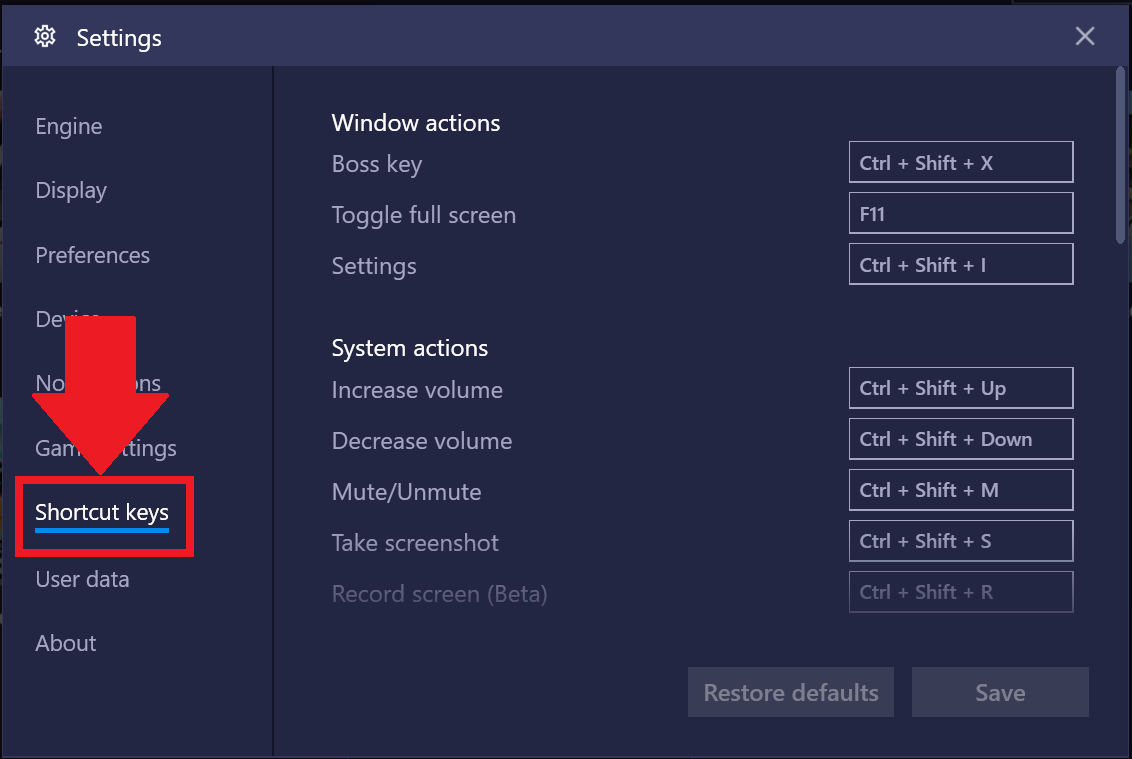 ---
User Data
In this section, you will find the Disk cleanup tool, which frees up the space an app occupies on your PC, after it's been uninstalled.
Then, you will find the Backup and restore tool, which lets you backup the app data on BlueStacks and then restore it when you'd like.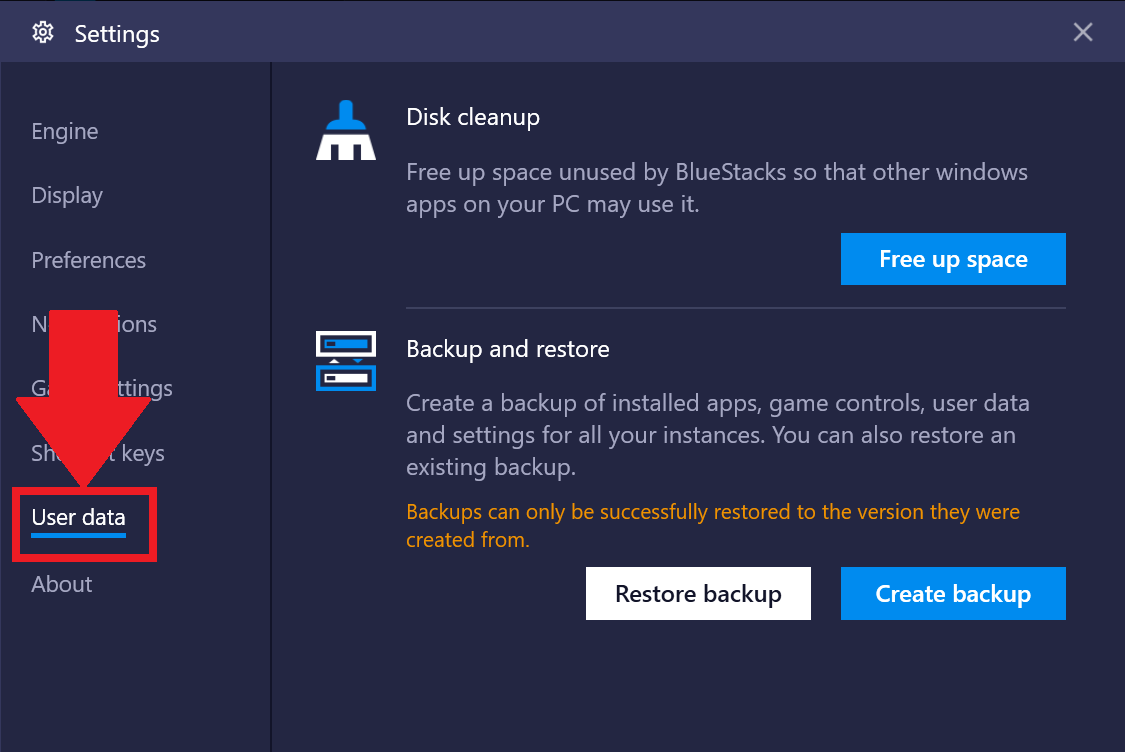 ---
About
This About section provides information about the BlueStacks version installed on your PC. You can also check whether the latest BlueStacks version is available for you. This will keep you up to date with the latest releases.
Click on Check for updates to see if any update is available. For more help on how to check for BlueStacks updates and installation, click here.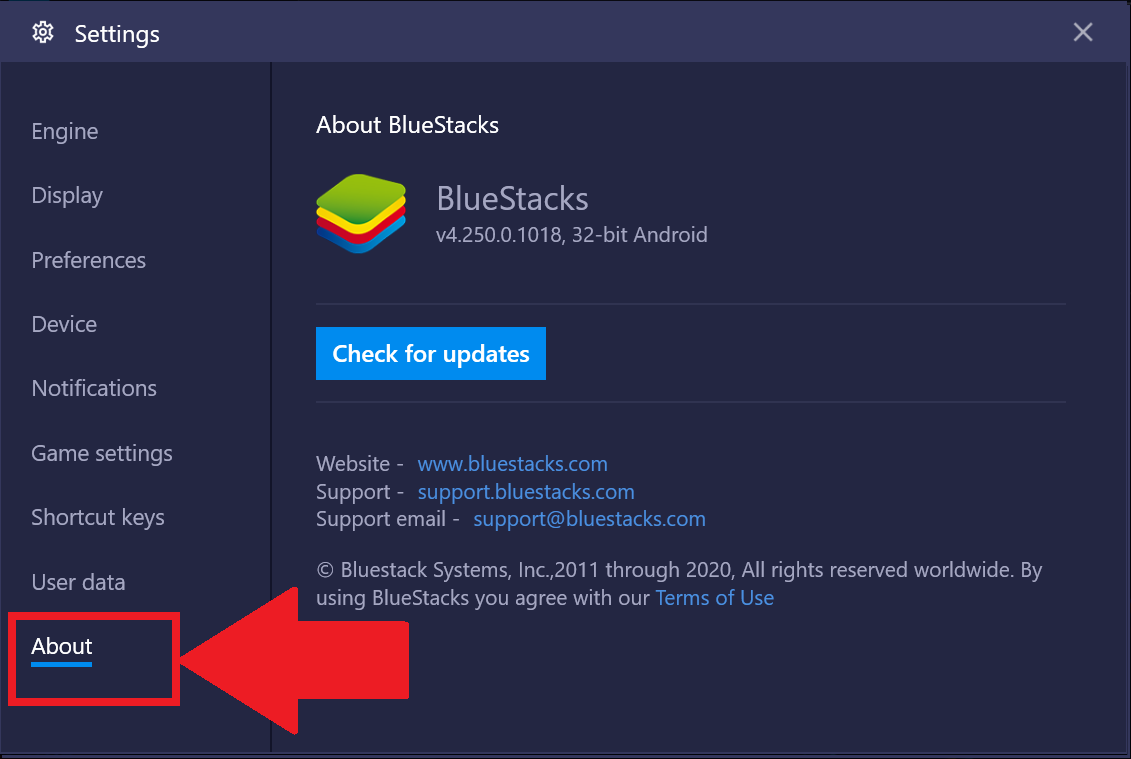 ---
I'm on an older version of BlueStacks 4. What should I do?
If you're on an older version of BlueStacks 4, click on the link below. This will then guide you to an FAQ that has the information for older versions.
Settings Menu for an older version of BlueStacks 4.
---
Thank you for choosing BlueStacks. We hope you enjoy using it. If you have any further questions, please contact us at support@bluestacks.com. Happy Gaming!
Last updated on December 08, 2020