Purpose 
To introduce you to Pika World.
Benefits
Pika World is a virtual environment within which you play BlueStacks Quests and earn cards. You card collection is housed in Pika World. You are buy more cards or card packs at the BlueStacks Store, trade cards at the Trading Square, or buy or sell cards or card packs at the Market place for Pika Points.
Audience
Users who wish to use exciting features available in BlueStacks.
BlueStacks versions affected
All version of BlueStacks 4
Geo's affected
All Geo's where this feature is available
Steps
How can you enter Pika World?
Click on the Pika World icon on the Home page to launch Pika World and check out all the various activities. Refer to the image below.
What can you do in Pika World?
Click on the Avatar button highlighted in the screenshot below.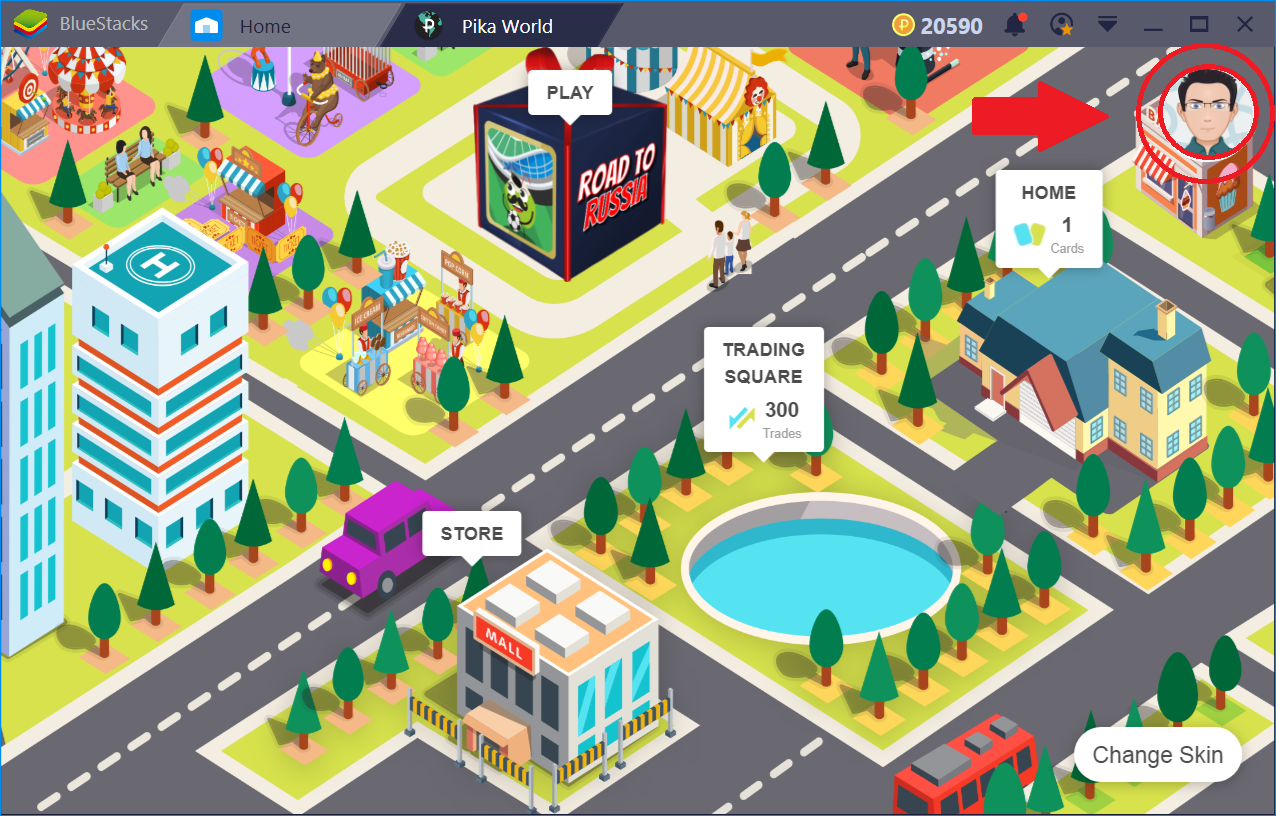 You will get an option to choose your gender.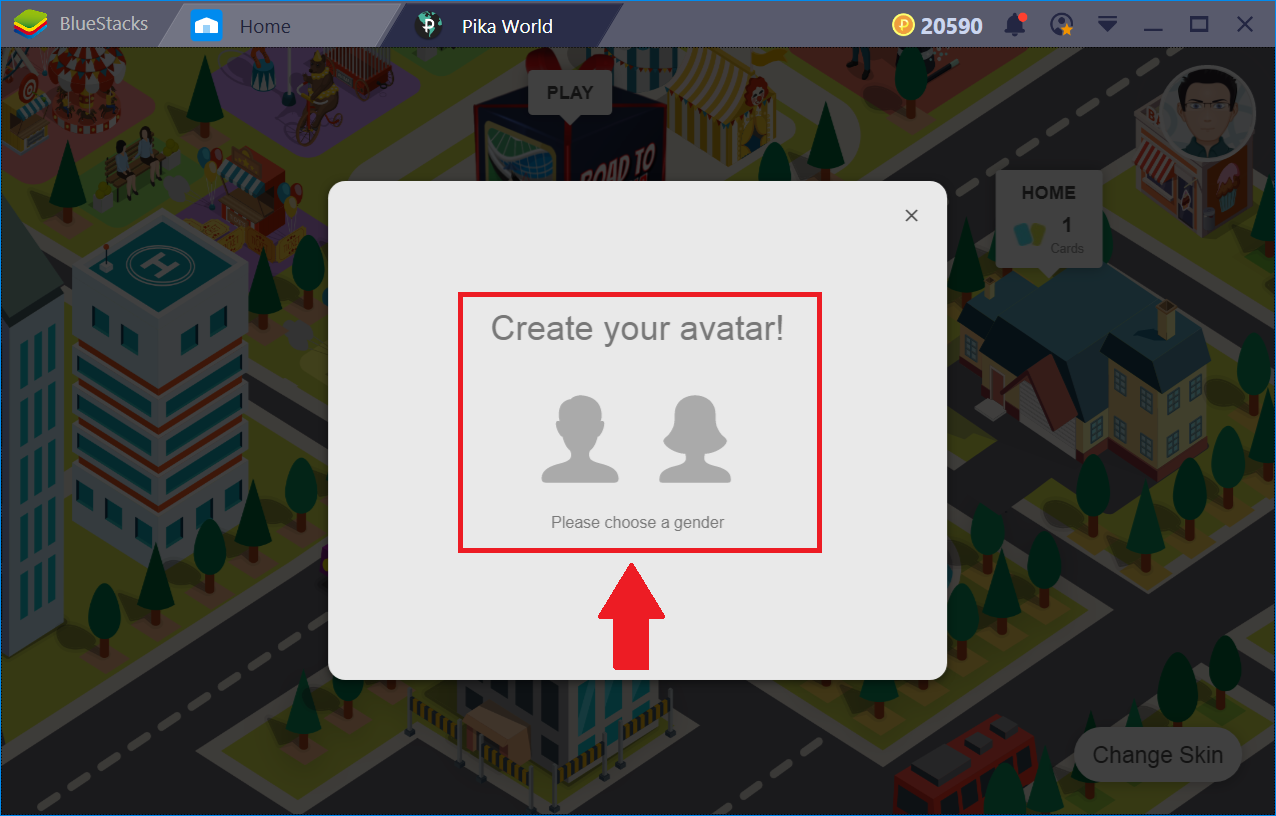 On selecting Gender you will be shown an option to customize your avatar by choosing Face, Eyes, Hair, Clothes of your choice. You can choose any colours available.
You may also choose any random avatar by clicking on the 'RANDOM' button. Don't forget to click on 'SAVE' Button to save your preferred Avatar.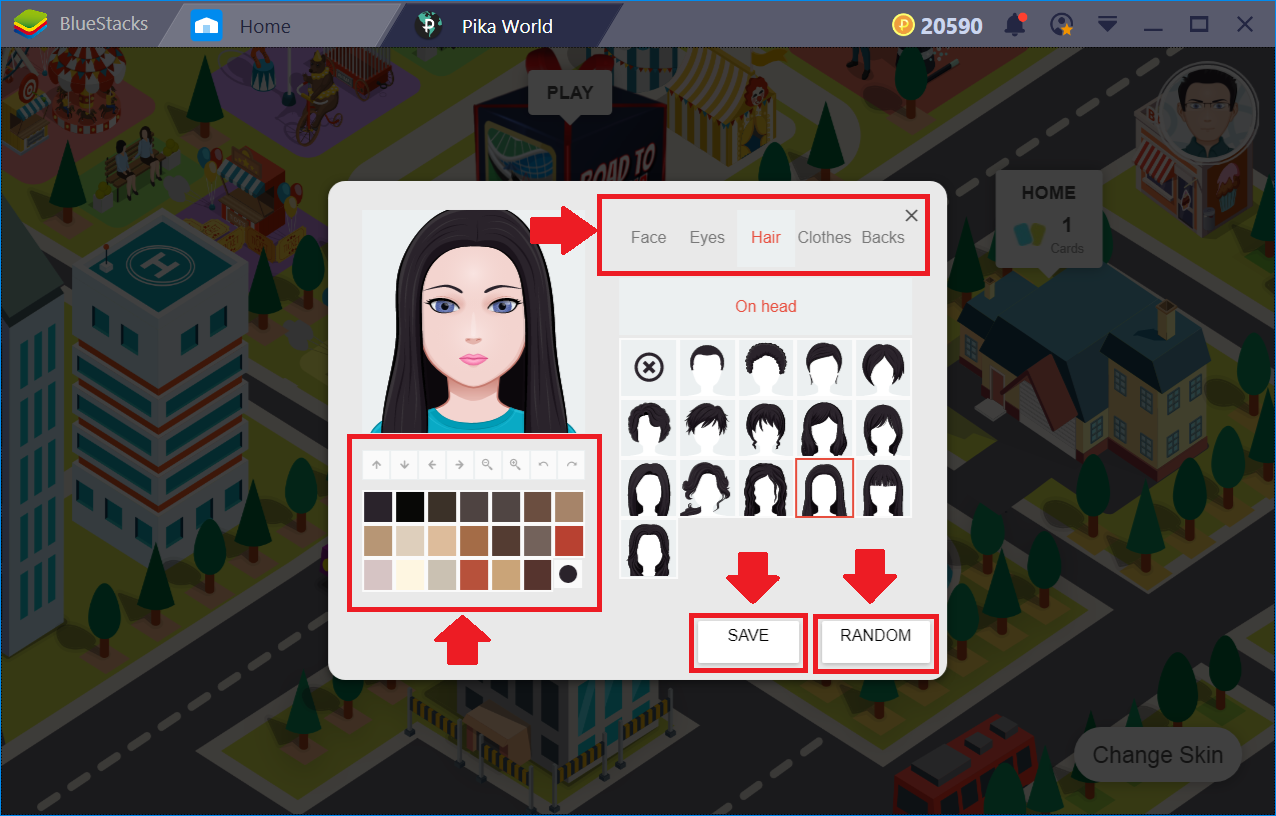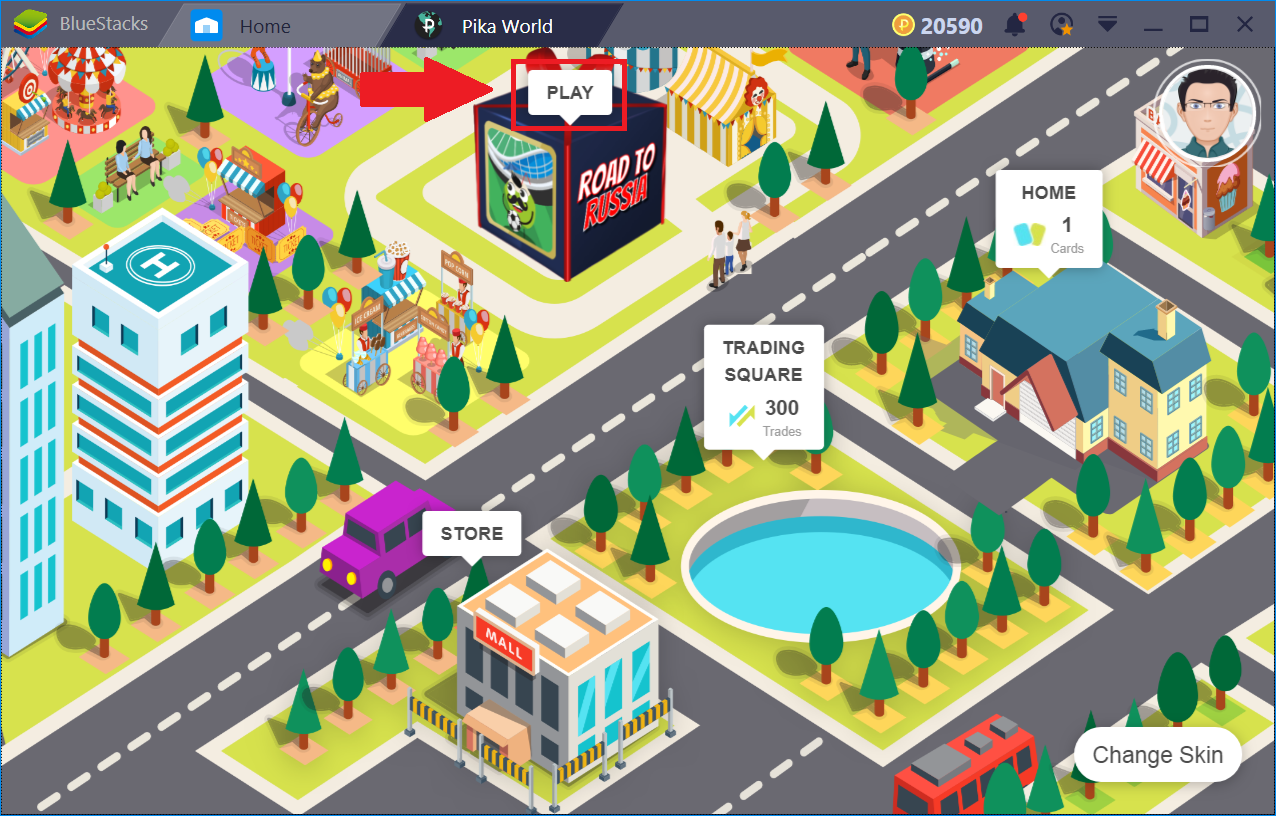 You can play the ongoing quest available on BlueStacks by clicking 'Play' Button on its gift icon. The screenshot below shows the current quest "Road to Russia".
Home is a place that shows you all the exciting things you do on BlueStacks like quests you participated in, skins you won and cards you collected. Click on the Home button highlighted in the below in the screenshot to launch Pika World Home.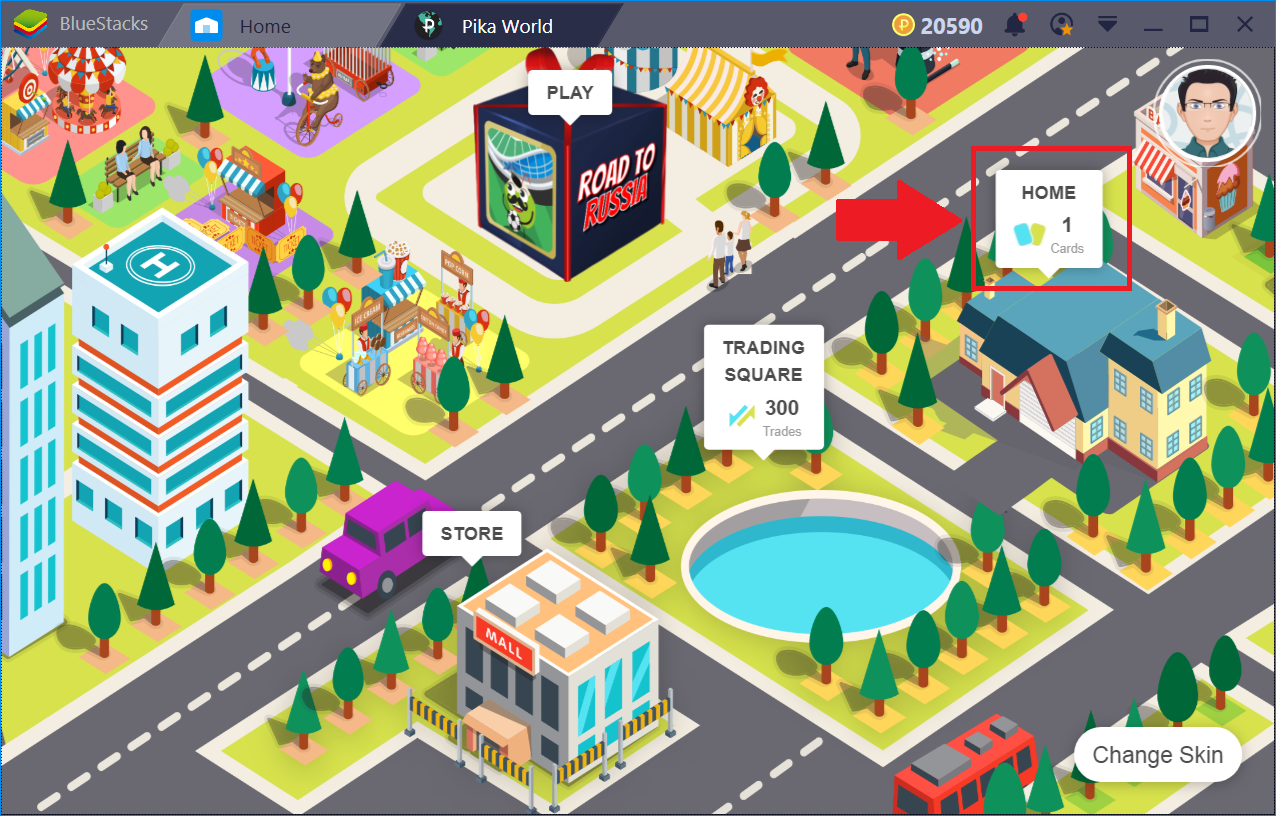 Check the screenshot below showing the Quests you participated, Skins You have won and cards you collected.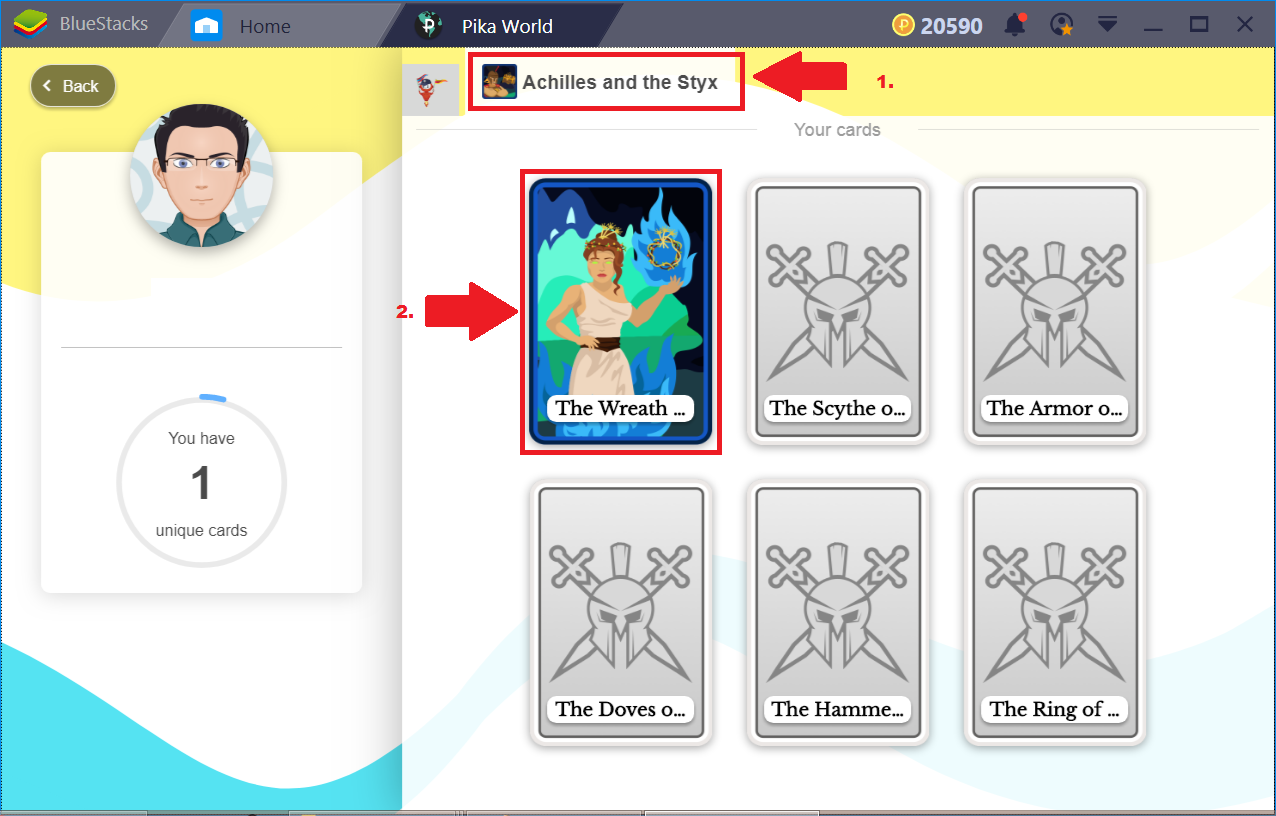 4. Customize using different skins

You can change the skin of Pika World. You may choose to apply any of the skins you have won by participating in Quests. Choose from the skins you have and click apply.
The look and feel will change dramatically depending on the skin you have applied. You can change the skin by clicking on the change skin tab at bottom right. Refer to the image below.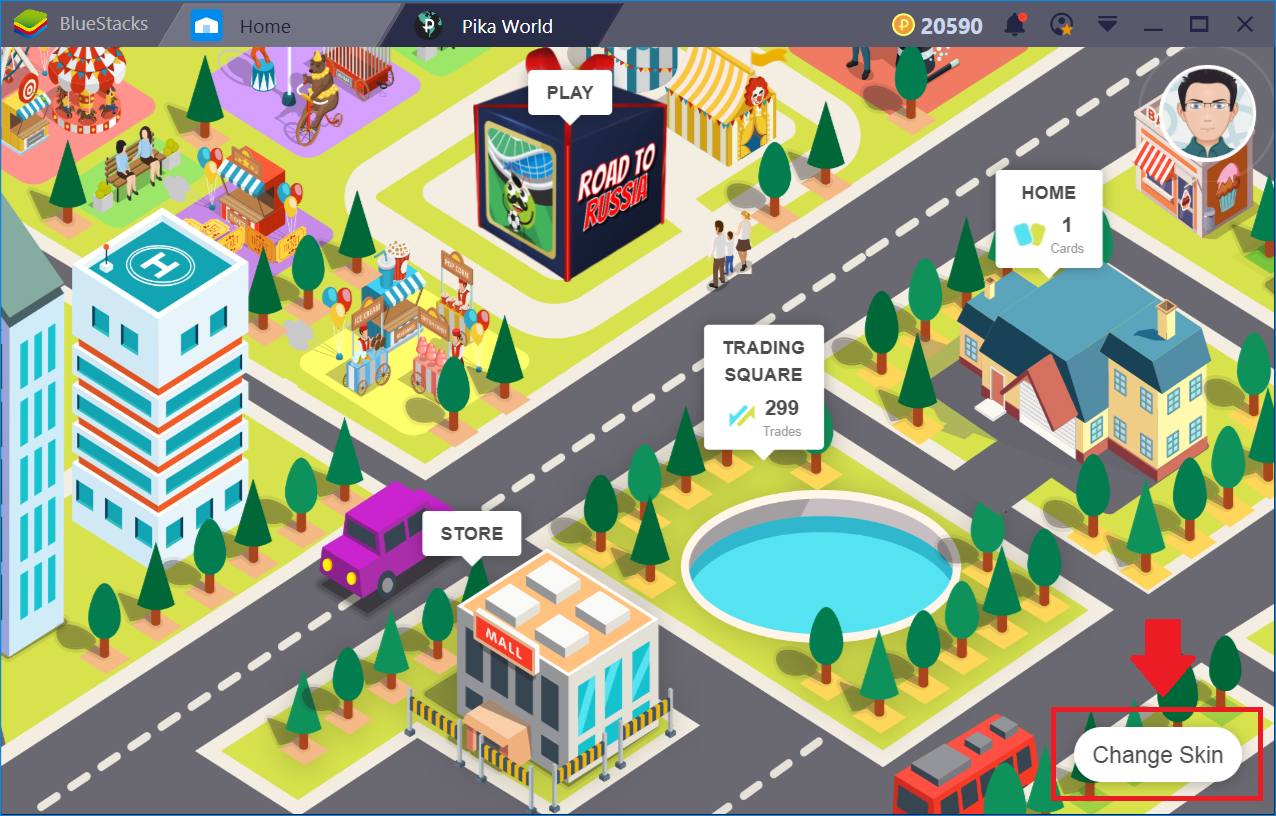 Start trading your cards at Trading Square with other BlueStacks users available worldwide. Click on 'Trading Square' icon in Pika world as shown below.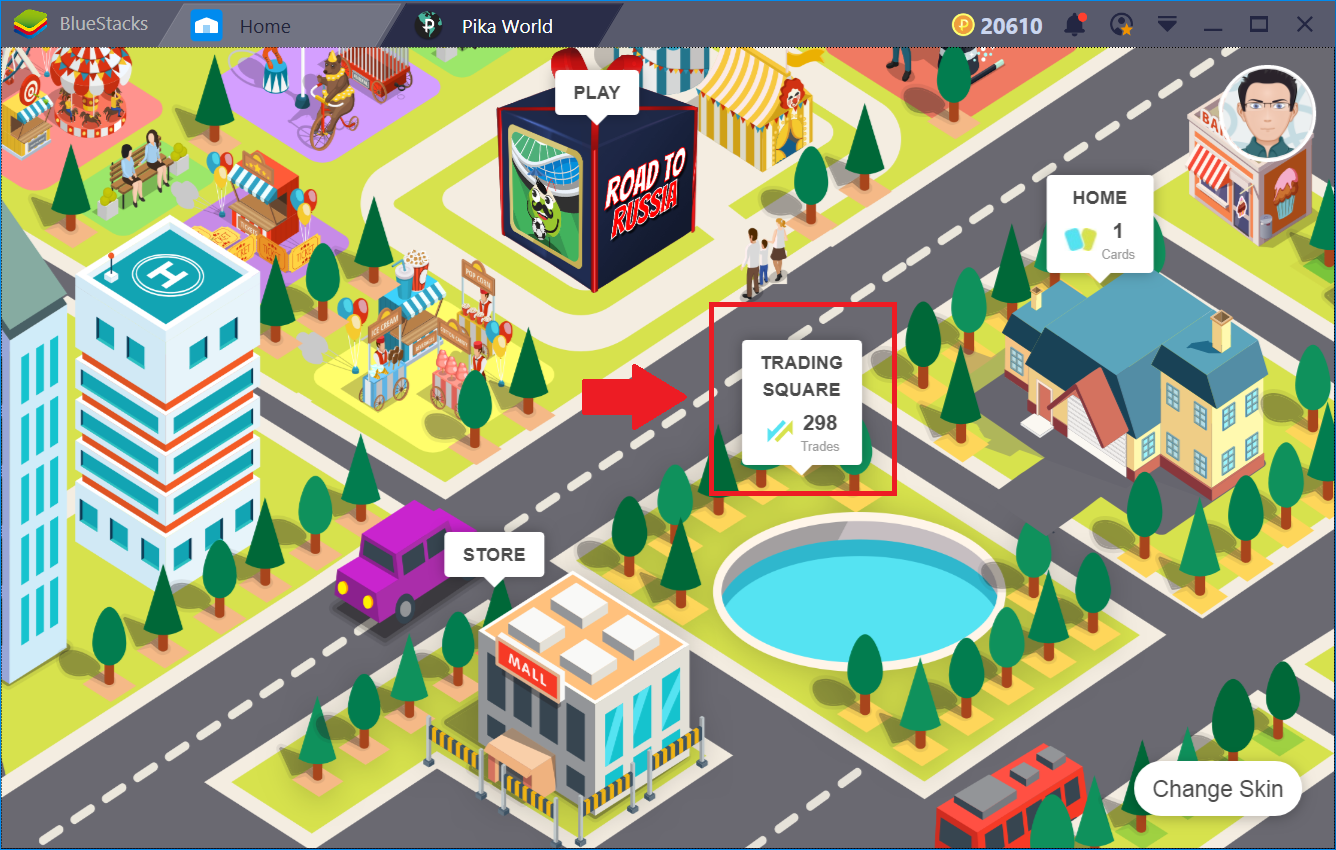 Q# How can I start trading my earned cards? 
Upon clicking the icon of 'Trading square', you will find all the BlueStacks users who are available and open to trade their cards.
Click on corresponding 'Make a trade' button of the users with whom you want to start trading your cards.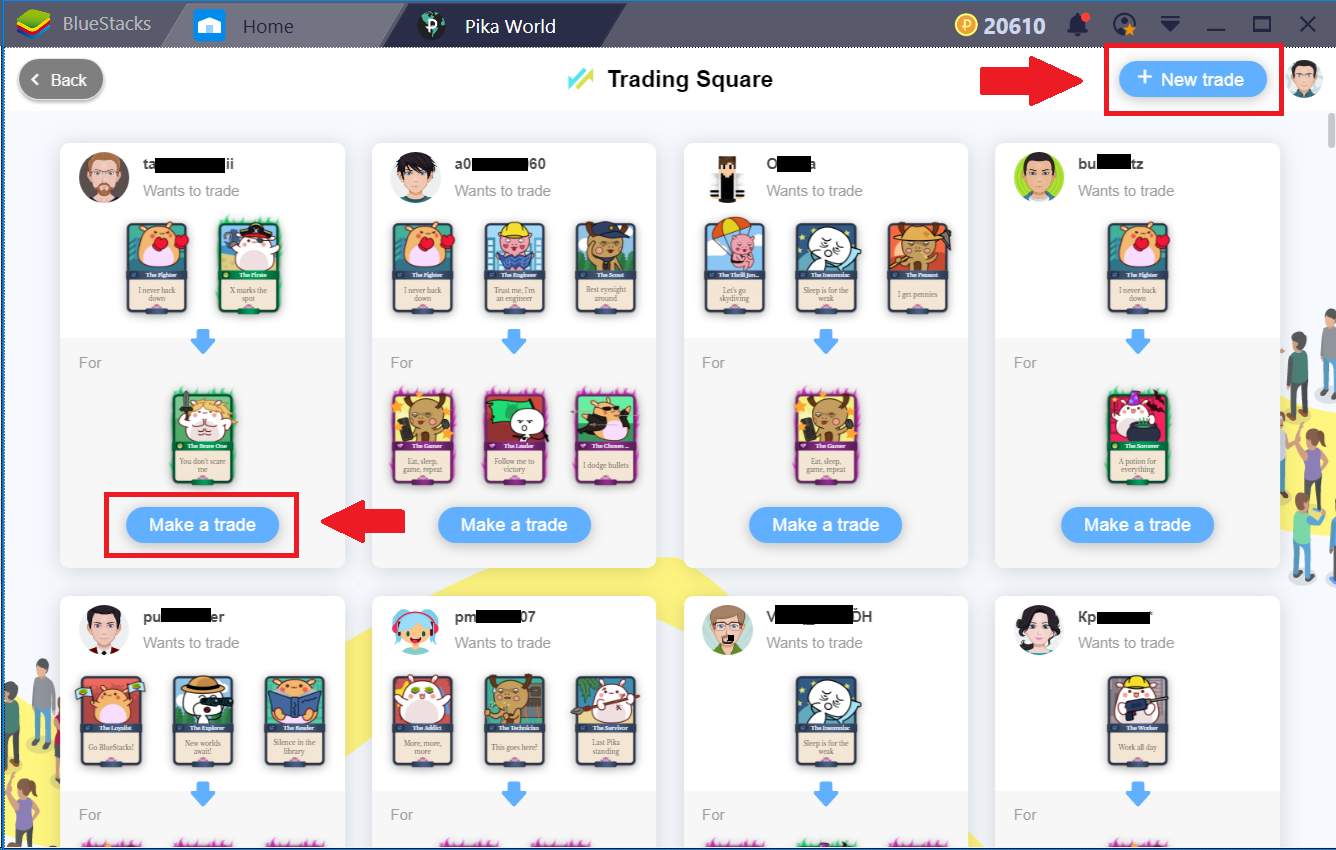 Upon clicking "Make a trade" button, you will reach the below mentioned screen where you need to confirm the trade by clicking on its button.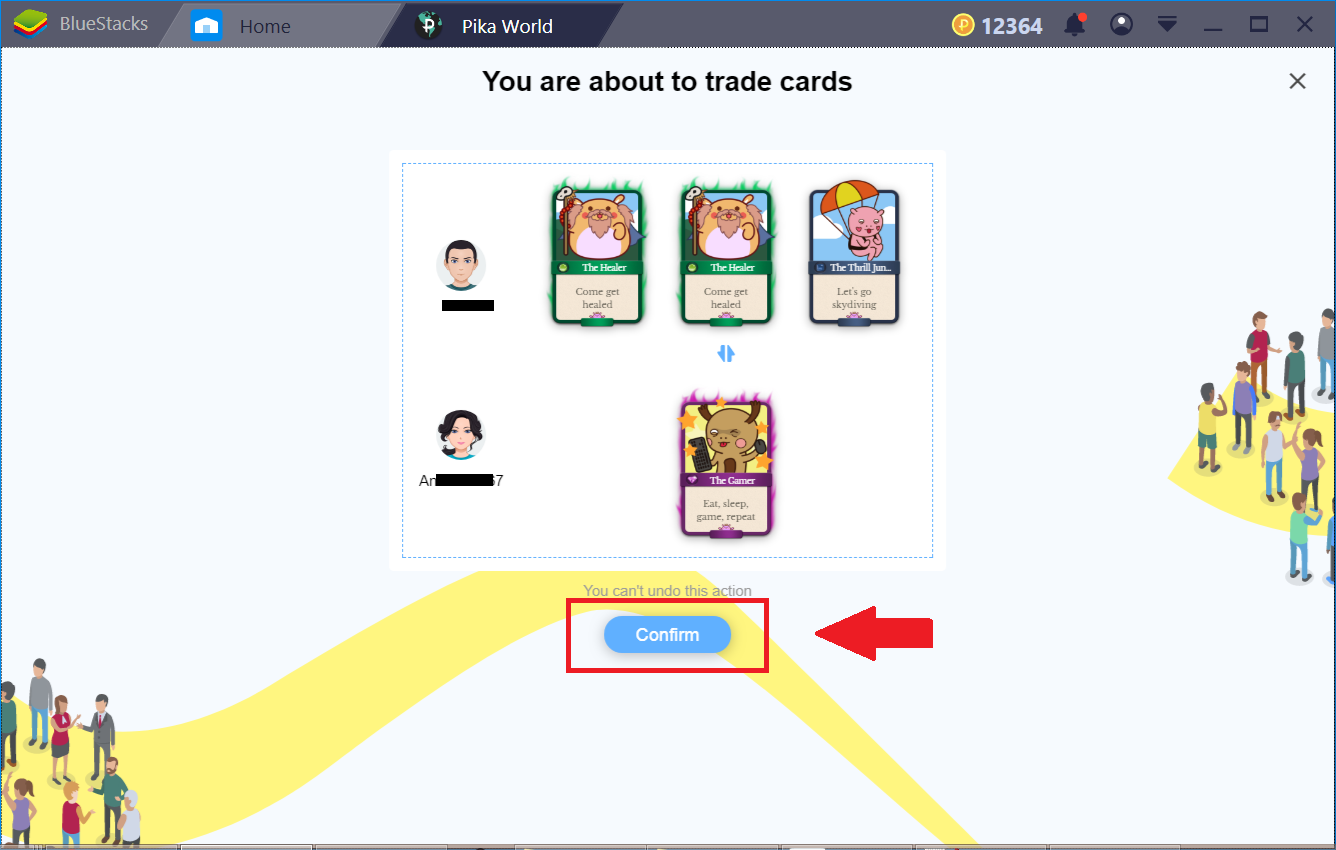 Q# How can I start a new trade?
Click on "+ New Trade" button to start a new trade.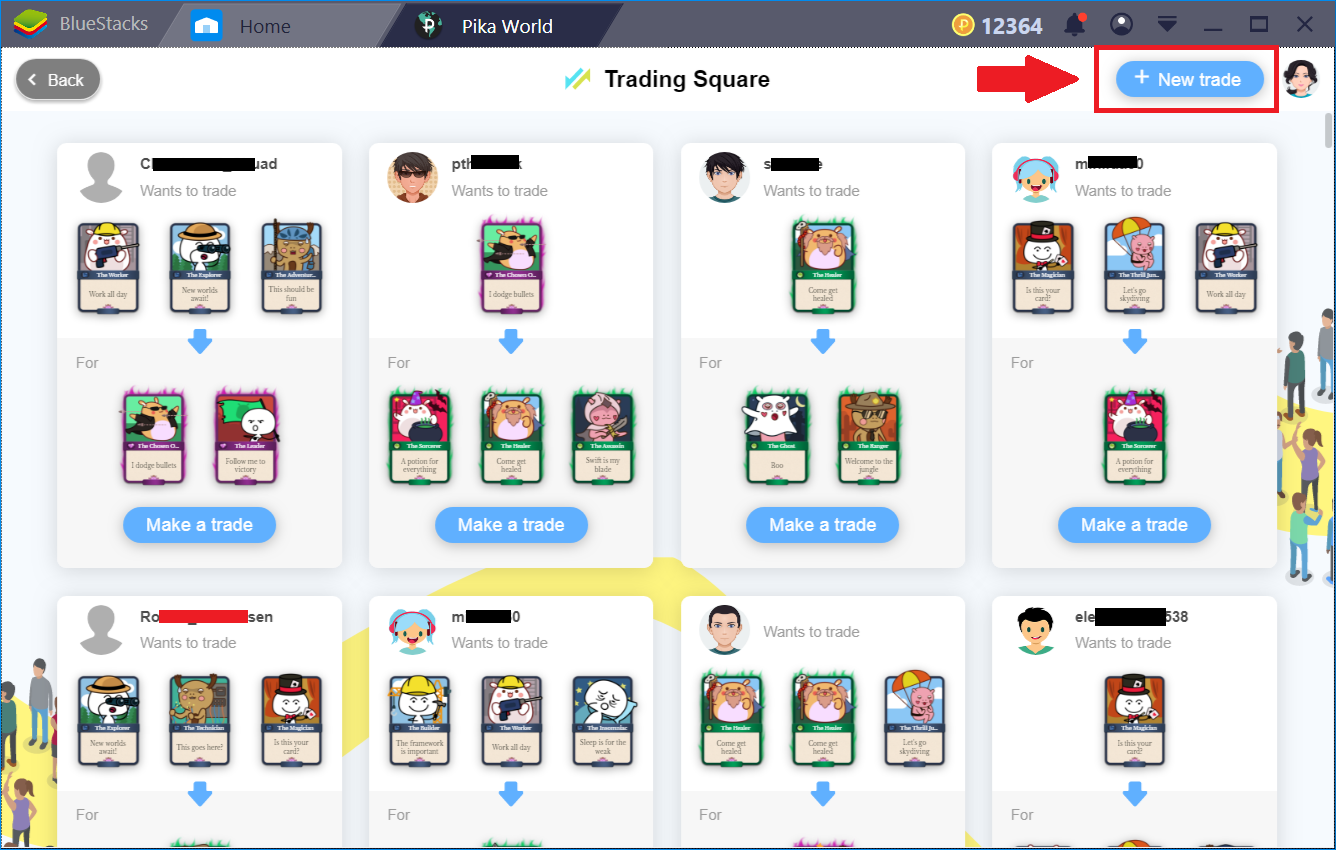 Upon clicking new trade button, you need to choose the card you want to trade out and the cards you want by clicking on "Choose button.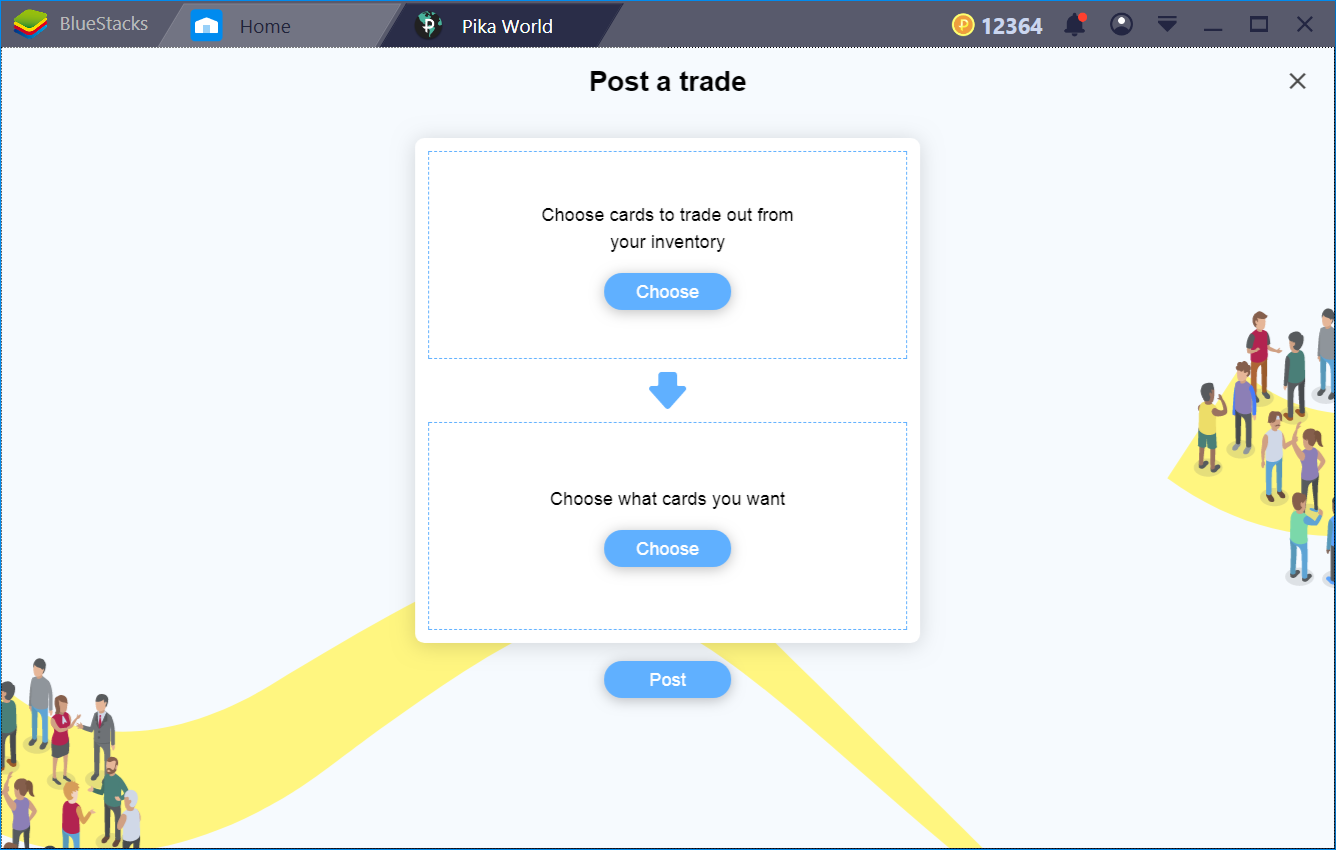 Upon clicking Choose buttons, it will start fetching your card, remember you can choose three cards at a time to trade. Select the cards of your choice, and click on 'Done' button.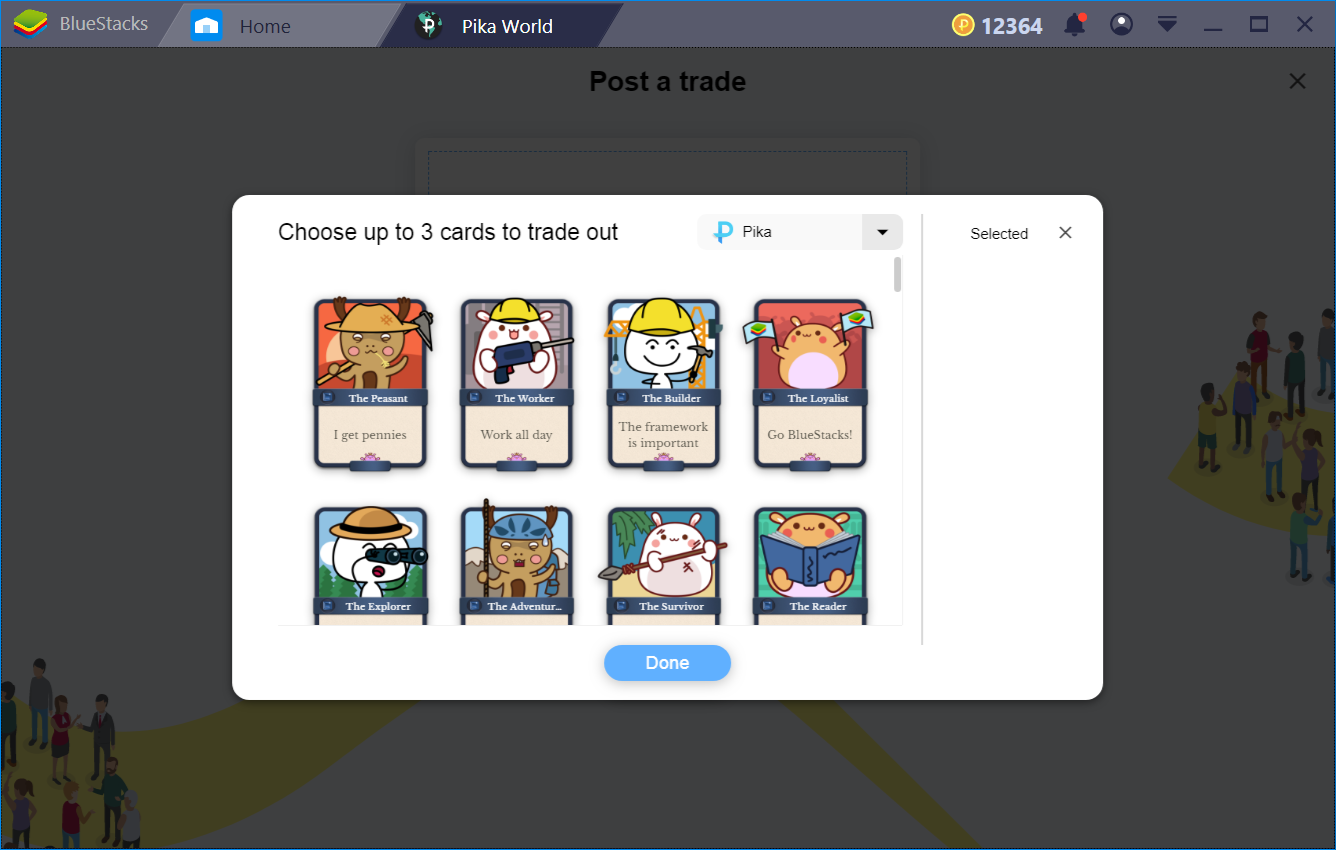 Now you're ready to make your listening live in the Pika World by clicking on 'Post'
Click on 'Store' to enter Pika Store where you can redeem available item using Pika Points.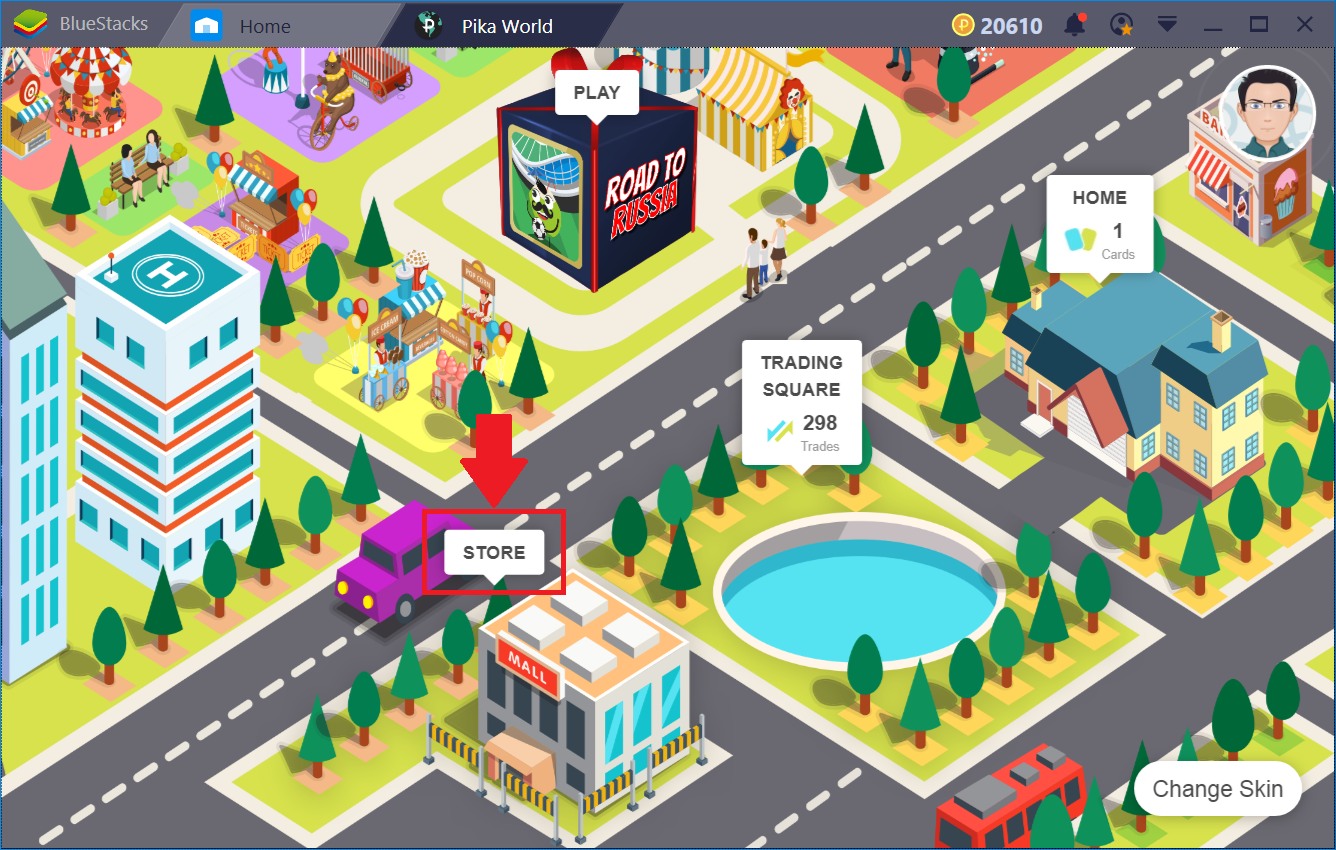 If you dont have the enough Pika points to redeem the item you want, you can purchas Pika Points using real currency and then redeem them against the any available item.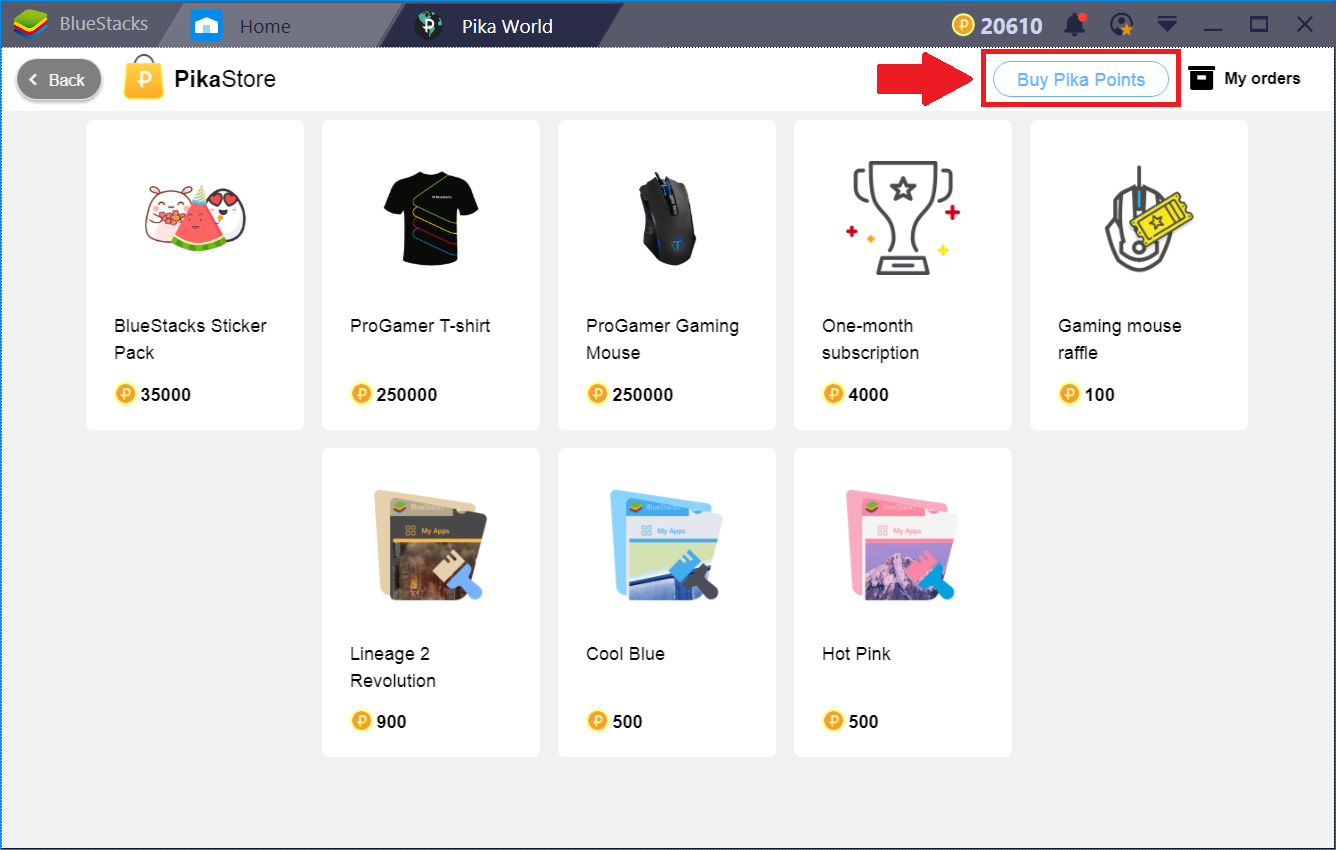 We genuinely appreciate your choosing BlueStacks. We hope you enjoy using it. If you have any further questions, please contact us at support dot bluestacks dot com. Thank you very much.
Last updated on June 06, 2018