Purpose
This article provides an overview of our game control guidance and acquaints you with the new keyboard controls scheme.
Benefits
Whether you're playing the deepest RPGs, heart-pounding action adventures or the most popular mobile games, our game control guidance has you covered. In BlueStacks 4, almost all the popular games are provided with default keyboard controls for smooth and precise control.
BlueStacks versions affected
All versions of BlueStacks 4
Geo's affected
All Geo's
On launching a game, a game control guidance window will be displayed automatically if a default keyboard controls exist for that game. However, you may choose to disable the option by un-checking "Show this screen on startup".
You can press "ctrl+shift+H" to see the game control guidance screen anytime.
Game controls guidance window consists of a tutorial video clip for quick tips and tricks on how to play the game on BlueStacks. Below the tutorial section, it consists of a guidance section for various game controls with description and assigned keys.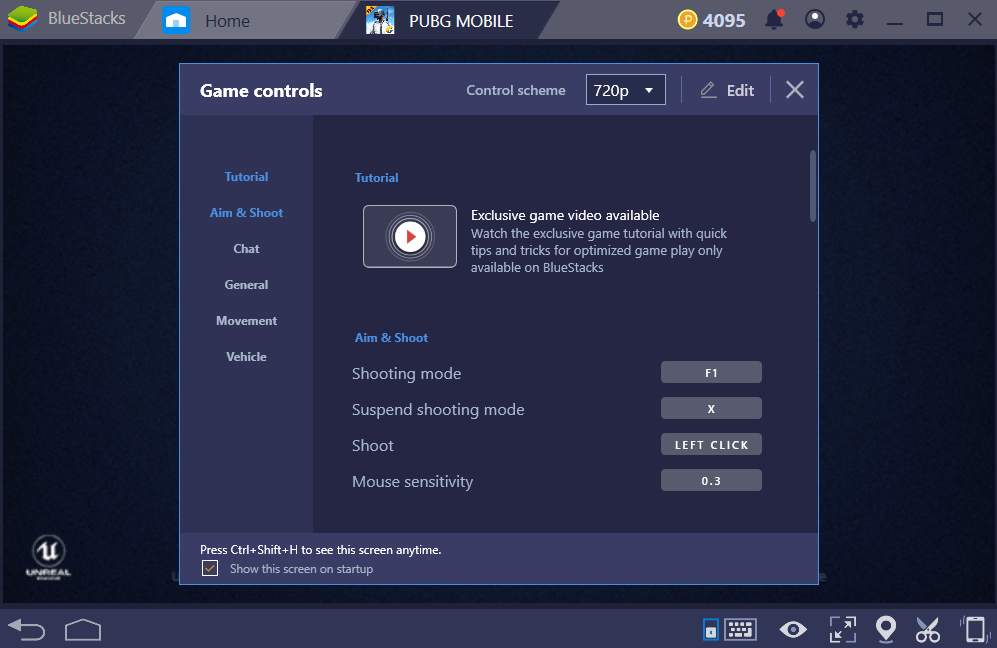 All the game controls are categorized on the basis of actions/activity assigned e.g. chat, movement, vehicle etc. You may scroll through to see all assigned actions.
On the top bar of a guidance screen, you may choose control scheme on the basis of your PC graphics resolution.
You may also edit the default keyboard controls by clicking on Edit keys icon. Please refer to the link given below for more information,
We genuinely appreciate your choosing BlueStacks. We hope you enjoy using it. If you have any further questions, please contact us at support at bluestacks dot com. Thank you very much.
Last updated on August 30th, 2018.