Download Latest Version
This version of BlueStacks is obsolete and no longer supported. We recommend you to download the latest version. For any other queries please refer to
this link.
Purpose
This article will provide you the troubleshooting steps if you have sound issues on BlueStacks.
Benefits
You will be able to fix the sound related issue.
Audience
All users who are experiencing low/ no sound issue of BlueStacks.
BlueStacks Versions affected
All versions of BlueStacks 3
Geo's affected
All Geo's
Steps
1. a) Click on 'Settings' icon on the top bar.
b) Click on 'Volume Control' and maximize it by clicking on '+' as many times, so it will grayed out as shown below.
2. a) Go to Windows task-bar, right-click on volume icon. Click on 'Open Volume Mixer'.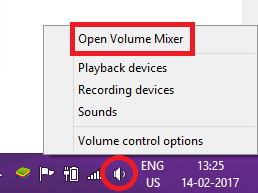 b) Make sure that the Speaker icon of 'BlueStacks Android Host' is not mute. Also, you may maximize the volume of 'BlueStacks Android Host'.
3 a) On home screen, click on 'System App' icon.
b) Now click on 'Settings'.
c) Now click on "Sound & notification".
d) Now check the "Media volume". It should be maximum.
We genuinely appreciate your choosing BlueStacks. We hope you enjoy using it. If you have any further questions, please contact us at support at bluestacks dot com. Thank you very much.

Last updated on August 13th, 2018