How will this help?
This article will inform you about the Play and Win on BlueStacks, where you can participate in daily and bi-hourly quests to win exciting prizes.
Please note, you must be logged in to your Google account in order to use Play and Win.
After going through this article, you will learn:
---
How to access Play and Win?
1) You can access Play and Win in one click from either the "Game Center" or the "My games" tab. A pictorial representation is shown below, for both.
Game Center -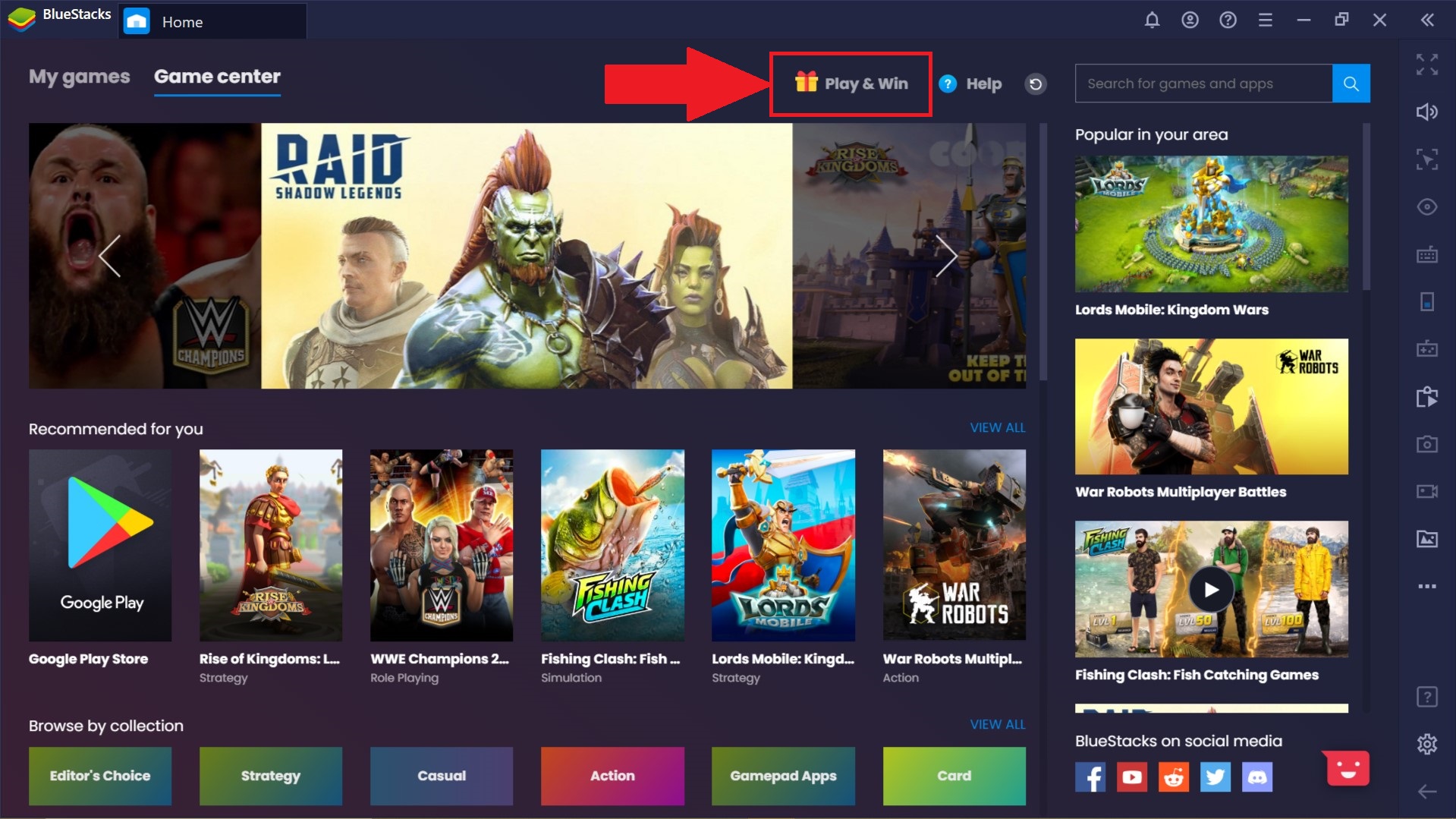 My games -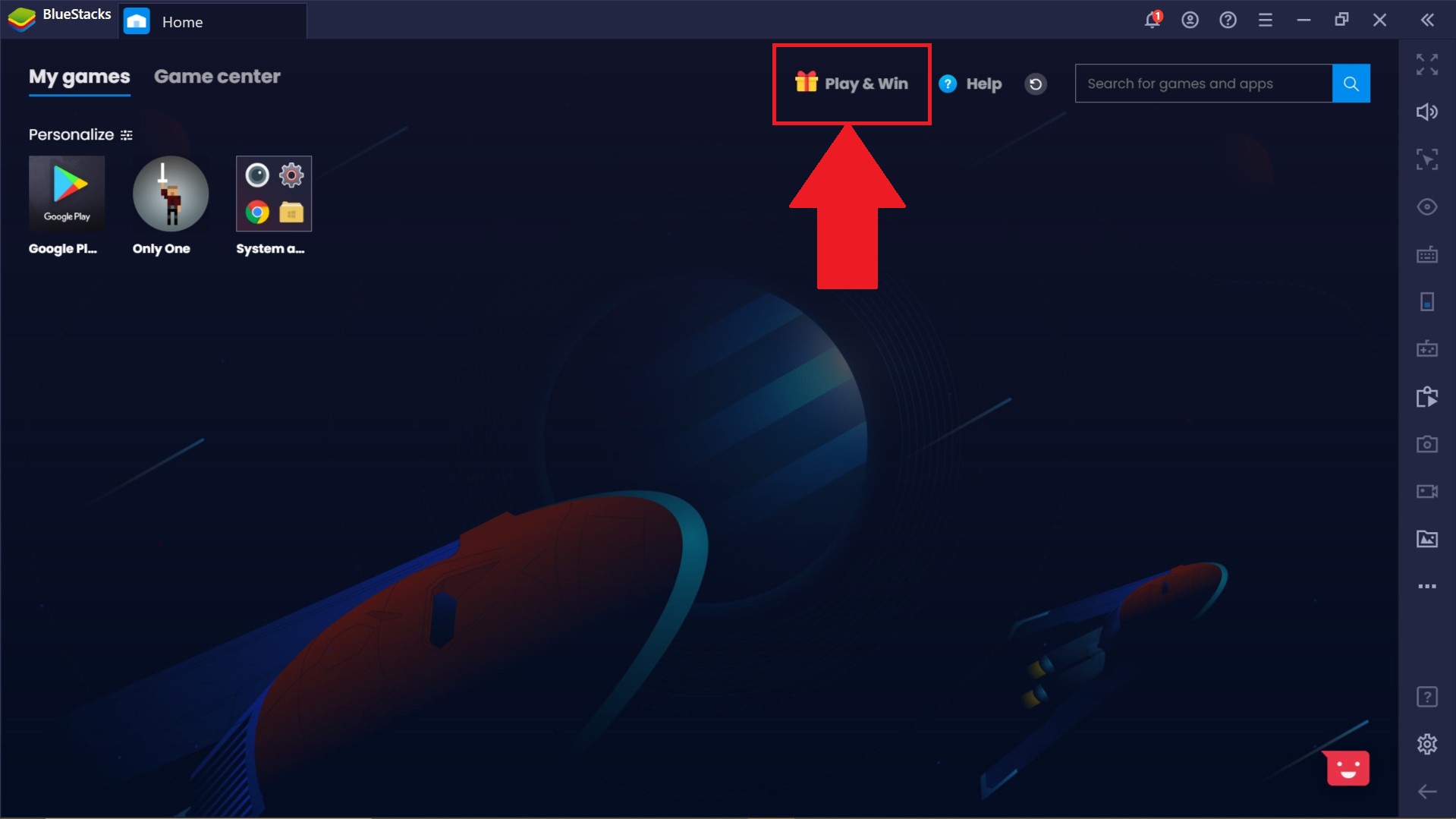 2. The Play and Win tab will now open.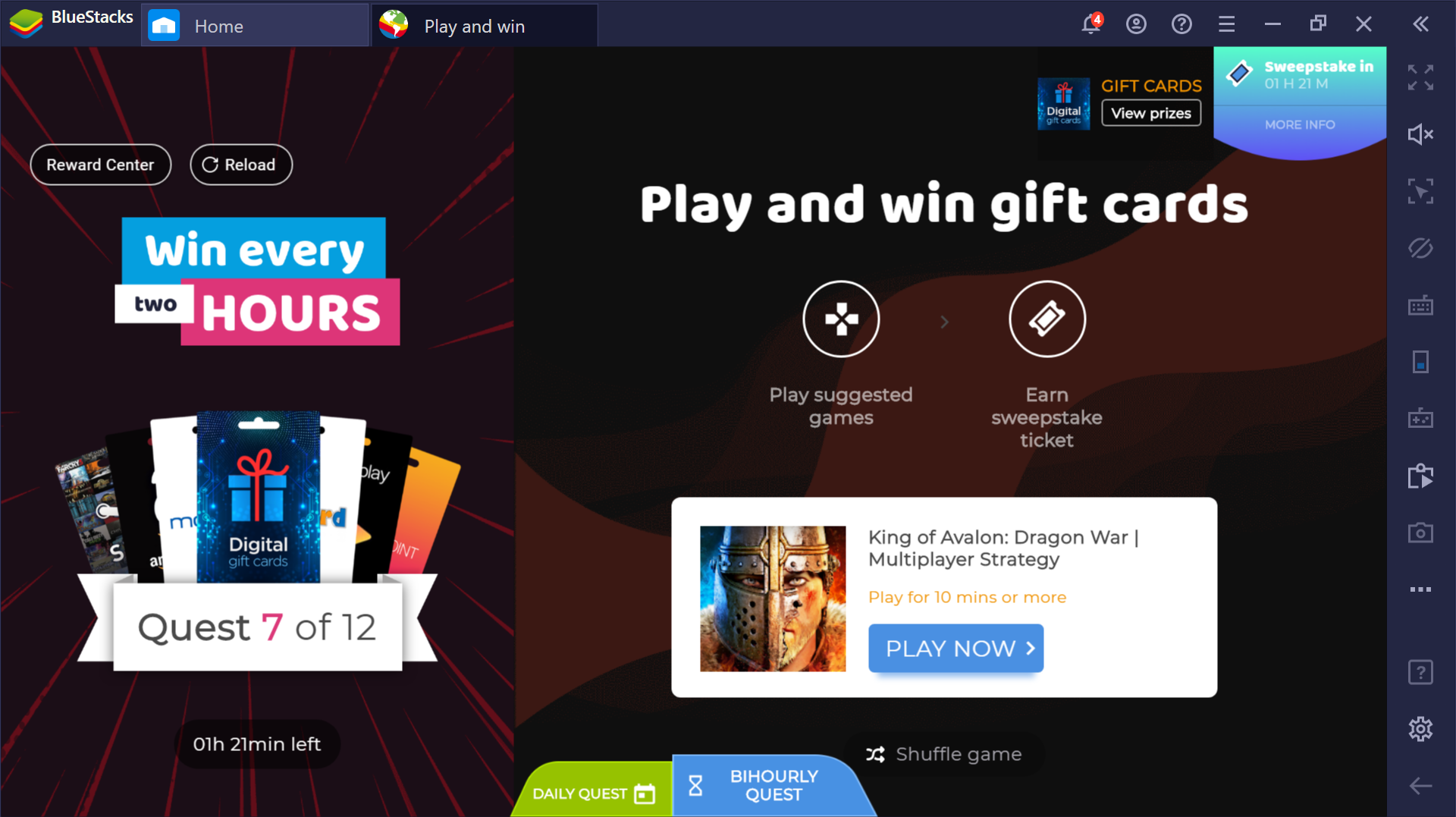 ---
What is the Companion of the Day?
Companion of the Day is a daily quest where you can unlock a new companion every day. Upon unlocking it, you not only get to see the companion but can also earn a free weekly raffle contest ticket that can win you an amazing prize.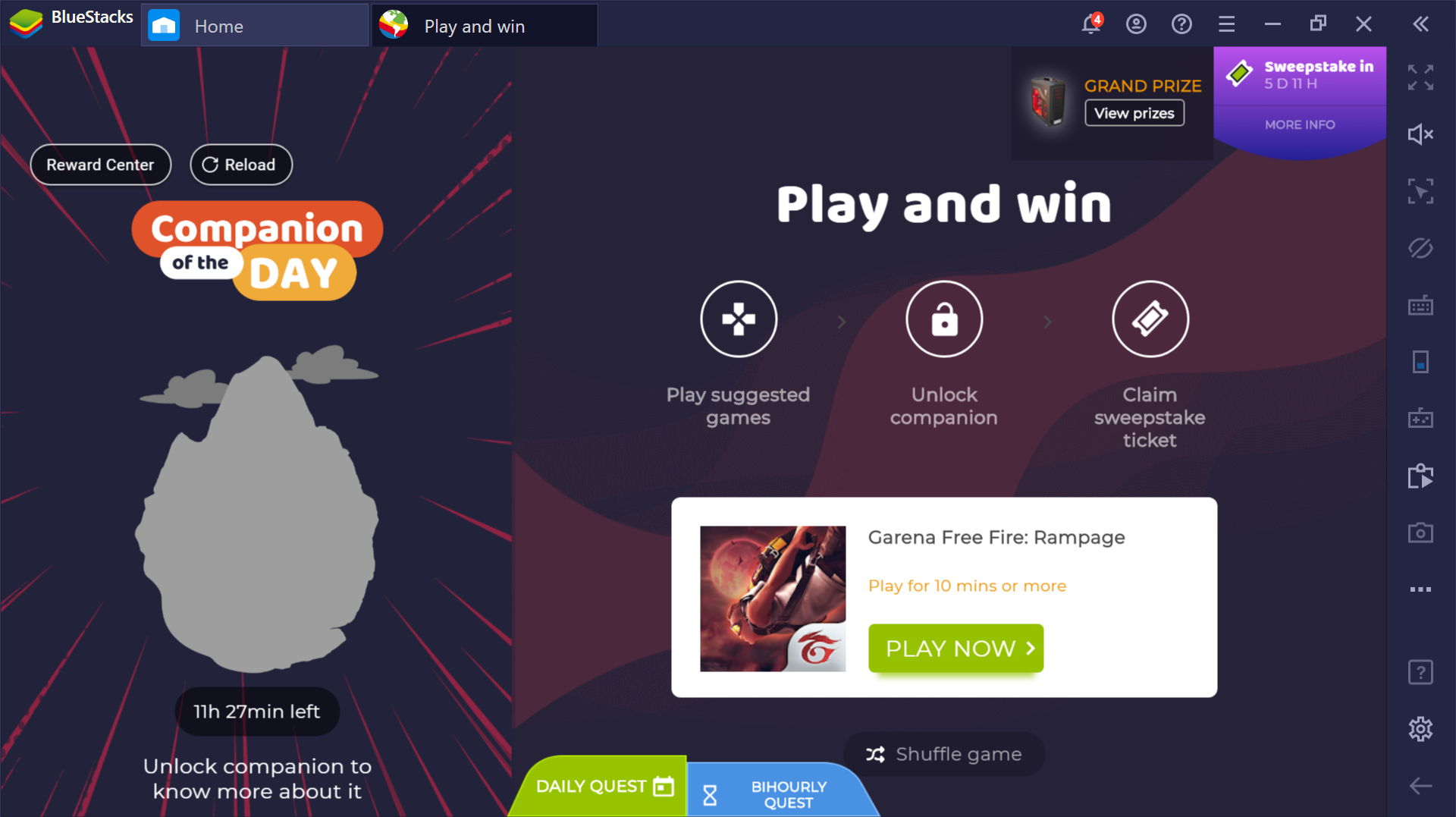 What is a Companion?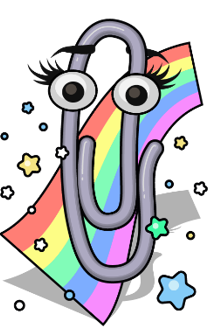 A Companion is a fictional object such as the Rainbow Paperclip guy, or a real object or thing such as a muffin or a puppy, in the Companion of the day daily quest. Unlocking a Companion enables you to explore and discover new games, and the Companion becomes actively visible.
How can I unlock a Companion?
| | |
| --- | --- |
| | |
| Locked Companion | Unlocked Companion |
Each day, a new Companion is available and can be unlocked by playing suggested games for a certain period of time, as shown below.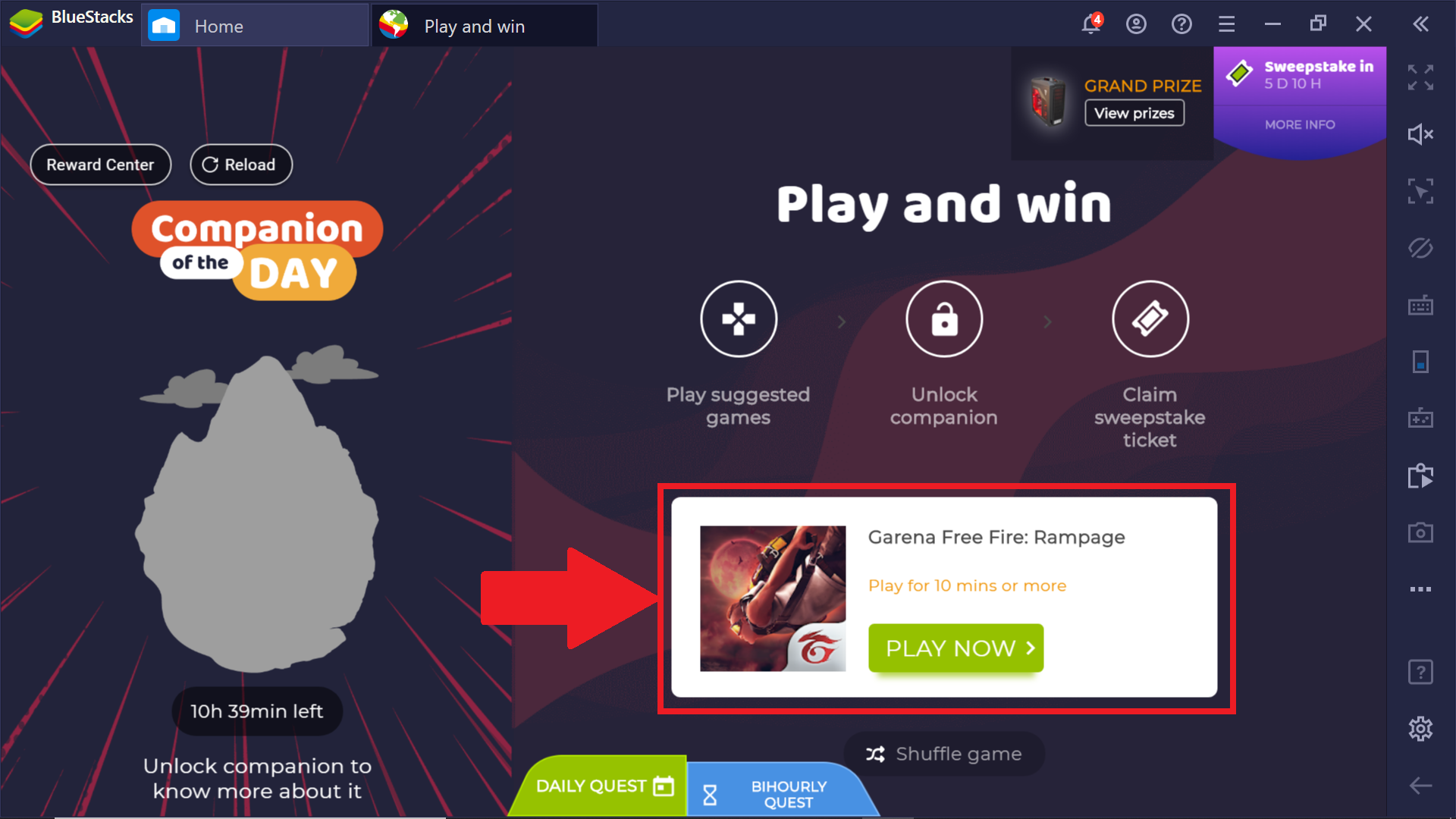 If you miss unlocking any Companion, it is not possible to unlock it later. After completing this daily quest, you are also eligible to claim a weekly raffle contest ticket. You will have to come back to the quest page in order to claim your free contest ticket.
---
What is a weekly raffle contest?
You can participate in a weekly raffle contest by collecting weekly raffle contest tickets when playing daily quests. Unlocking a Companion in a daily quest awards you with a weekly raffle contest ticket.
It is simple here, higher the weekly raffle contest tickets you have, higher are the chances of winning rewards and you also become eligible to win a better reward. The highest prize in the weekly raffle contest is a Pro-gaming PC (subject to availability at your location/country).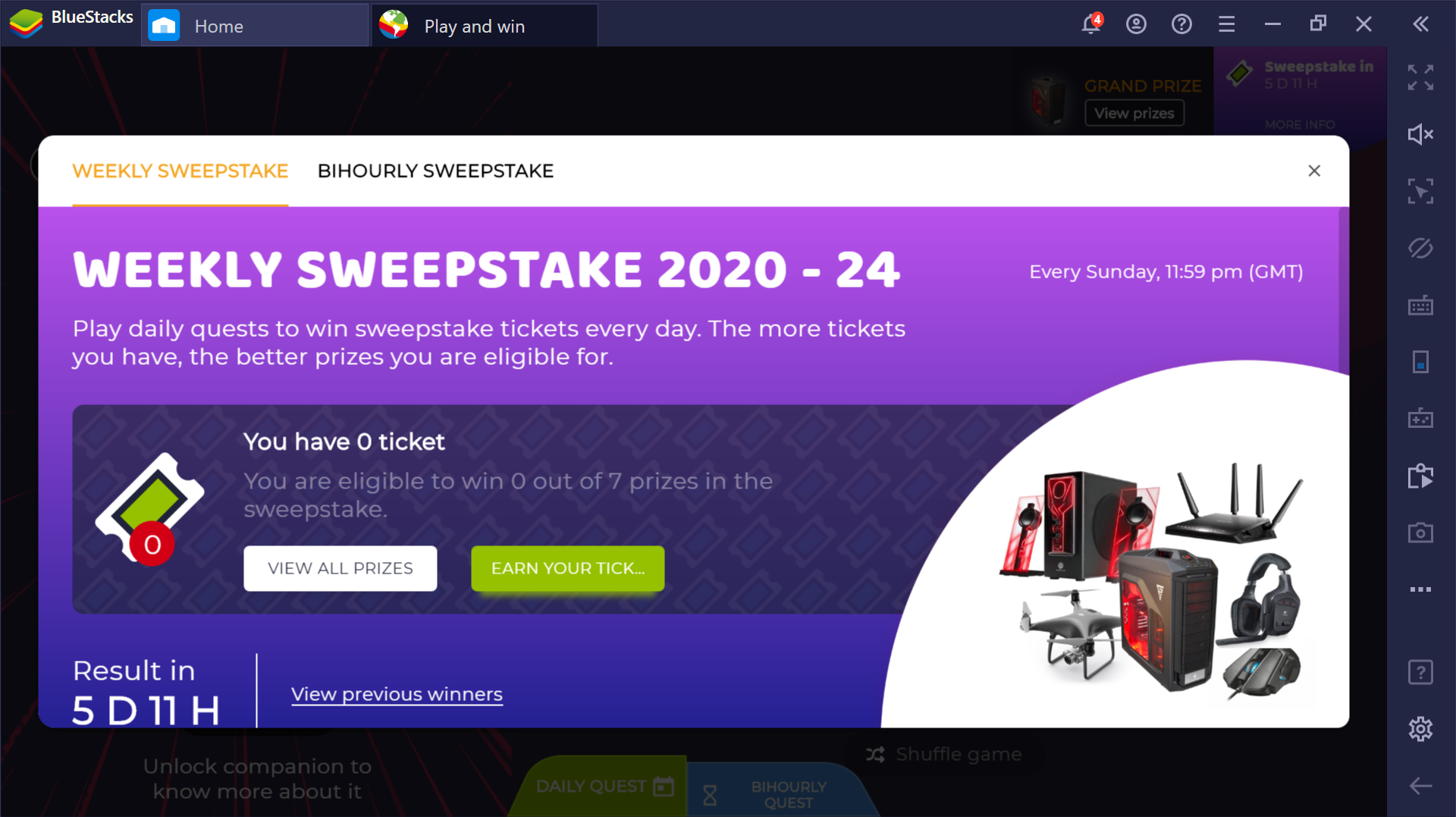 You can view the list of prizes by selecting the "View prizes" option from the Daily Quest page, shown below. Prizes are different for Daily Quests and Bihourly Quests which can be seen under individual tabs.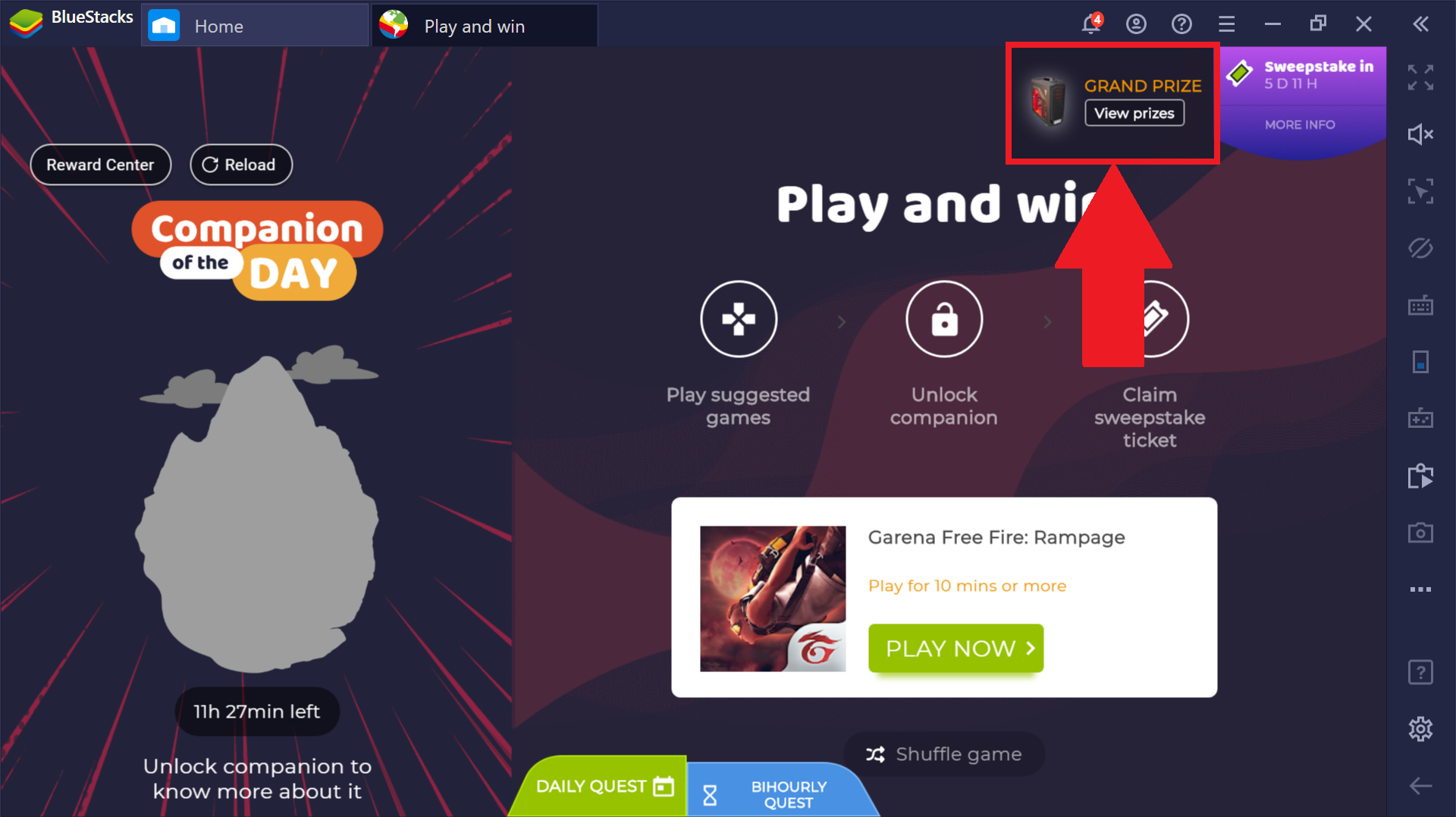 Please note, prizes shown below are an illustrative sample. They may not necessarily be available when you win a weekly raffle contest since the prizes keep changing based on availability, location/country and promotional campaigns that are live at that time. For a current list of prizes, please visit the Daily Quest Prizes page within BlueStacks.
---
What are Bihourly Quests?
Bihourly quests are used as additional hourly quests for those who want to play more after unlocking their Companion of the day. By playing a bihourly quest, you can earn a bihourly raffle contest ticket through which you can win various gift cards like the Google Play gift card and Steam gift card. After 2 hours, a new quest starts. There are 12 bihourly quests in a day.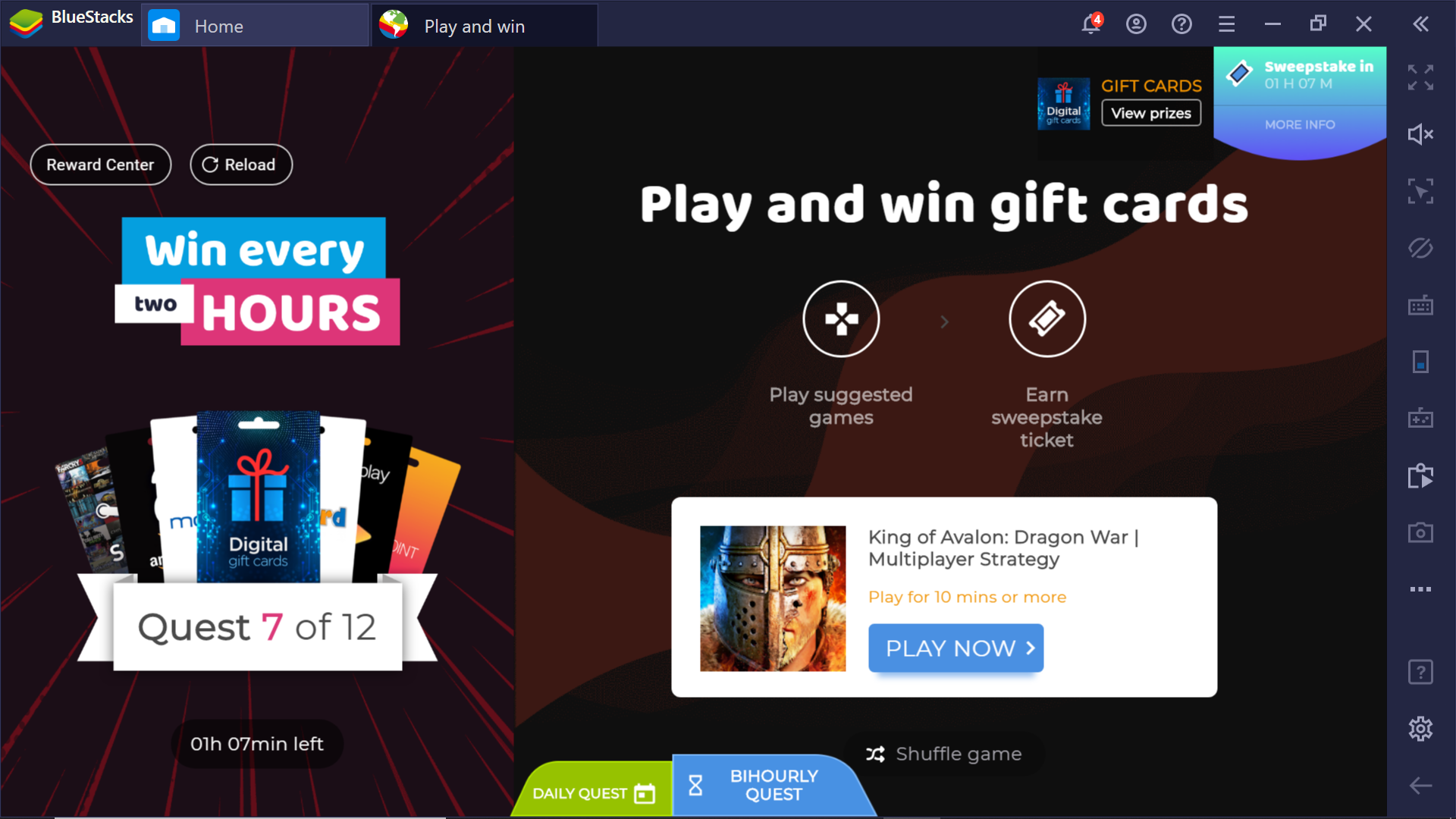 Similar to the weekly raffle contest prizes, bihourly raffle contest prizes can be viewed by selecting the "View prizes" option from the Bihourly Quest page.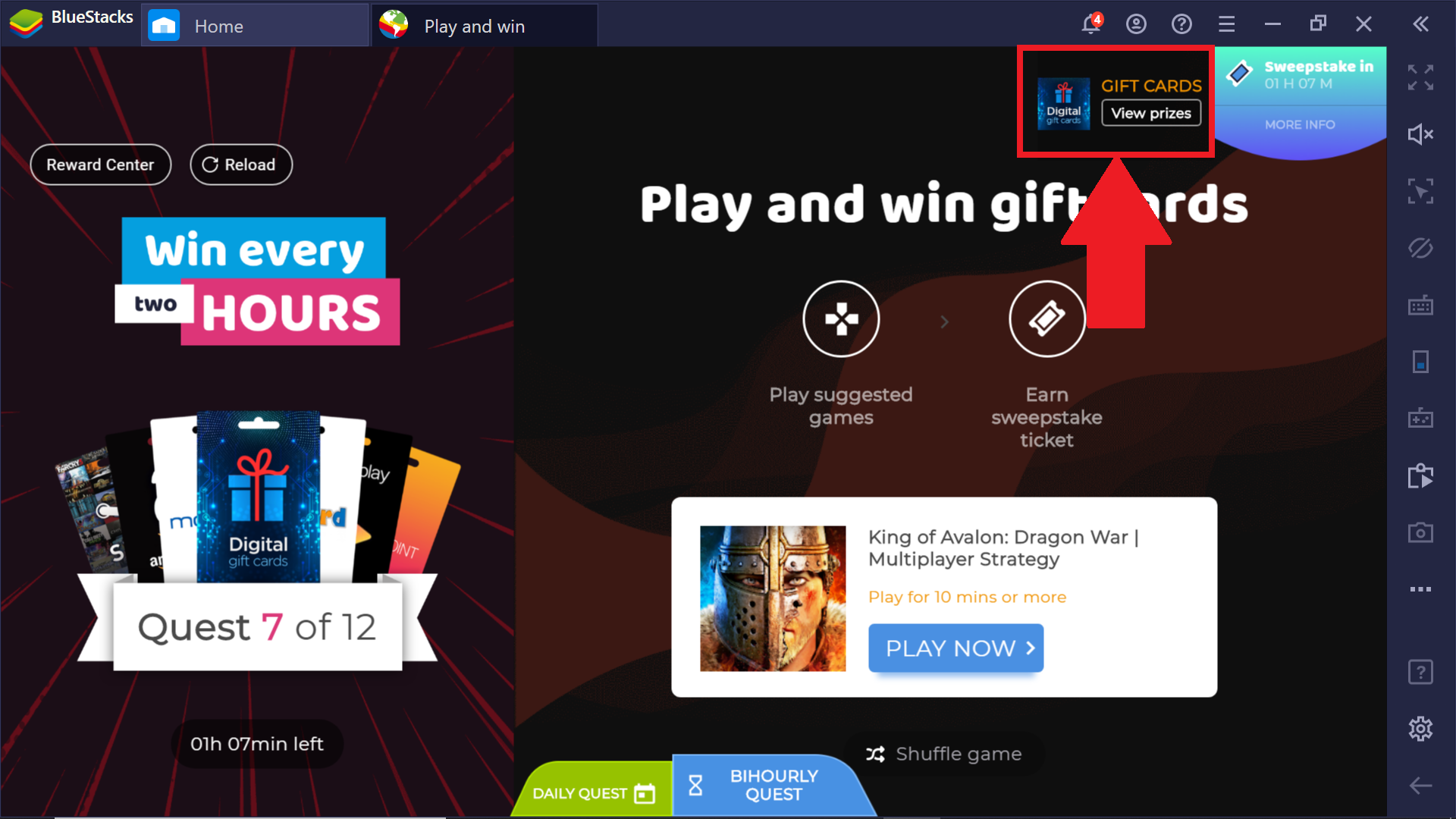 The prizes may vary based on your location/country. For a current list of prizes, please visit the Hourly Quest Prizes page within BlueStacks.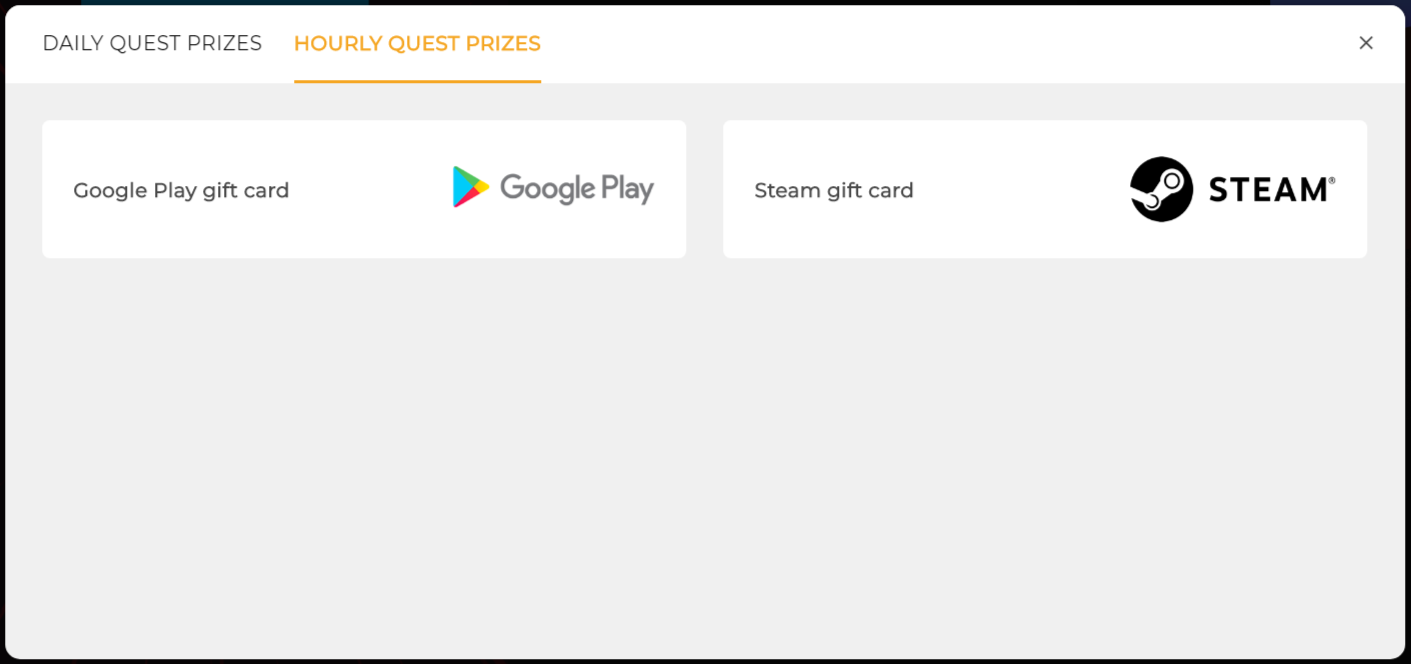 ---
How can you claim your prize?
If you win the Bihourly raffle or weekly raffle contest, you will receive a notification on BlueStacks with a Claim now button that allows you to claim the prize. Please note that the Claim Now button stays active for 90 minutes (in case of Bihourly raffle) and 14 days (in case of Weekly raffle) from the time of the notification. The notification looks similar to the image below: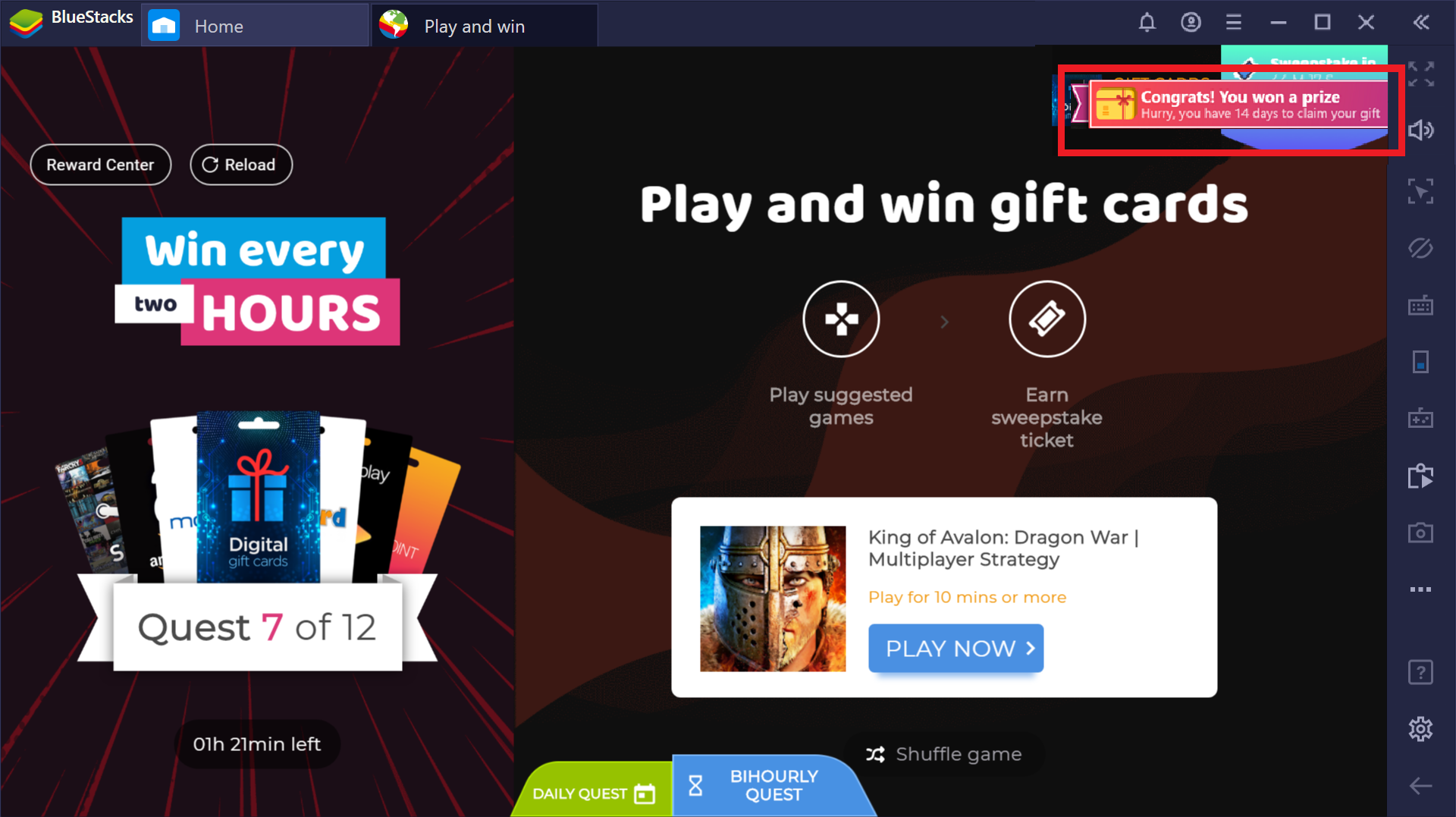 To ensure you do not miss out on a contest win while being away from BlueStacks, we also send a congratulatory email that notifies you for your win.
Once you click the Claim Now button within BlueStacks, you will be redirected to a page that will show you a gift code. The page looks similar to the image below.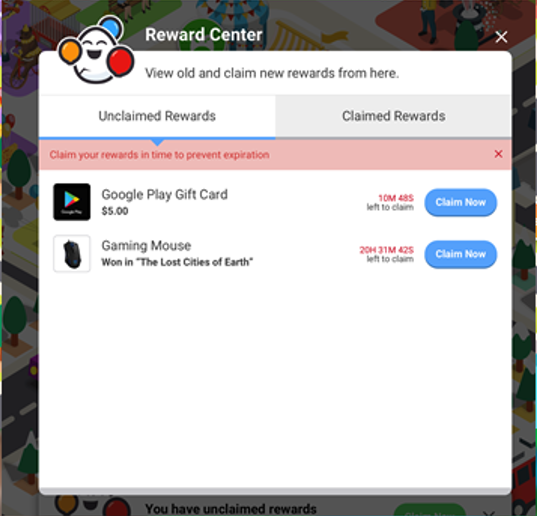 You also receive an email containing the same gift code. Copy the code and paste it into the redeem option available on the Google Play Store or the Steam account.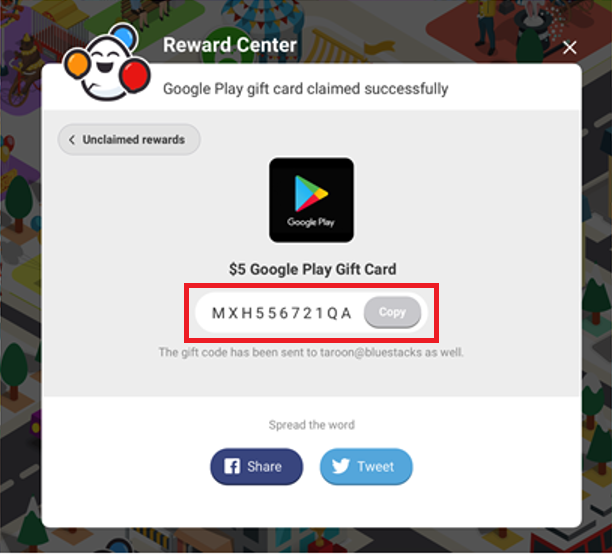 NOTE: Using a VPN while participating in Play and Win can cause issues in the delivery of your prize. As such, we highly recommend to not use a VPN while participating in Play and Win.
---
Thank you for choosing BlueStacks. We hope you enjoy using it. If you have any further questions, please contact us at support@bluestacks.com. Happy Gaming!
Last updated on August 4, 2020.