Purpose
This article will guide you on how to customize BlueStacks 4 through its settings menu.
Benefits
You can tailor the experience of using BlueStacks to suit your own needs.
Audience
All users
BlueStacks Versions affected
4.130.0.1049 and above
Geo's affected
All
Geo's
Step
Click on the gear icon on the top bar as shown below.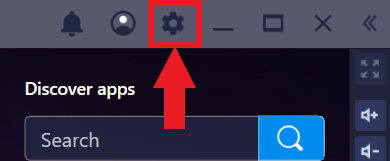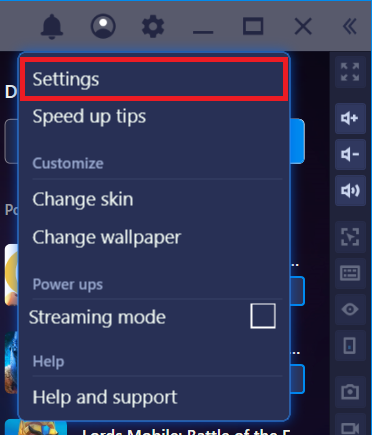 1. Display: You may customize the resolution and DPI through the 'Display' settings menu, to enhance your viewing and playing experiencing on BlueStacks. Please close and restart BlueStacks to make your resolution and DPI settings effective.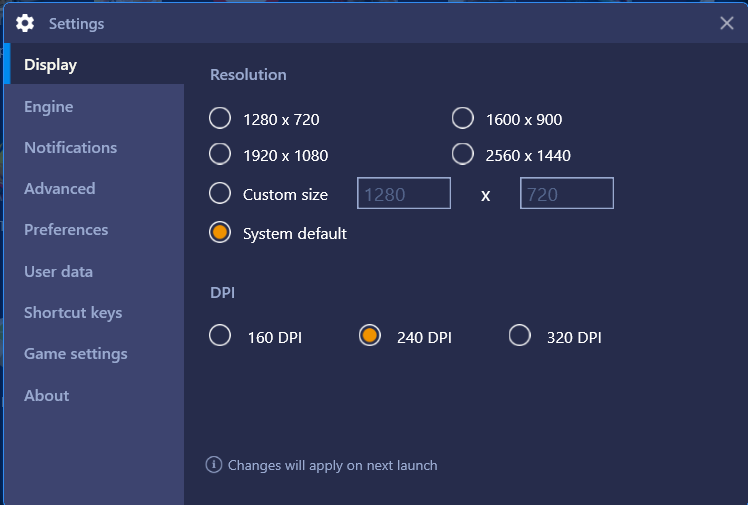 2. Engine: This will let you change the graphics mode in which BlueStacks runs. Here you may also allocate CPU cores and RAM as per your requirement. Please refer to the article How can I change the graphics mode on BlueStacks?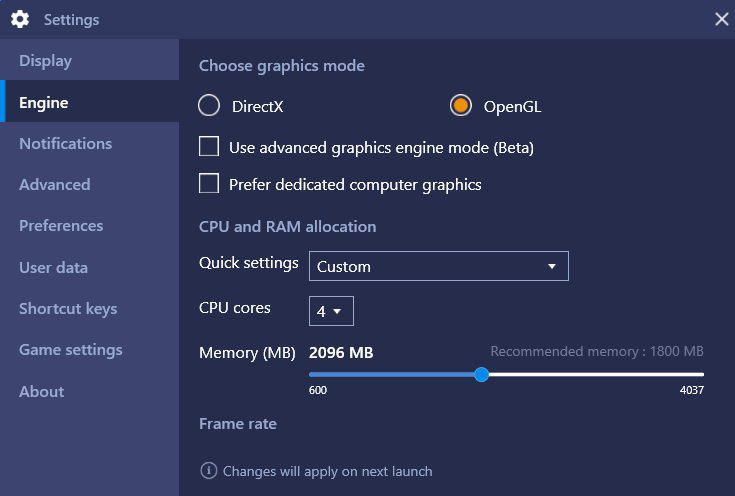 In this, with 'Quick Settings' you can use predefined configuration for your PC's RAM and CPU. It's a feature that allows you to get maximum performance from your machine.
To get back the slider for adjusting "Memory" click on the custom option from the dropdown menu.
Upon scrolling down, you will see the slider to adjust FPS as shown in the screenshot below. For more information on FPS, you may refer to the article, Introducing custom FPS (frames per second) feature on BlueStacks.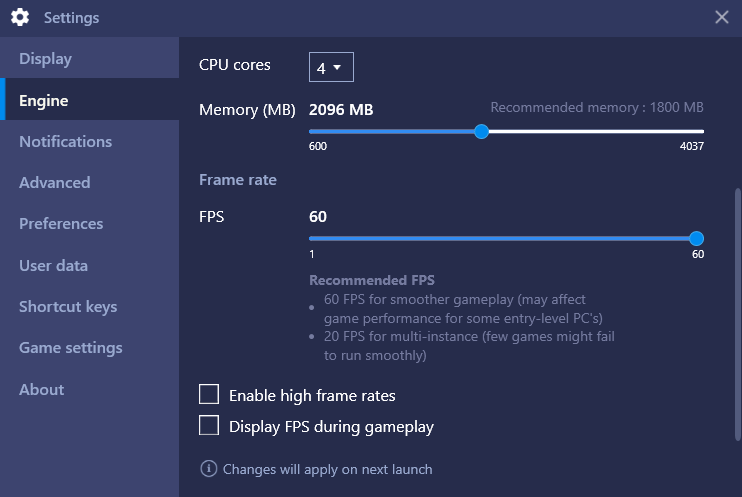 Note: Changes in Engine settings will be applied on restarting BlueStacks.
3. Notifications: This will let you manage notifications on BlueStacks 4. You can also refer to the article How to manage notifications on BlueStacks?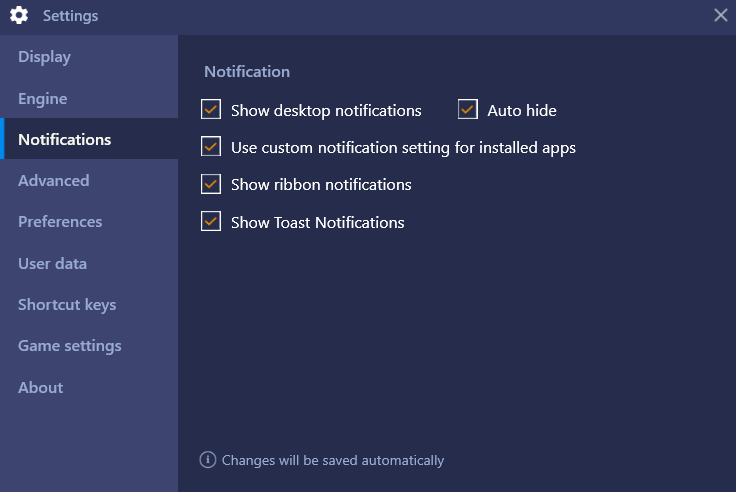 4. Device Profile: This option will broaden the app compatibility on BlueStacks, you may switch to different device profile when the app of your choice is not compatible with the current device profile. For more information, please refer to the article How can I switch the device profile on BlueStacks 4?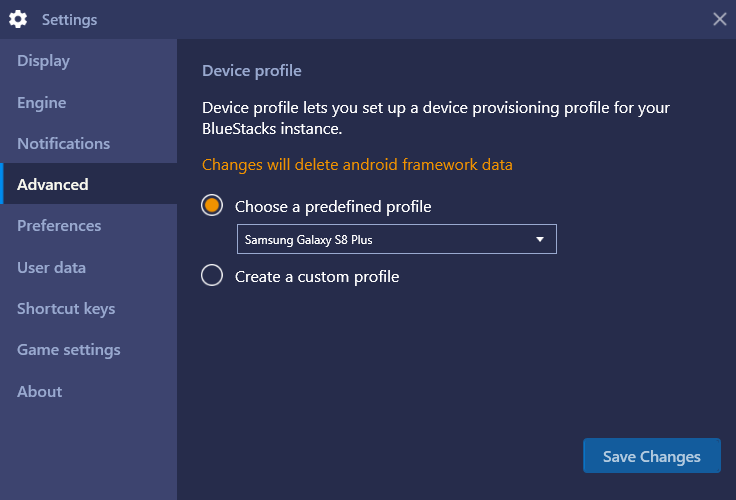 5. Preferences: This option helps you to customize your performance and platform related settings for BlueStacks. Such as switching between the apps, creating desktop icons, changing the cursor during gameplay and gamepad detection.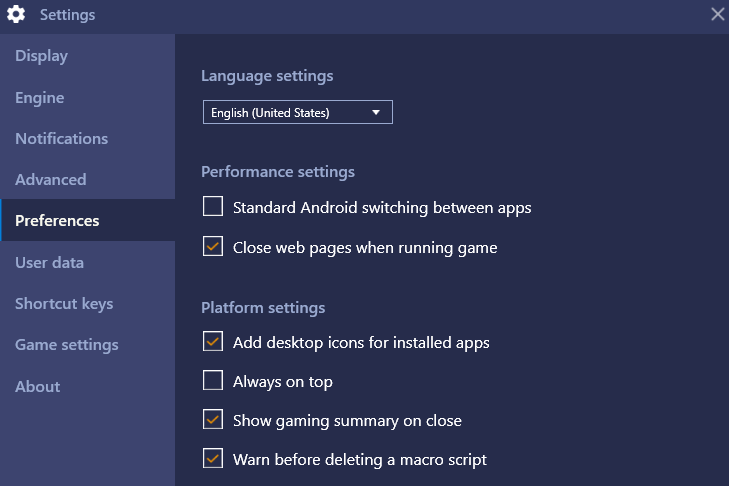 6. User data: This option will let you free up un-utilized disc space of BlueStacks. And with Backup and restore option you can recover all your BlueStacks data by creating Backup and restoring it. For more information, please refer to this article How to use Backup and Restore on BlueStacks?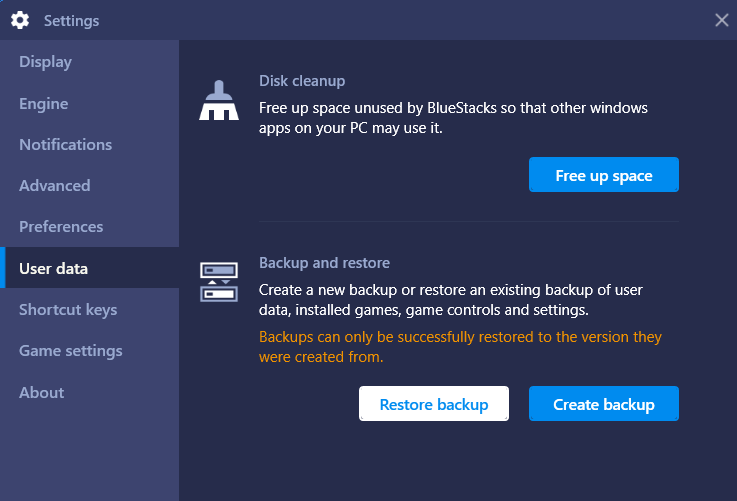 7. Shortcut Keys: Using the option of shortcut keys you can various functions on BlueStacks.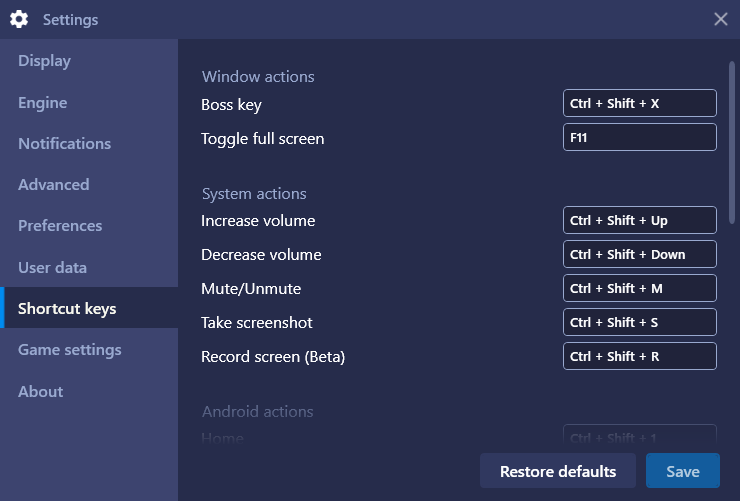 8. Game Settings: This option let you improve your in-game resolution and graphics quality. It depends on the GPU benchmark.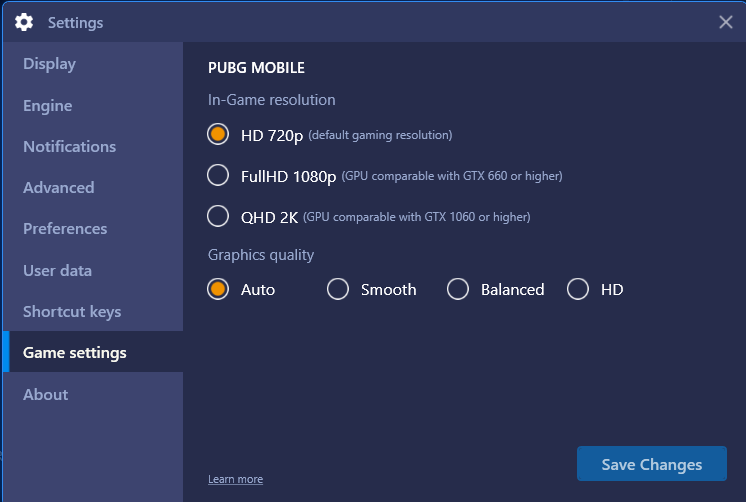 9. About: It provides information about BlueStacks version installed on your PC. Also, you can check whether the latest BlueStacks version is available. This will keep you up to date with the latest releases. Click "Check for updates" to see if any update is available. For more info refer to the article "How can I check for BlueStacks update and Install it?"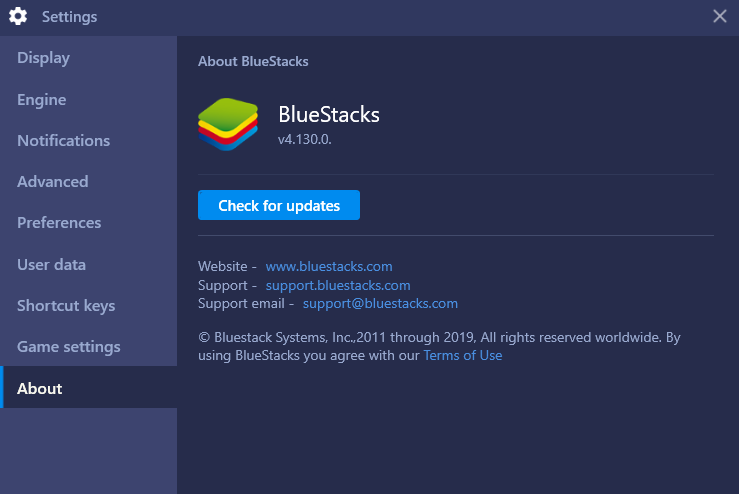 We genuinely appreciate your choosing BlueStacks. We hope you enjoy using it. If you have any further questions, please contact us at support at bluestacks dot com. Thank you very much.
Last updated on Aug 22, 2019