Purpose
To acquaint you with the new feature of Farm Mode in BlueStacks 4.
Benefits
Farm mode provides the functionality to run games in multiple instances of BlueStacks without slowing down the computer. Now you can farm in-game resources on multiple accounts with ease in games like Lineage M, Darkness Rises, Dragon Nest etc. while using your PC to do all the other things you'd rather be doing in that time.
BlueStacks versions affected
BlueStacks version: 4.60.1.1002 or above.
Audience
All the users of BlueStacks 4.
Geo's affected
All Geos
Advantages of Farm Mode
It is useful for apps which don't require too many dynamic inputs, such as Lineage M.

For playing mobile games that can be run in auto-play mode or resource farming mode

It is especially useful when you create multiple instances of BlueStacks and farm in-game resources on each instance
You can run any app on as many instances as you want, and after enabling Farm Mode, the CPU usage will drop to bare minimum.
How to Enable/Disable Farm Mode?
Steps
1. Open BlueStacks and launch Instance manager from More Apps.

2. Upon launching multi instance manager, you'll see a yellow 'Farm' button on the bottom.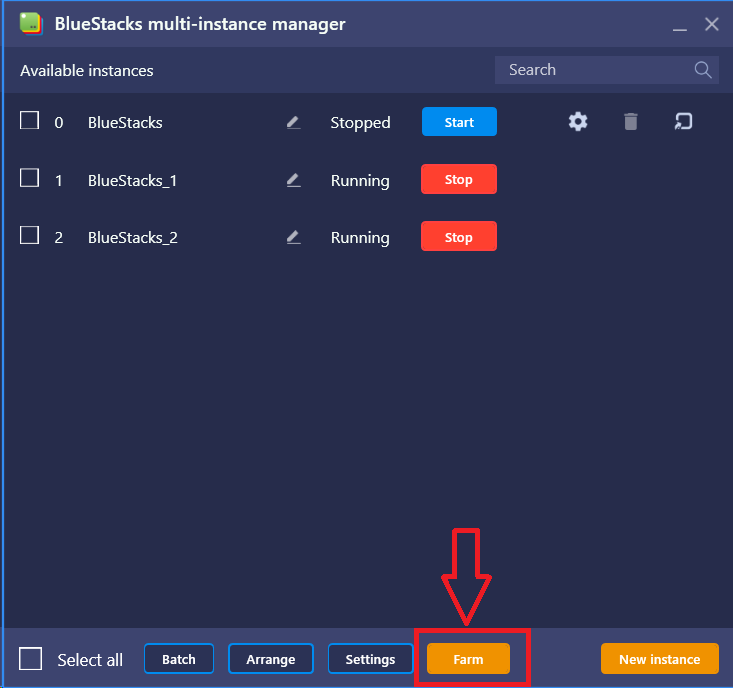 3. Run any android app on the instances created.
4. Click 'Farm' button in multi instance manager. You will notice a difference in CPU Usage, FPS, brightness etc. Take a look at the table below to find more.
| | | |
| --- | --- | --- |
| S. No. | BEFORE ENABLING FARM MODE | AFTER ENABLING FARM MODE |
| 1. | High CPU Usage | Low CPU Usage |
| 2. | High FPS / Smooth Gameplay | Low FPS / Laggy Gameplay |
| 3. | Normal Brightness | Decreased Brightness |
| 4. | For Apps that require high FPS and instant dynamic input | For Apps that require little or no interaction, have autoplay or resource farming mode |
You may also notice these differences in the screenshots below.
[BEFORE ENABLING FARM MODE]
[AFTER ENABLING FARM MODE]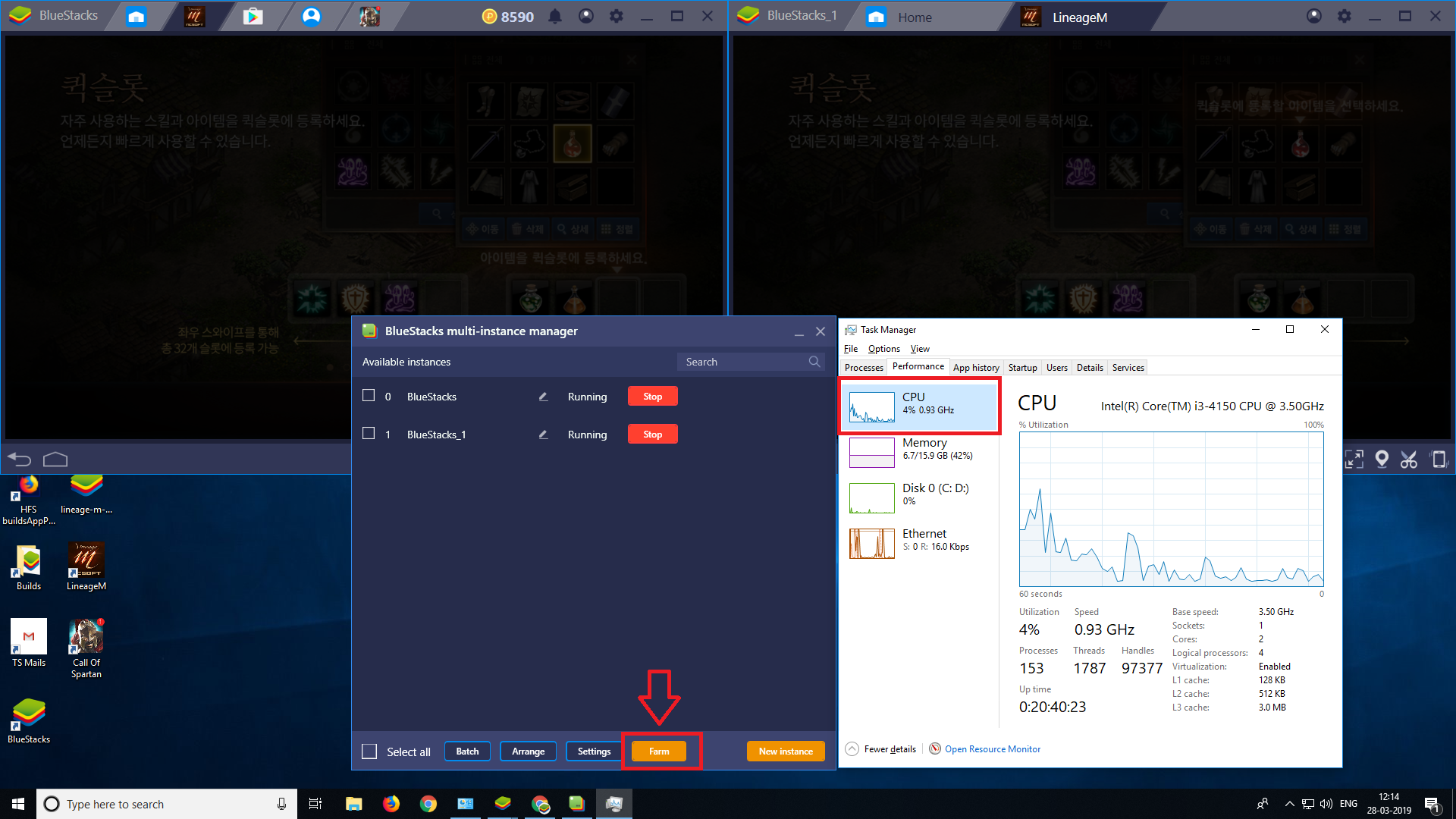 Disabling Farm Mode
Click the 'Farm' button again to disable Farm Mode. CPU usage & App FPS will return to normal.
We genuinely appreciate your association with BlueStacks. We hope you enjoy using it. If you have any further questions, please contact us at support at bluestacks dot com. Thank you very much.
Last updated on March 29, 2019