Purpose
This article suggests workarounds for different issues related to WhatsApp on BlueStacks.
Benefits
You would be able to resolve issues you are experiencing with WhatsApp app on BlueStacks.
Audience
Users who are experiencing issues related to WhatsApp on BlueStacks.
BlueStacks versions affected
All versions of BlueStacks
Geo's affected
All Geo's.
Issues and suggested Workarounds:
1. Graphics Related Issues
Change your graphics settings from DirectX to OpenGL
Enable Advanced Graphics Mode
Increase Allocated RAM to at least 1500MB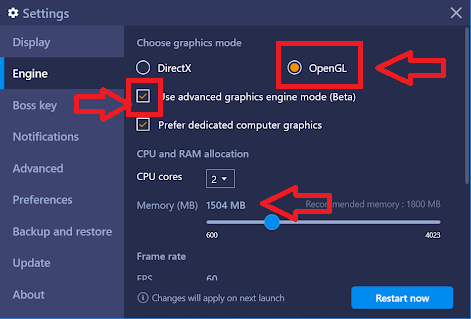 2. Sound Related Issues
3. Network Related Issues
It is possible that your system is infected with Adware or Malware which might be the reason you are experiencing network issues while using WhatsApp. You may scan your system with any antivirus or adware removal program in order to clean them.
We recommend MalwareBytes, you may download it from www.malwarebytes.com and run it for cleanup. Instructions to run it can be checked in this article.
4. Unable to Download WhatsApp from Play Store
5. Transfer files from WhatsApp to PC
We genuinely appreciate your choosing BlueStacks. We hope you enjoy using it. If you have any further questions, please contact us at support at bluestacks dot com. Thank you very much.
Last updated on September 04, 2019