Purpose
You can play First Person Shooter (FPS) and sniper games a lot more easily and efficiently with the help of a mouse by setting up the shooting mode on BlueStacks 4.
Benefits
You can improve your accuracy and response time using the shooting mode on BlueStacks 4.
Audience
Gamers who enjoy playing FPS and sniper games on BlueStacks 4.
BlueStacks versions affected
BlueStacks version 4.140 and above
Geo's affected
All geo's
Steps:
1. Launch BlueStacks, install any shooting game of your choice and click on keyboard Icon to open keyboard control editor UI as shown in the image below.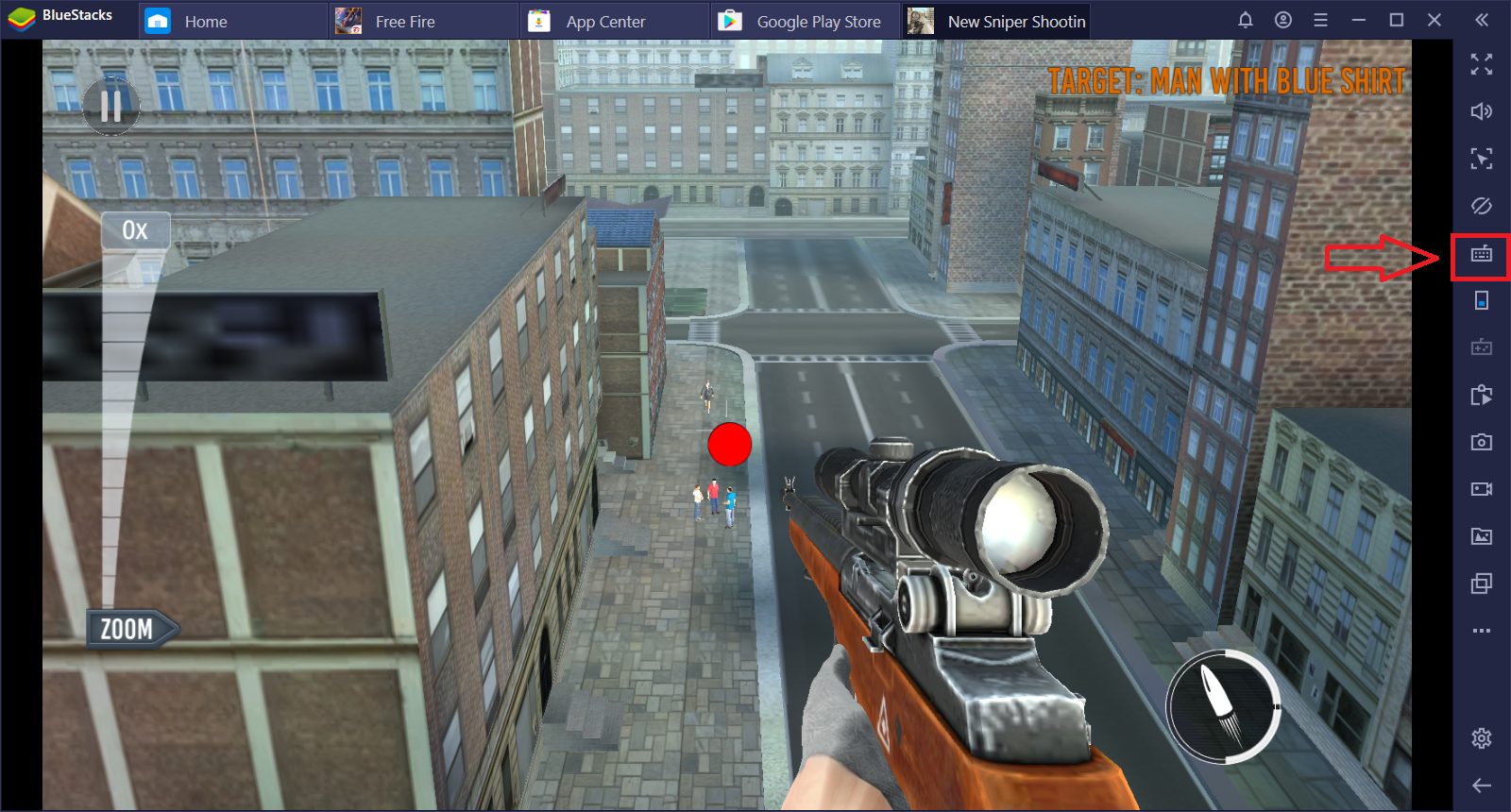 2. Click on the 4th icon on keyboard control editor UI that is used to set shooting mode. It is called "Aim, pan, and shoot".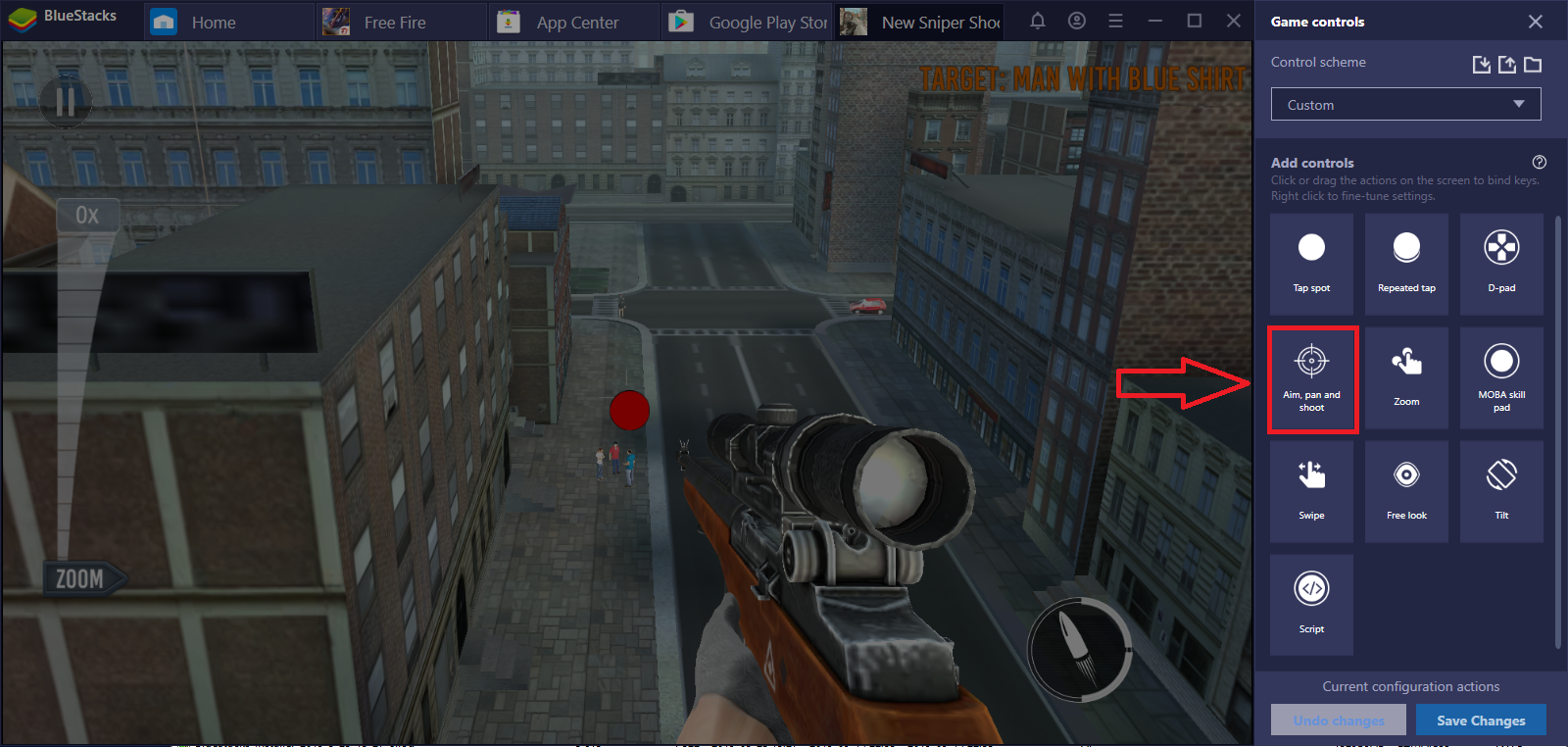 3. Drag it to anywhere on the screen to use the capability. It is preferable to place the icon slightly to the right of the center of the screen to avoid tampering with the D-PAD in games.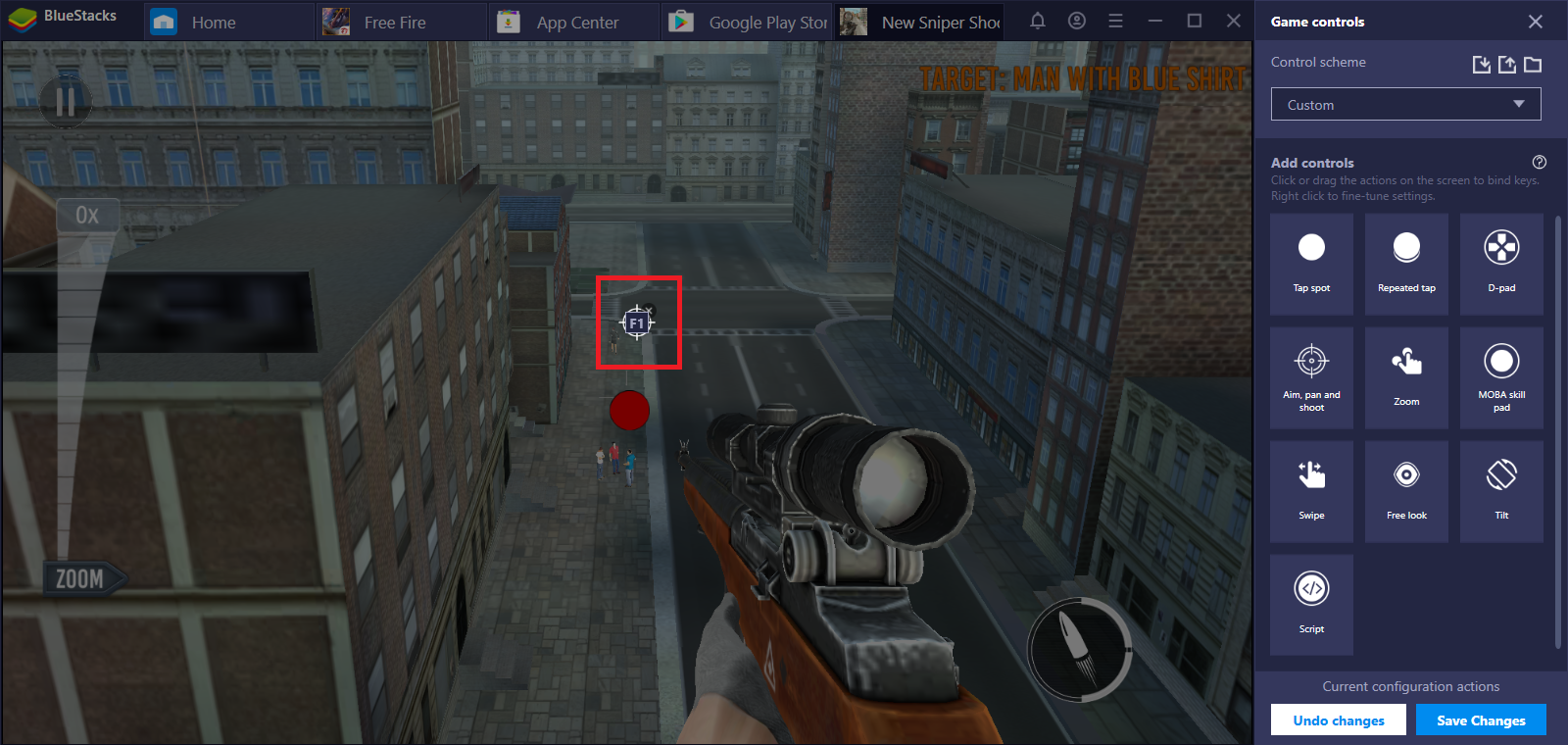 Shooting mode functions
1. Game control guidance -
Game controls guidance window consist of description/guidance for the keys mapped in a particular app. It lists all the actions in the app and their assigned keys. Guidance Category (Shooting/Combat etc)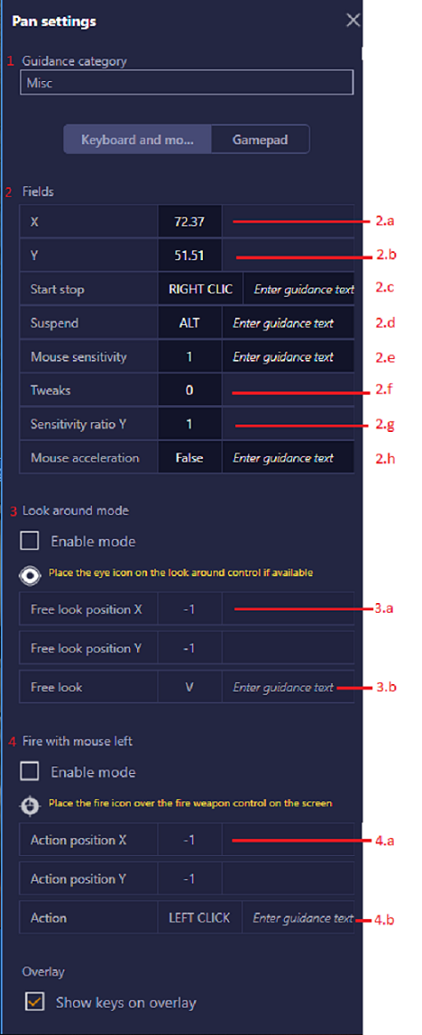 2. Fields
a) X - Location of "X" axis where Shooting Mode is placed.
b) Y - Location of "Y" axis where shooting mode is placed.
c) Start stop - Toggle key. Key used to activate/de-activate Shooting Mode.
d) Suspend - Suspends Shooting mode and allows free movement of mouse cursor while the key is pressed (Till it is released)
e) Mouse sensitivity - How sensitive the aim is with respect to the movement of the mouse. Sensitivity = 1 means the game will aim at Windows sensitivity.
(Pro tip - Switch off enhanced pointer precision from "Pointer Options" in Control Panel to get more accurate aiming)
f)Tweaks - Various values used to optimize aim in different games.

g) Sensitivity ratio Y - This is used to set a different sensitivity for Y-Axis (Vertical movement of the mouse). Eg. Value of 2 = Vertical movement is twice as fast as horizontal movement
h) Mouse acceleration - This can be used as a multiplier to the speed of the mouse. In simple terms, the more this number, and the faster you move the mouse, the distance covered by your cursor will also increase.
3. Look around mode
a) Enable mode - Used to enable Look Around Mode which is a core part of most Battle Royale games
b) The eye icon

is then placed on the look around key. If available in the game settings or user interface.
c) Free Look position X, Y - To define coordinates manually
d) Free Look - Key used to look around.
4. Fire with mouse left
a) Enable mode - Used to enable Shooting with Left Click in a much better way
b) The mouse icon

can be placed over the key that is used to shoot in the game
c) Action position X, Y - To define coordinates manually
d) Action - Key to Shoot (Default set to Left Click)
We genuinely appreciate your choosing BlueStacks. We hope you enjoy using it. If you have any further questions, please contact us at support at bluestacks dot com. Thank you very much.
Last updated on October 3rd, 2019