Purpose
This article will guide you on how to allocate more CPU cores on BlueStacks.
Benefits
Makes the BlueStacks performance smoother.
Audience
All users of BlueStacks.
Prerequisite
Hardware-assisted virtualization should be enabled on the system.
BlueStacks Versions affected
BlueStacks Version 4.140. and Above.
Geo's affected
All Geo's
Steps:
1. Open the "Settings" menu. It can be accessed using:
(a) hamburger menu
(b) gear Icon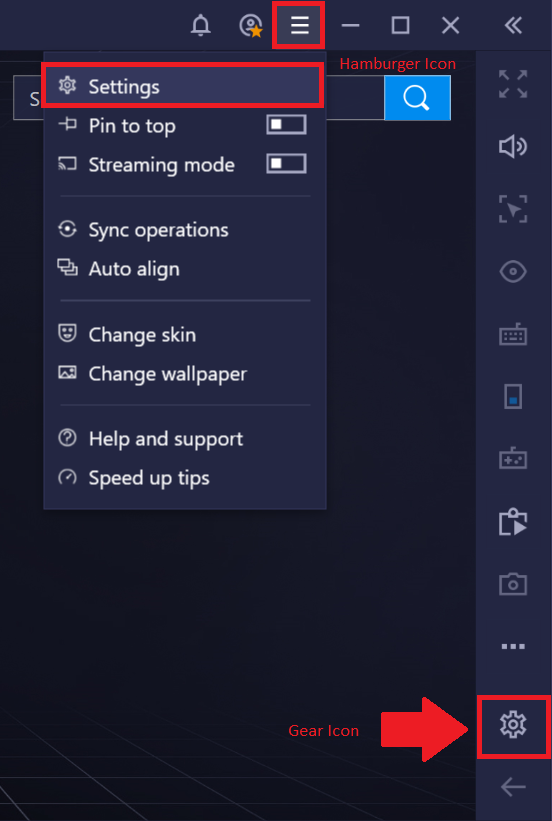 2. In "Settings", click on "Engine" option. Under the performance tab, you can select the predefined combination of CPU cores and RAM as shown in the screenshot below.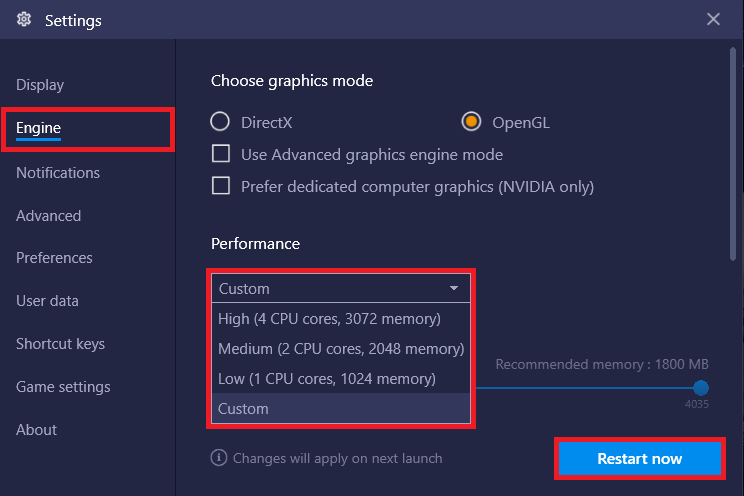 Also, if you select "Custom" in performance, the option of selecting CPU cores will get activated and you will be able to set the number of available cores manually by clicking the drop-down as shown in the screenshot below. Click the "Restart Now" button to save the changes.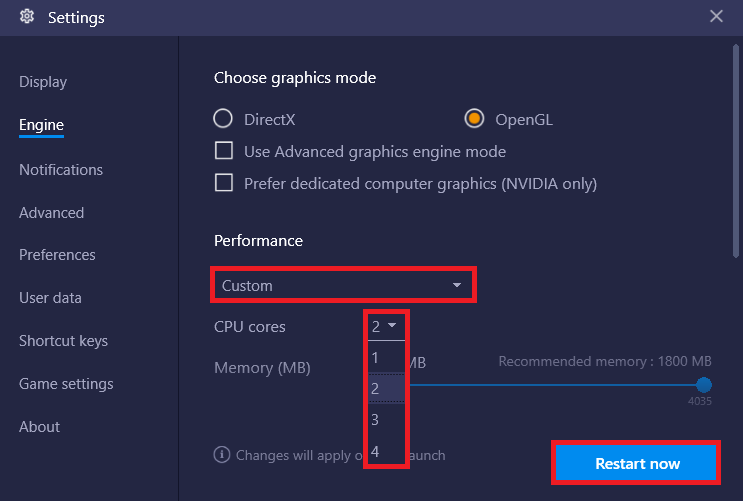 Troubleshooting: I am unable to add more CPU cores
If the hardware-assisted virtualization is disabled on the system, the CPU core cannot be allocated from the "Engine" tab in the settings drop-down menu.
You can also check for this exclamation mark on the top of the BlueStacks window, this appears when the machine does not meet recommended settings required to run BlueStacks.

Please make sure virtualization is enabled in the BIOS settings of your machine. Check this help article for steps to enable virtualization on your machine.
We genuinely appreciate your choosing BlueStacks. We hope you enjoy using it. If you have any further questions, please contact us at support at bluestacks dot com. Thank you very much.
Last updated on October 31st, 2019.