BlueStacks 4.150.11.1001 Release Notes
Details
Discover, share and download macros.
Macros are an integral part of BlueStacks and have aided in providing a satisfying gaming experience for our users. With this update we are taking this a step further by inviting you, the users, to contribute to the community with macros that you have created.
This update will also allow you to download macros which will enhance your gameplay experience to a greater level.
For a more detailed description of this feature, please explore this link.
Create your avatar.
Create an avatar. It is 2019. Profile pictures are overrated, anyway.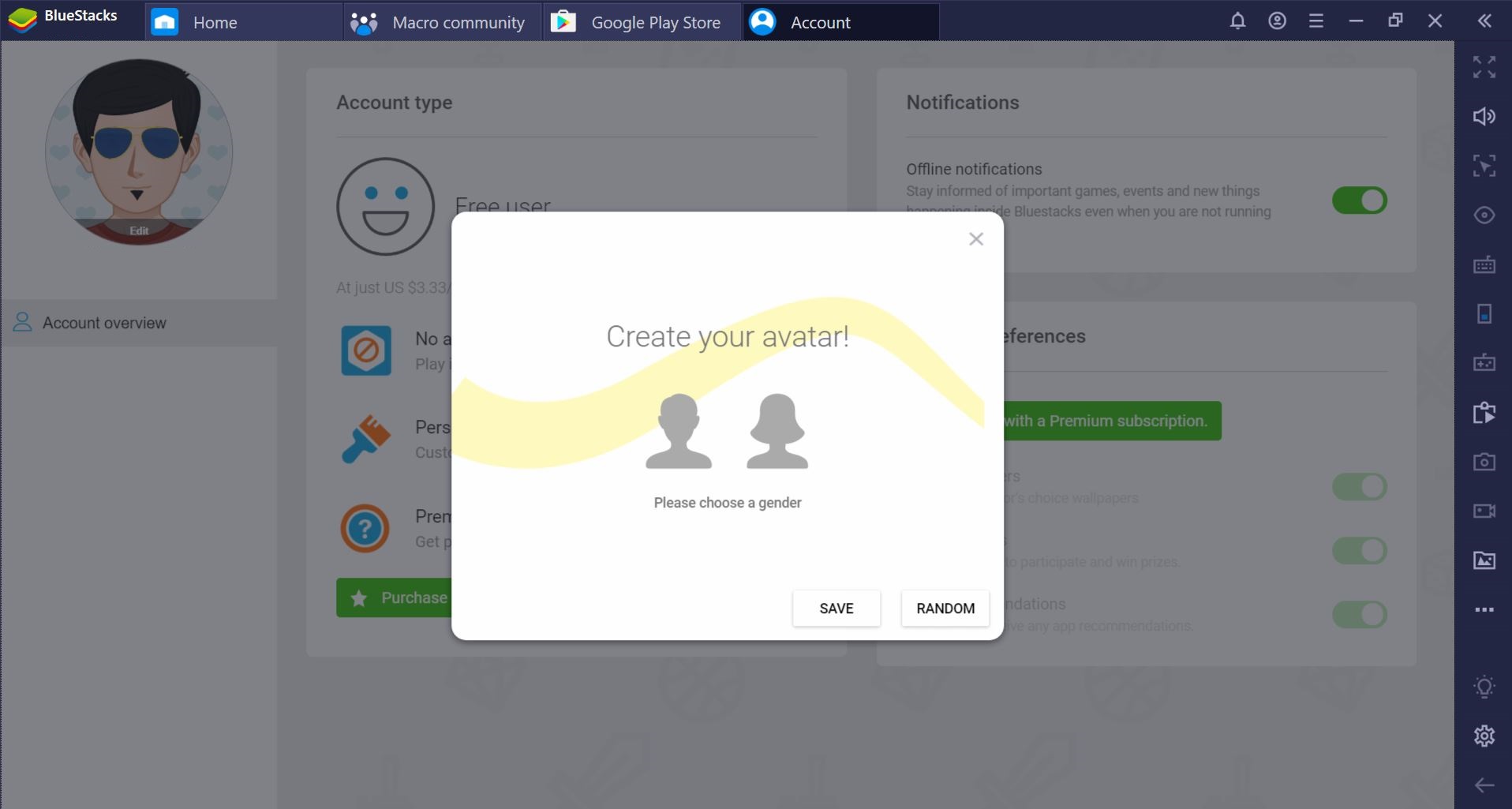 Bug Fixes
Unlimited eye candy for users of "Black Desert Mobile" as all graphical issues have now been resolved.

Mouse cursor disappearing has been fixed. No more hide and seek.

Boot failure bug has been removed. We used a lot of bug spray.
Users of "Another Eden" (

net.wrightflyer.anothereden)

application will no more see the "No longer supported" error message. We support you.
"Ace Fishing: Wild Catch" will no longer crash. A parachute has been attached for you.
Fix for crash issue in "Dan Town ~ Memoria Freze ~" (

com.danmemo) application.

"Last Kings" will no longer display a black screen. You have been saved from the void.
"MilkChoco"'s supply of milk will be uninterrupted from now on. No more crashes.
Fix for black screen upon opening camera in Instagram. Take all the selfies you want.
Fix for crash issue in "Megido72".
BlueStacks 4.150.8.1008 Release Notes
Details
Bug fixes and Performance improvements.

Squashed a bug which prevented some users on Windows 7 to boot successfully.
BlueStacks 4.150.0.1118 Release Notes
Details
Review game guidance and manage game controls without disrupting your gameplay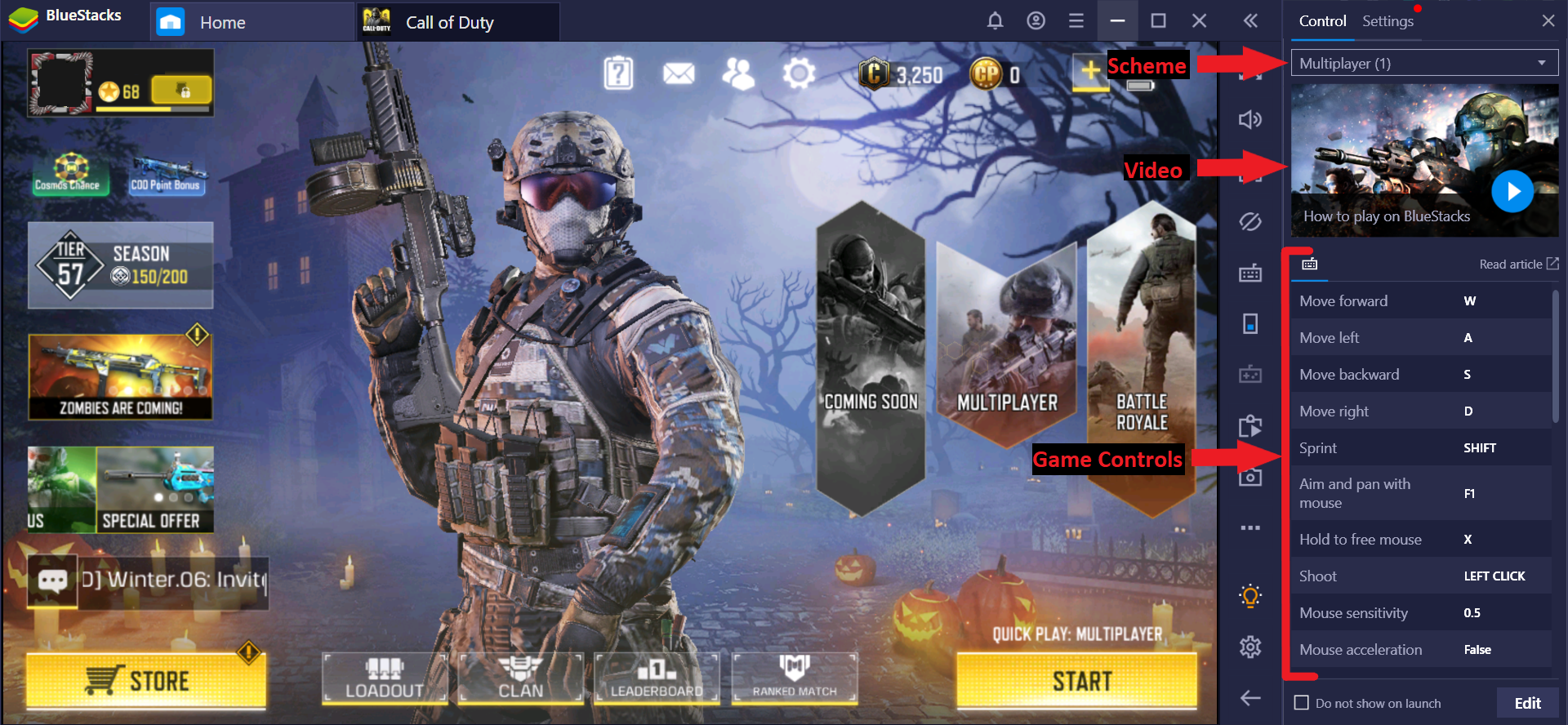 You may now review game guidance videos or articles, lookup existing keyboard controls, or configure advanced ones, from a new game controls window open adjacent to the main window where the game is being played. For your convenience, you may
View game guidance, including videos and articles, in the windows that pops up on the side.

Change key assignments

Create a new key mapping scheme

Update an existing key mapping scheme

Upload and download key mappings

Select a key mapping scheme of your choice



Merge multiple macro scripts to create a single one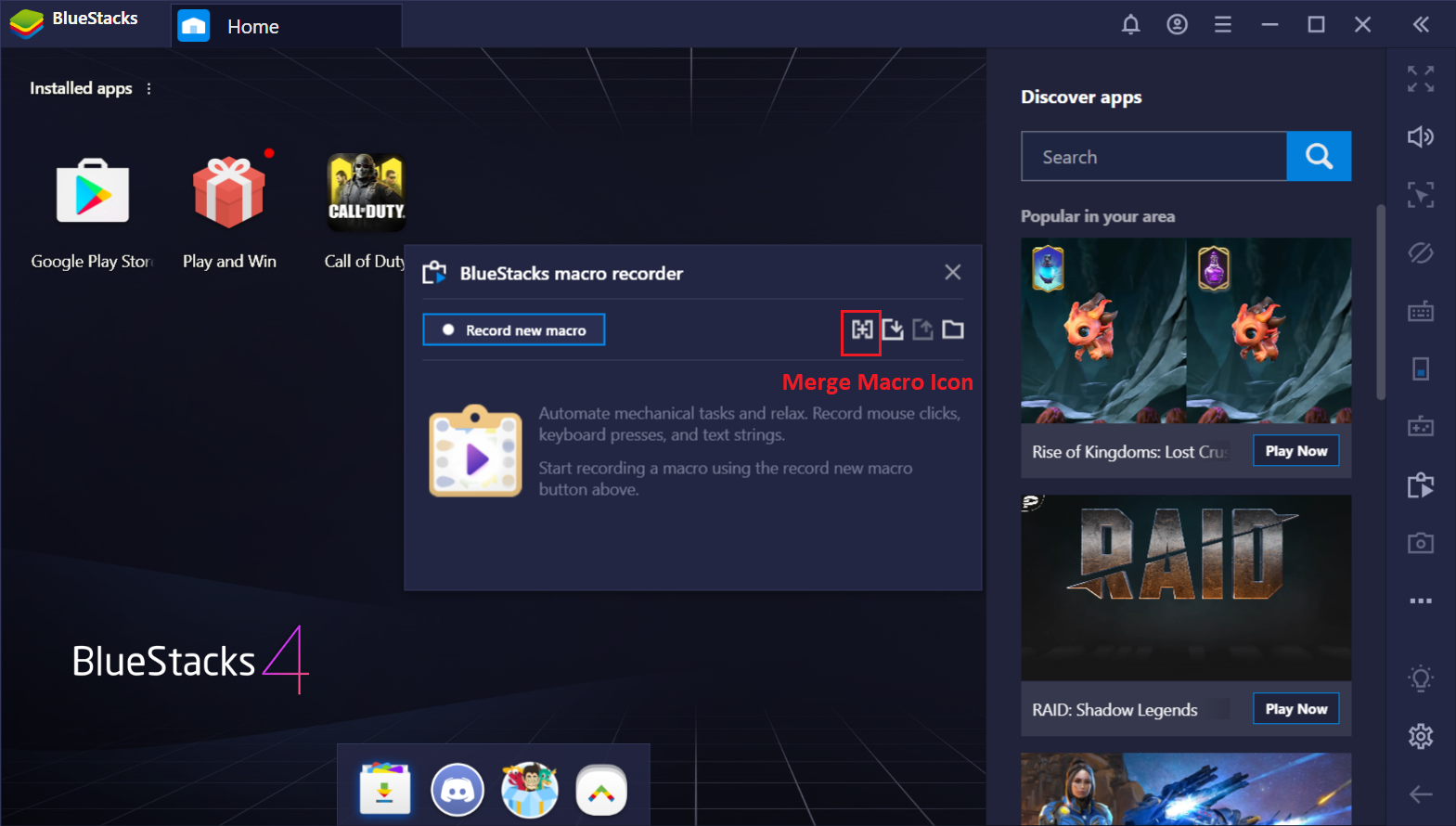 When a macro is recorded over a long duration, it may include human errors - inadvertent mistakes or unnecessary steps that its creator may never want to be replayed. For this reason, game players prefer to record several short macros, each of which is purpose-built to fulfil a discrete set of steps. Such an approach substantially reduces/eliminates the scope for human error.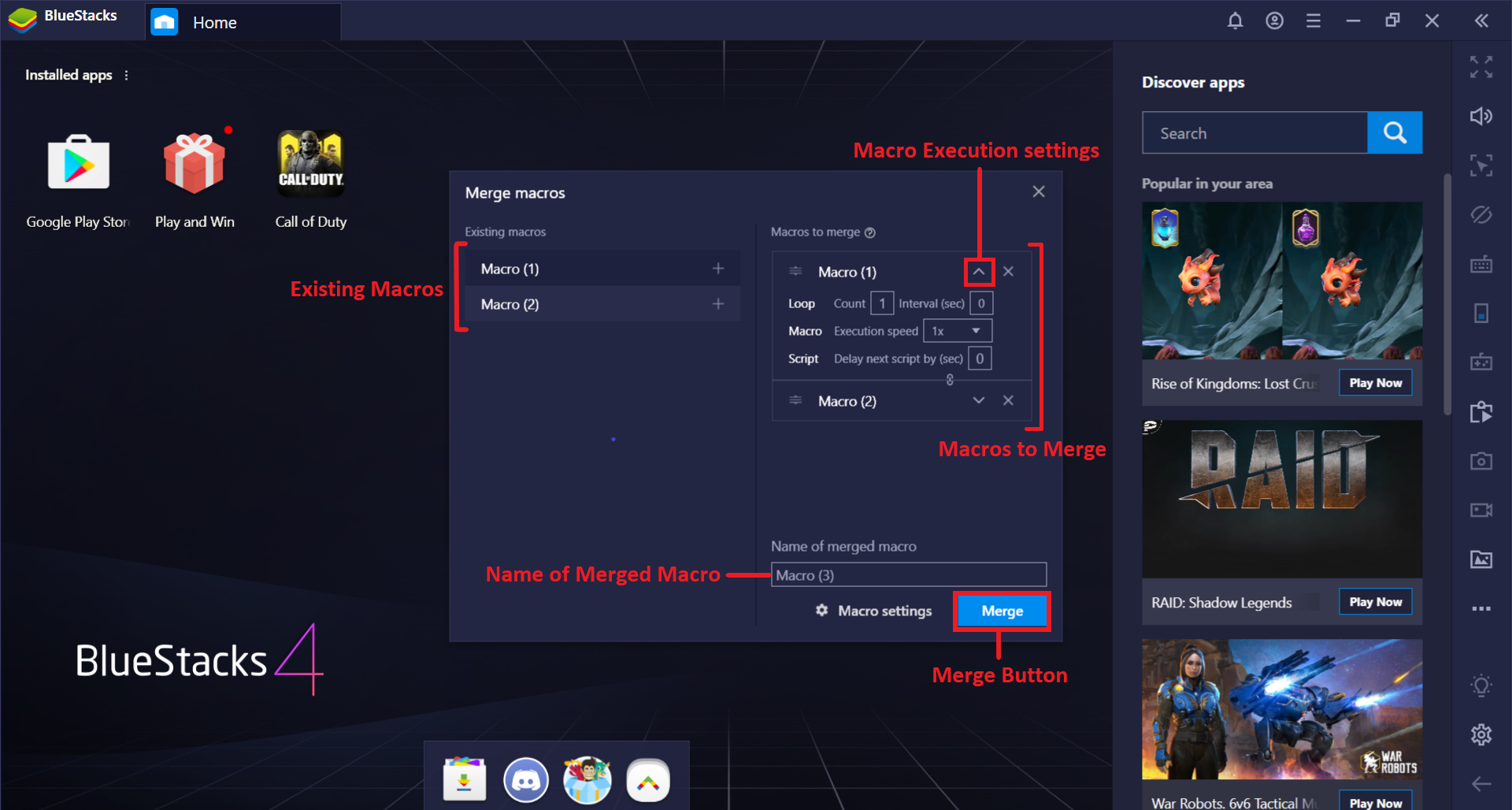 BlueStacks now lets you merge multiple macros and sequence them to form a larger macro that can run for a much longer duration to improve gameplay efficiency.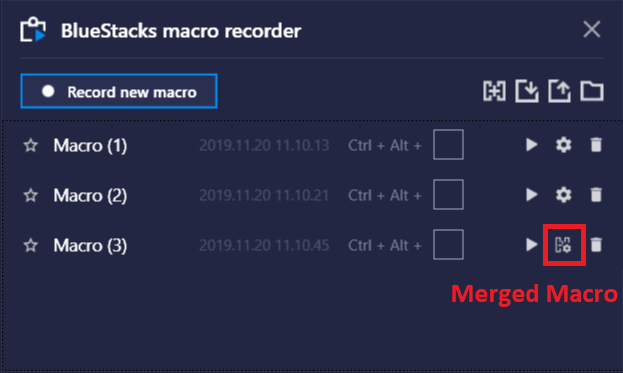 Optimize the quality of game graphics through control for processing ASTC textures
In 3D graphics, texture is a digital representation for the surface of an object, e.g., a hero, or their weapon, or leaves on trees and grass in the surrounding scenery. Well-defined textures are very important for rendering realistic 3-D images. However, they also require a lot of memory. The Adaptive Scalable Texture Compression (ASTC) technology is used by games to provide a realistic, high-resolution, 3D visual experience while reducing image data size, memory footprint, and loading time, to enhance the game performance.
When running on BlueStacks, games using ASTC texture compression can have the visual experience be rendered directly by modern GPU's. This enhances gameplay experience significantly by improving the overall responsiveness and performance for playing the game.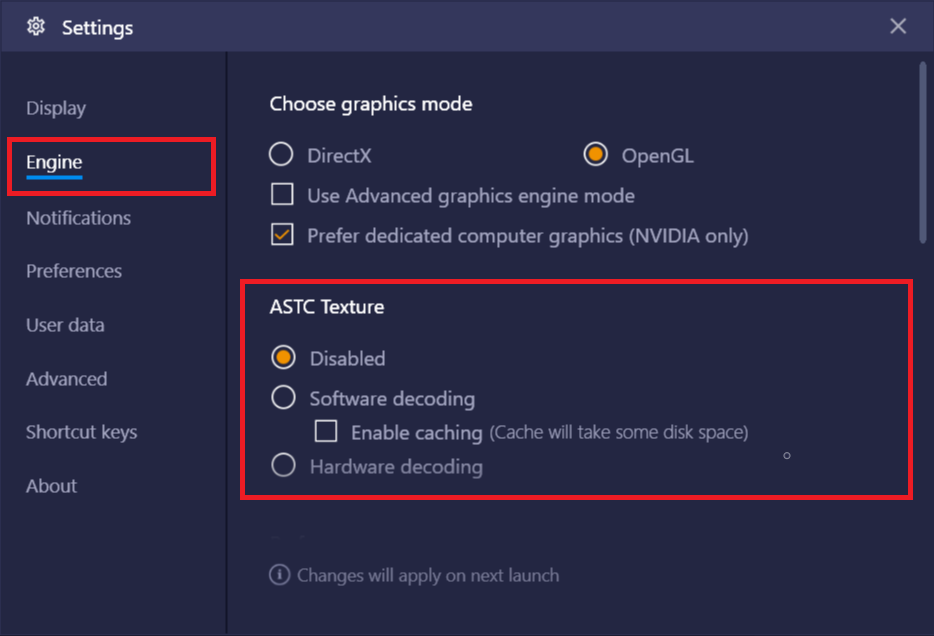 With hardware decoding, the GPU is dedicated to decode and render the compressed textures leading to a substantial improvement of the gaming experience. You will have to restart BlueStacks after selecting hardware decoding.
However, if your PC's GPU does not support ASTC texture decoding, you will have to use software decoding, the CPU performs all the high-resolution texture decoding to compose and render the image. Enabling 'caching' will take some disk space but will improve the read/write operations from the CPU's memory, improving the response time.
If you feel that the software decoding is introducing a lag during your gameplay you may disable ASTC textures, in which case you may not see some of the objects rendered correctly.
BlueStacks typically chooses hardware or software decoding automatically, however, these controls are being exposed to give you direct control over the visual experience.
Switch ABI from Settings
An Android app may bundle libraries for the ARM and x86 family of processors since it is designed to run over a large class of devices that can have very different CPU architecture. Android detects the Application Binary Interface (ABI), i.e., whether the underlying CPU is ARM or x86, and loads the appropriate ARM or x86 library. This ability enables an app to simply run without having to worry about the type of the device. Since BlueStacks runs on PC's that utilize x86 CPU's, BlueStacks supports x86 libraries by default. However, it can also load ARM libraries since it emulates ARM devices. Sometimes apps do not bundle the complete set of x86 libraries and hence fail to run on BlueStacks. BlueStacks now provides a switch to let you change the ABI mode explicitly to ARM so that the app can run.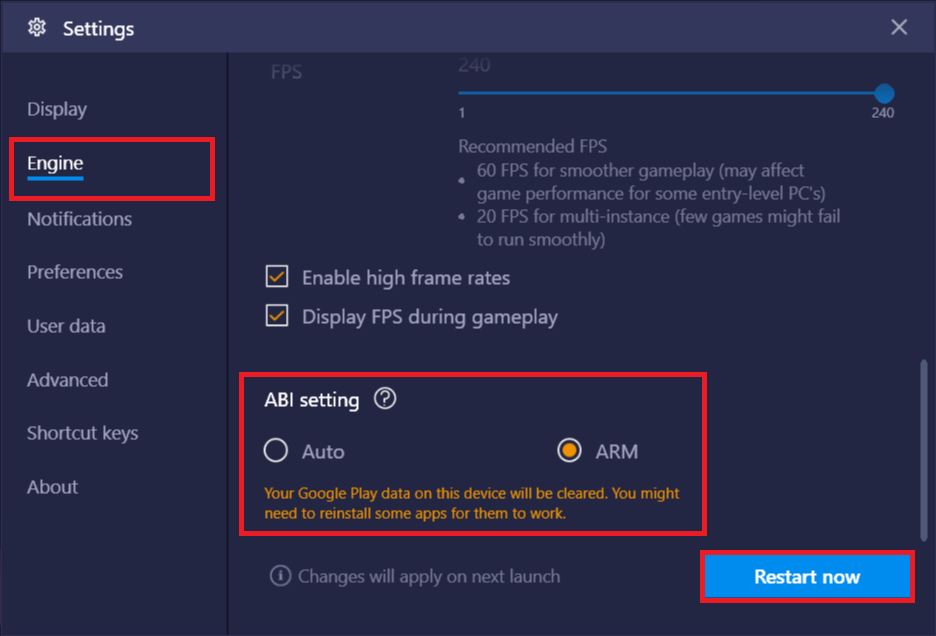 Assign mobile operator name
You will be able to select a mobile network to allow apps/games that require a specific mobile network to function well.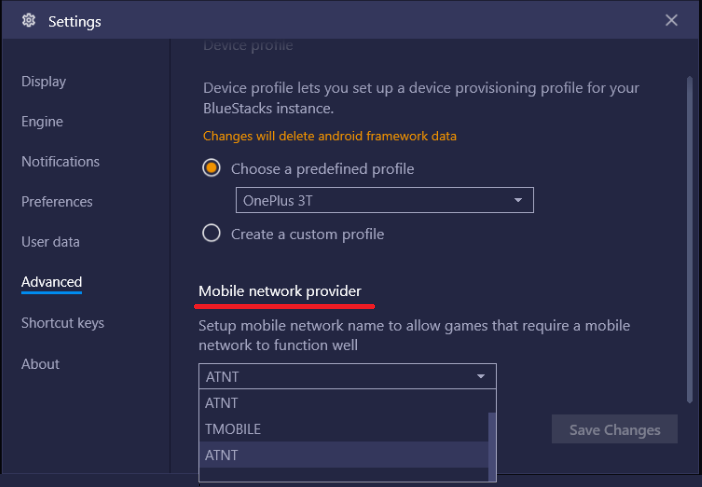 Shooting mode tooltip for War Robots
A tooltip to help users enter Shooting mode has been introduced for War Robots.
Bug fixes
You may now use the screen recorder to record video in the native resolution supported by the GPU of your device, e.g., 1080p if it supports that resolution.

You may now search for an app or game using Traditional Chinese or Hangul fonts without the App Center search losing the last character.

Lineage 2 Revolution was crashing on some older versions of BlueStacks using 32-bit Android. You may now play this game normally without experiencing any crashes.

게임빌프로야구

was crashing on some older versions of BlueStacks. You may now play this game normally without experiencing any crashes.

Some users reported that they could use key mapping intermittently on V4 (com.nexon.v4kr). You may now play V4 consistently using key mapping.

File directories are now visible with File Explorer apps. You can now modify/delete files and folders inside Android storage.
You may now play BlueStacks on touch devices without experiencing any errors.