Purpose and Benefits
To acquaint you with all options available on the new toolbar on BlueStacks. The new toolbar lets you access various features like toggle full screen, volume controls, lock cursor, keyboard controls, screenshot and recording and many more with ease.
Audience
Users of BlueStacks 4
Geo's affected
All Geo's
BlueStacks version 4.140
Steps
Each toolbar button is designated to perform a certain task which is explained in detail below. You can hover your mouse cursor over each button to see the task it can perform.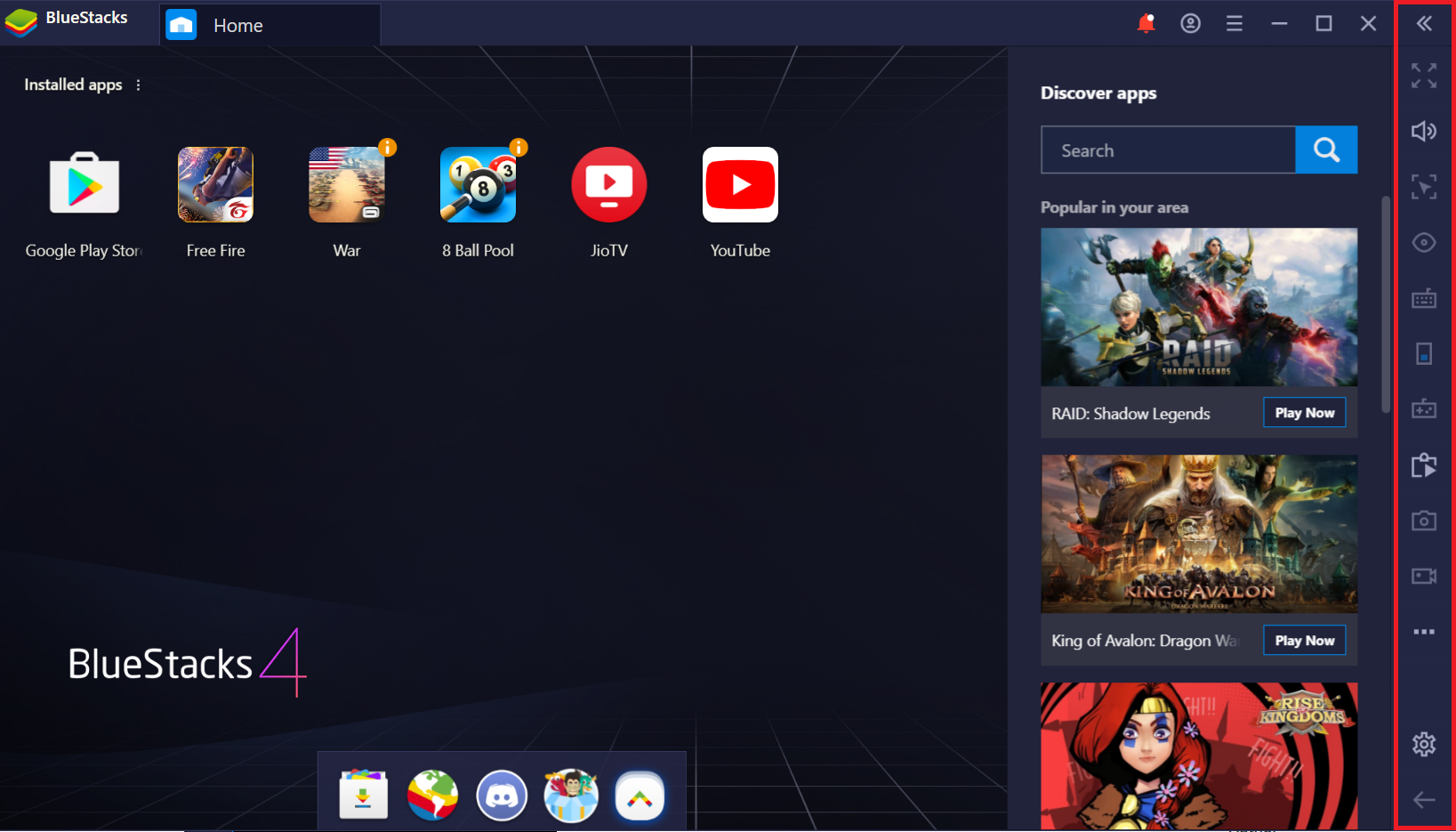 The toolbar can be accessed on the right of the BlueStacks player. You may choose to hide or unhide it using the arrow buttons available at its top.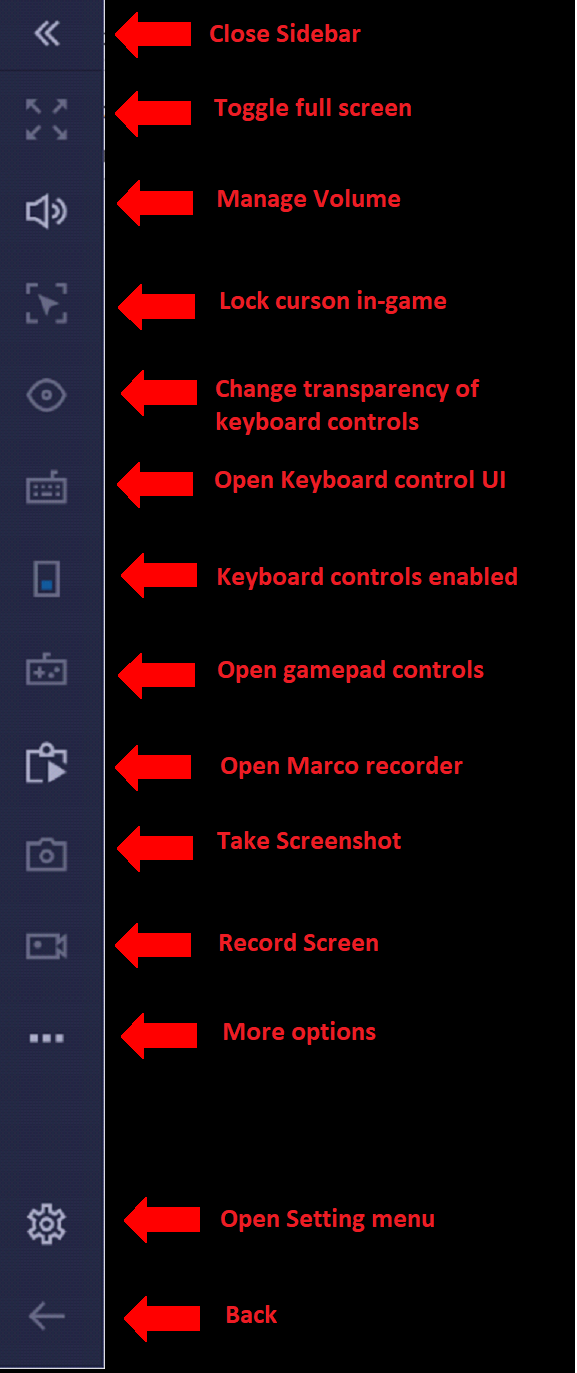 1. Toggle fullscreen: This button lets you play games in full-screen mode to maximize the use of a large screen of your PC for great gameplay experience. To exit the full screen you can click again on the same icon as mentioned below or press the F11 key.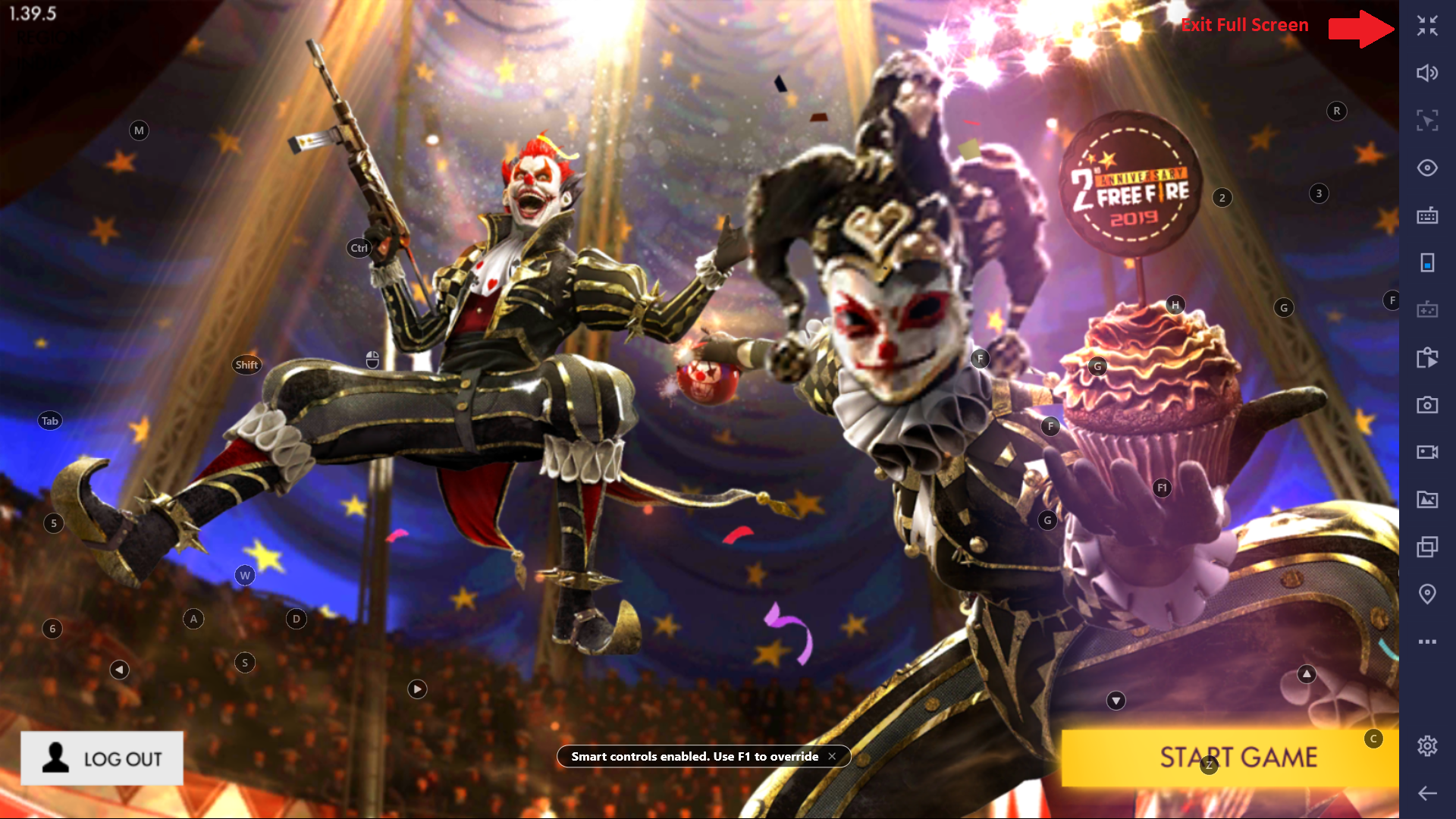 2. Manage volume: You can increase/decrease and mute the volume of the game with this button.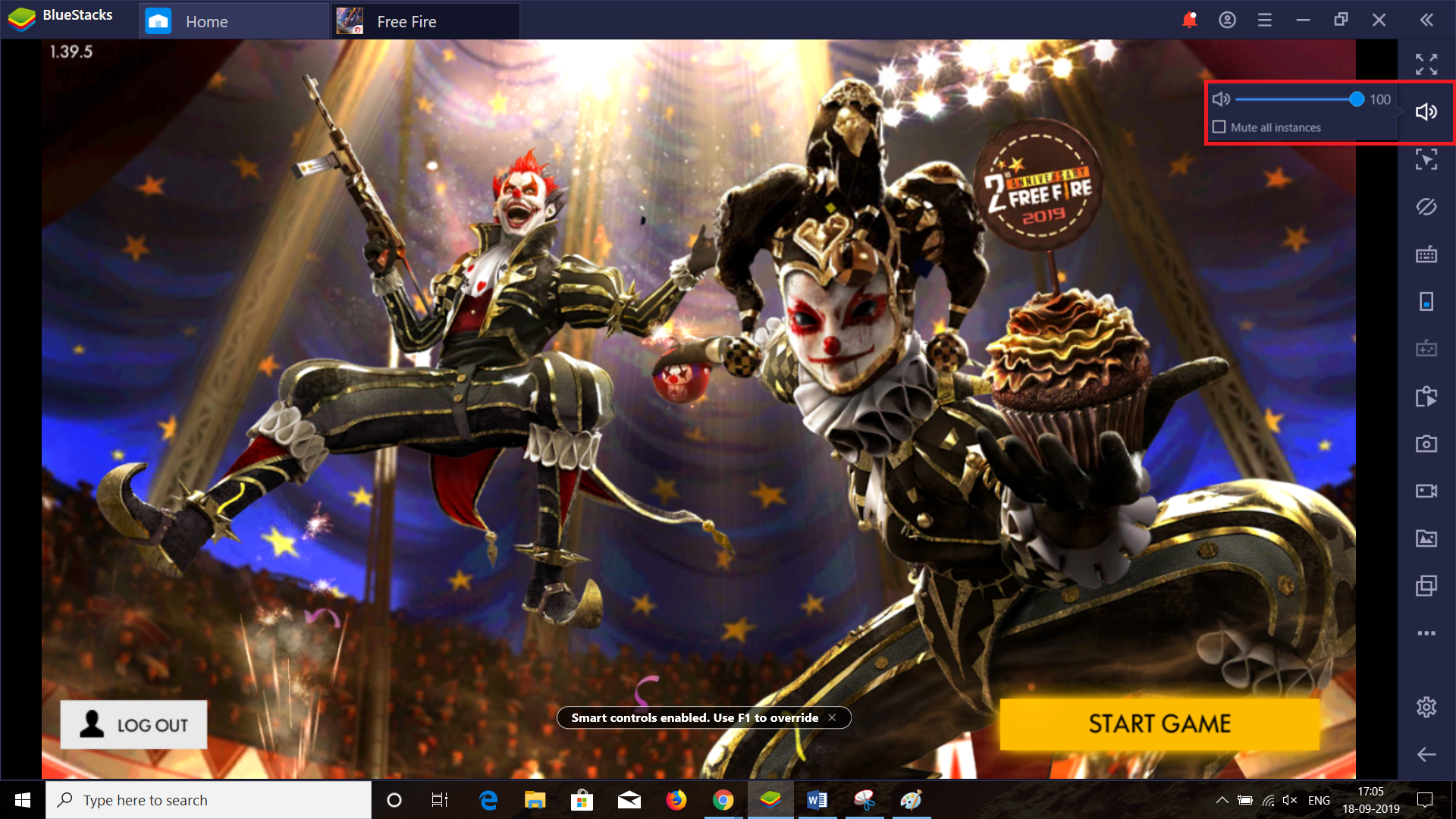 3. Lock cursor in-game: This button will lock your cursor movement only to the gameplay screen. You can use F8 key to disable or come out of the cursor lock.
4. Change the transparency of keyboard controls: This button will let you use the default keyboard mapping available for the game. You can also set the opacity for key overlay by sliding up and down.
5. Open keyboard control UI: This button will let you access keyboard controls for the game you are playing.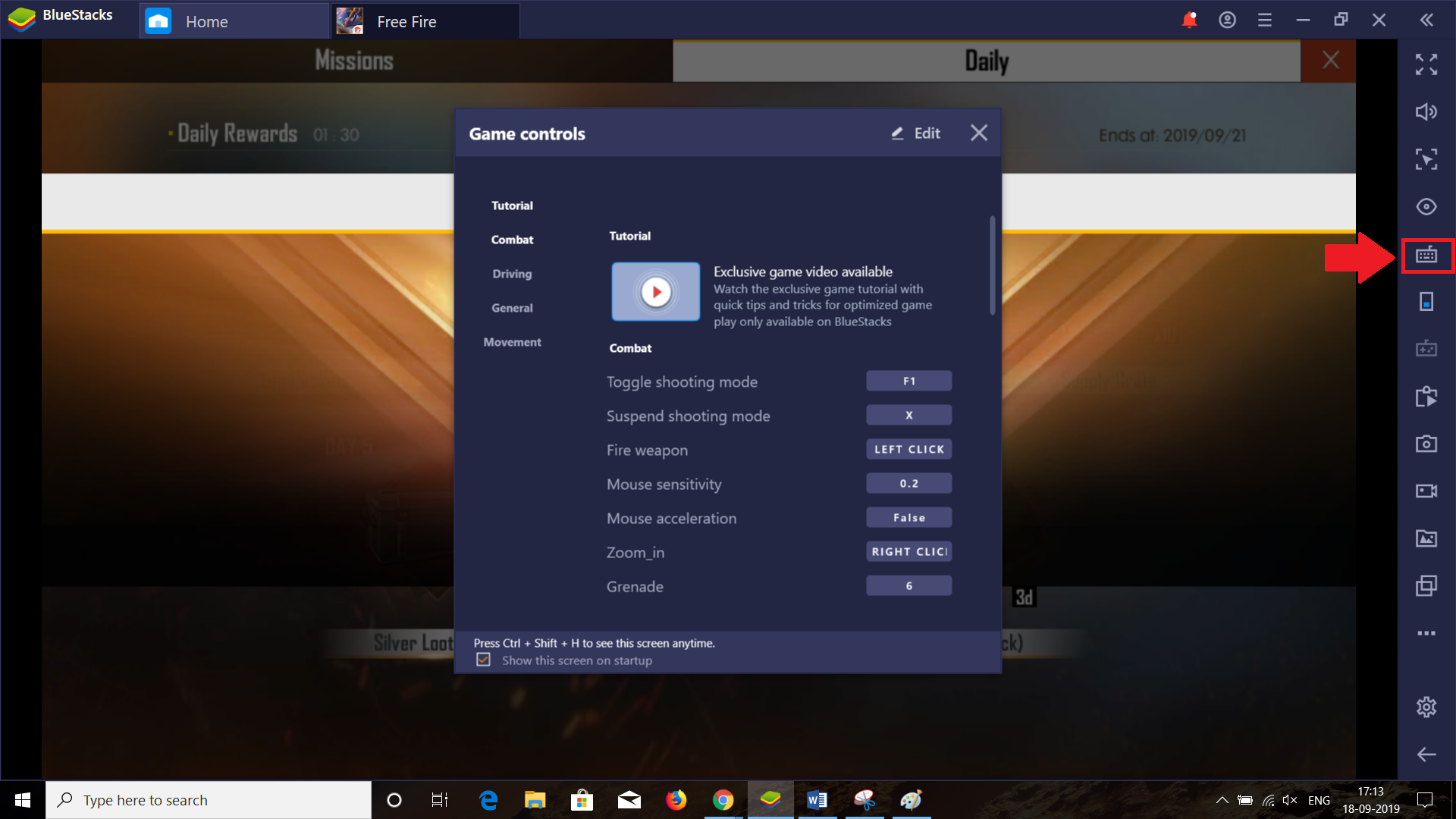 6. Keyboard control: Disable or enable keyboard control while playing any game.
7. Open gamepad controls: This button will let you use to open the gamepad controls of all those game which support gamepad on BlueStacks.
8. Macro recorder: This icon helps you to record a new macro in order to enhance the gameplay. You may also refer to our help article How can I use a macro recorder?

9. Take a screenshot: You can take a screenshot of an instance in your game or app.
10. Record screen: You can now record your gameplay and save it in your computer for viewing it later. This also works in your fullscreen mode. Please visit the following link for more information: How to use screen recording on BlueStacks?
11. More options: You can see more options of sidebar like media manager, shake, location, etc as mentioned below:
a) Open media folder: Your stored screenshots and recorded videos will be available in the default folder. You can access them using this icon.
b) Open multi-instance manager: Open multi-instance manager directly to create and manage multiple instances of BlueStacks. Please visit the following link for more information: Introducing new multi-instance manager on BlueStacks 4
c) Set location: This button helps you set or change your location based on the application requirement. Please visit the following link for more information: How to use location provider on BlueStacks?
d) Shake: You can shake your BlueStacks player with this option and use it in games that require this feature.
e) Rotate BlueStacks screen: This button will help you to rotate an application on BlueStacks from landscape mode to portrait mode and vice-versa. Please visit the following link for more information: How can I use rotation control on BlueStacks?
12. Open Settings menu: This option will allow you to open the settings menu. Please visit the following link to check the different settings options How can I customize BlueStacks 4 settings
13. Back: With the Back button, you can go back a step on the current app you are using or exit out of a game.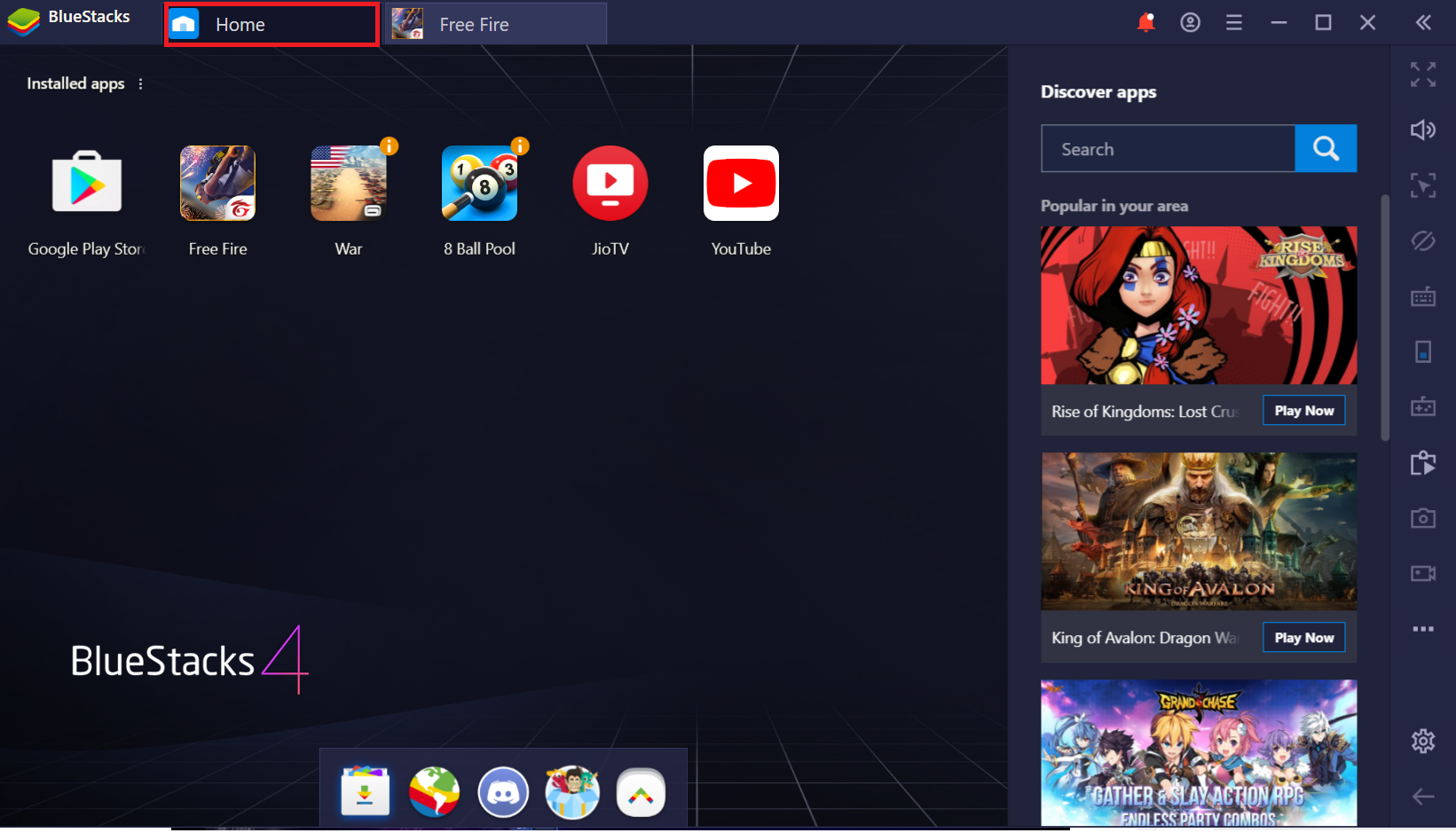 We genuinely appreciate you choosing BlueStacks. We hope you enjoy using it. If you have any further questions, please contact us at support at bluestacks dot com. Thank you very much.
Last updated on December 30, 2019