How will this help?
Brawl Stars has been greatly optimized in BlueStacks versions 4.200 and above with the addition of Responsive Smart Controls that will immensely enhance your gameplay experience.
Visit our app page for Brawl Stars to download the optimized version.
---
What are Responsive Smart Controls?
Responsive Smart Controls provide for a more enjoyable gameplay experience with various features to make attacking more easier and accurate. Listed below are all the improvements you can expect with these controls.
Attacking targets is now easier than ever. Simply

hover your mouse cursor

over a target and

right-click to attack. Alternatively,

you can now attack your targets by holding right-click or your ULT key and release to fire in direction of your cursor.

The

accuracy of your ULT

has been considerably improved.
Smart controls are

extremely consistent

regardless of whether you are in the center of the map, or near the edges.

You can now

right-click to aim and shoot throwable projectiles

for Brawlers like Barley and Dynamike. This applies to all Brawlers who have throwable projectiles, also.

Fixed an issue where you were not able to aim and fire projectiles/throwables very close to your Brawler.
You can now cancel attacks by retracting the cursor back towards the brawler. You can also use the "TAB" key to do this, depending on which you prefer. To learn how to change key controls, click here.
Responsive Smart Controls were initially released with BlueStacks 4.200.
We've gone a step further and Improved Responsive Smart Controls in BlueStacks version 4.205. Click on the respective links to see what was and what has been improved.
---
How can I download this version?
Access our app page by clicking on the link above. Once there, click on "Download Brawl Stars on PC", as highlighted below.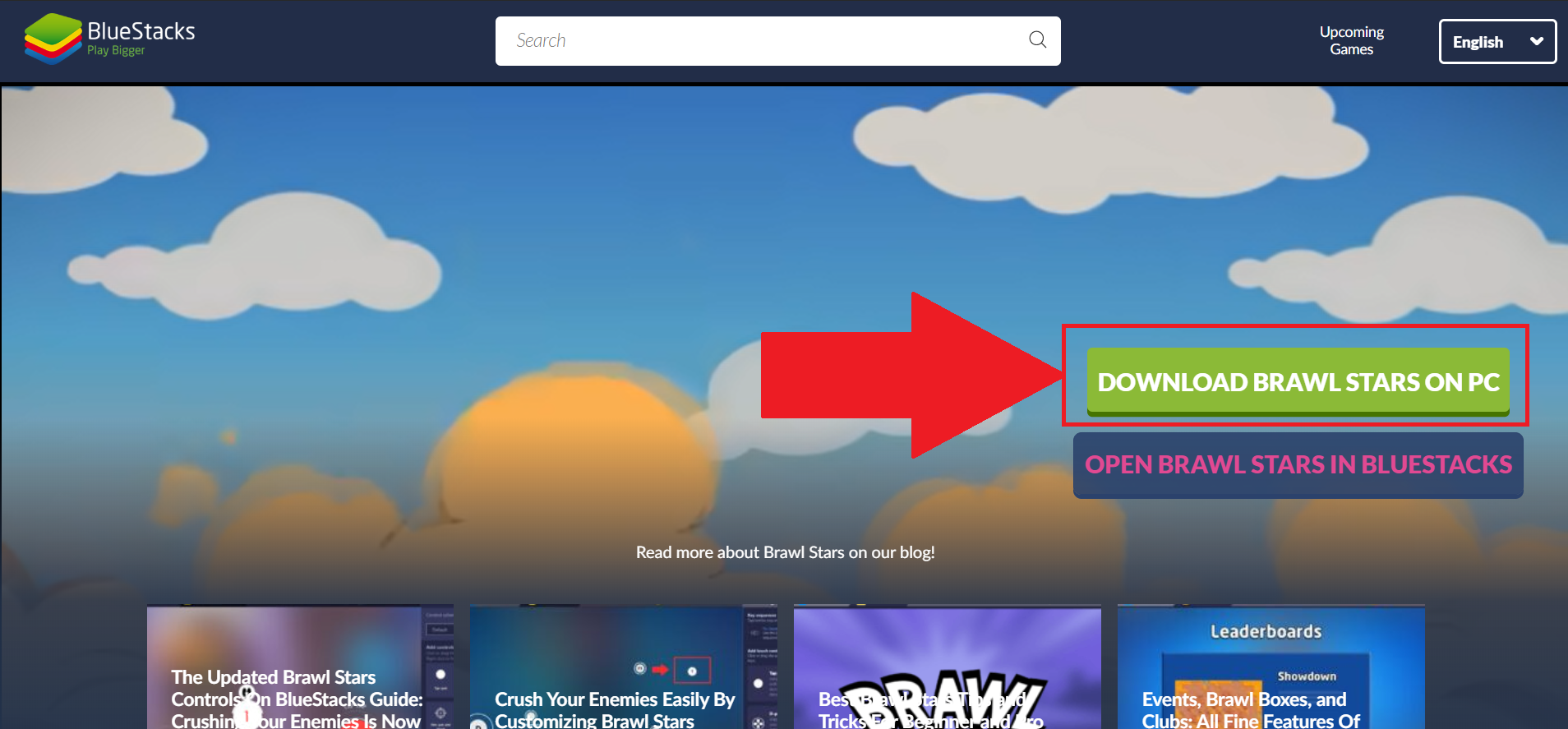 After the download has completed, which will not take long, simply run the ".exe" file which has downloaded.
NOTE: You can backup your data before updating by going through the steps mentioned here.
Besides this, there are a ton of guides and blog posts that will help you become a star in brawling. We highly recommend you check them out!
---
Have some questions?
Q. How is Brawl Stars optimized for BlueStacks?
A. In addition to the goodies already present on BlueStacks such as Smart Controls, the optimized version provides customized unique wallpapers for your viewing pleasure.
Q. Brawl Stars is crashing or when I am playing I get a black screen. What to do?
A. Please sync your game data online and then, update to the latest version of BlueStacks here. Restart BlueStacks and launch the game. If the issue persists, we recommend uninstalling and downloading the game again.
Q. Does Brawl Stars on BlueStacks provide Gamepad support?
A. Yes. This will be enabled automatically when starting the game. Check out this guide to find out how to set up your gamepad for BlueStacks.

Q. How can I adjust and fix keyboard controls for Brawl Stars?
A. It's easier than ever. Refer to this article for more information
Q. Where can I find additional tips for playing this optimized version of Brawl Stars on BlueStacks?
A. With responsive controls and enhanced graphics, Brawl Stars on BlueStacks has never looked better. Check out this guide for must-have knowledge before starting the game.
---
Thank you for choosing BlueStacks! We hope you enjoy using it. If you have any further questions, please contact us at support@bluestacks.com. Happy Gaming!
Last updated on July 1, 2020.