Why do I see this message?
While trying to import macros on BlueStacks 5 that were recorded on BlueStacks 4, you may see a message stating that a macro is incompatible, as shown below.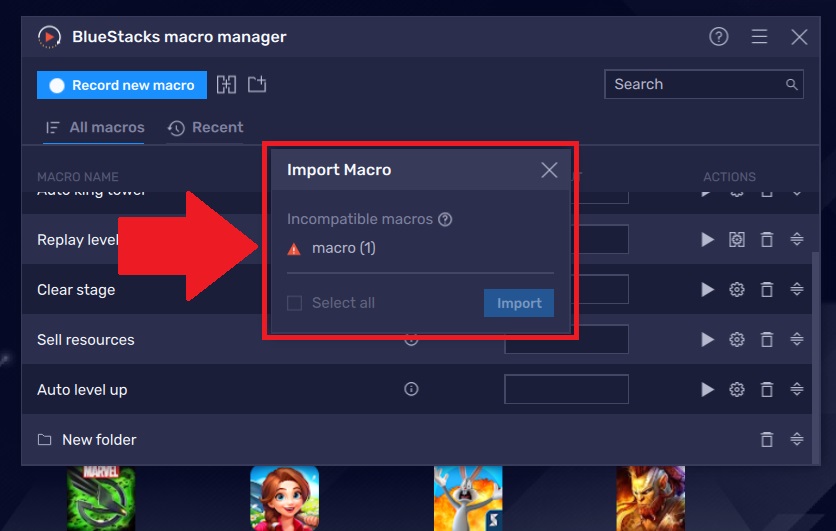 If you try to import macros from BlueStacks 4 with recorded mouse clicks and keystrokes on the home screen or anywhere outside of the in-app screen, then BlueStacks 5 will display this message.
If the macro only stores clicks and keystrokes from an in-app screen, then you will not see this message and the macro can be imported without any issues.
---
In what cases are macros considered incompatible?
Your BlueStacks 4 macro would be incompatible with BlueStacks 5 if it consists of mouse clicks or keystrokes in the following scenarios:
Switching between apps or tabs
Launching an app from the home screen
Actions that take place outside of the game screen
---
How can I resolve this?
BlueStacks 5 only supports macros that have recorded mouse clicks and keystrokes of in-app action. Thus, before importing a macro from BlueStacks 4, make sure that it includes only in-game clicks or keystrokes.
If needed, you must re-record a macro and only include clicks and keystrokes that are made inside the app screen (game window) to make it usable on BlueStacks 5.
To know how to record and use macros on BlueStacks 5, please refer to this article.
---
Thank you for choosing BlueStacks. We hope you enjoy using it. Happy Gaming!