1. Know your game before you play with dedicated game pages!
Make flawless choices while choosing a game to play on BlueStacks X as you can now:
View the game's genre and Play Store rating

Get a glimpse of the game's lore through its description, screenshots and videos

Learn more about its gameplay, game controls and available features

Expand your gaming library with a list of similar apps

and much more!
With information about all the games available at your fingertips, choose a game best-suited to your preferences. No more taking shots in the dark!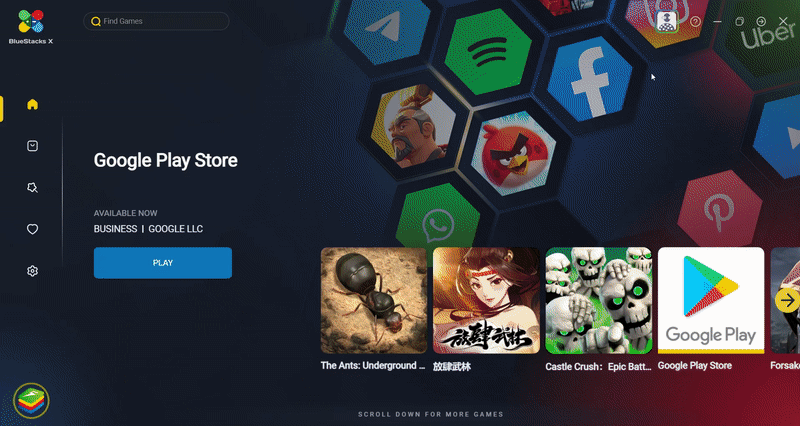 2. Share more detailed feedback
You can now upload screenshots for more clarity while reporting a problem because seeing is believing.
A refined category section now makes reporting a problem easier than ever. Gear up for the perfect headshot to your problems!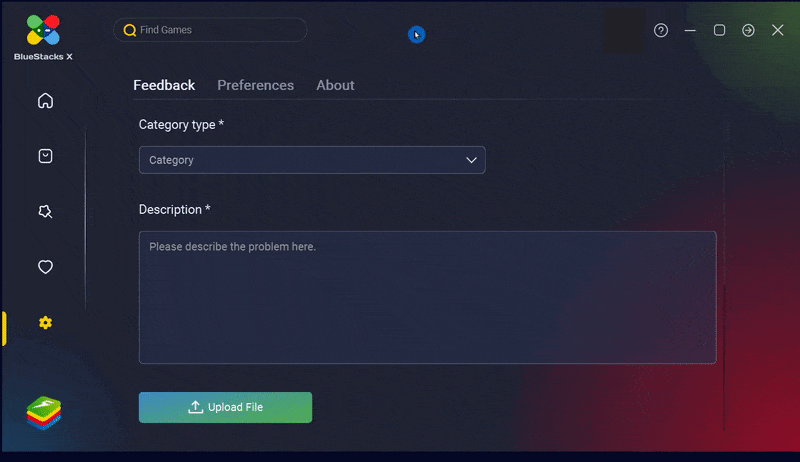 3. Switch between game icons easily on the home page
Selecting games from the home page will be easier than before with the latest optimizations we've made. Hop, skip and jump from one game icon to the other effortlessly to find the one you're looking for!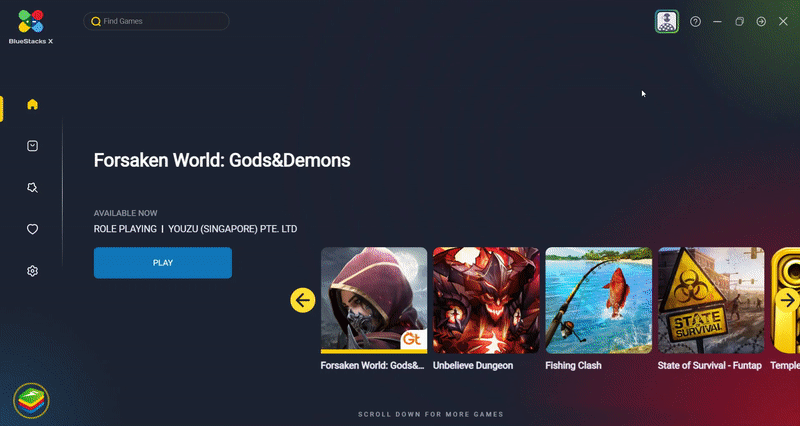 4. Play Cloud games with on-screen controls
You can now view on-screen controls and easily execute in-game actions while playing various games on the Cloud such as Looney Tunes World of Mayhem, Dragonscapes Adventure, War Robots Multiplayer Battles and many more!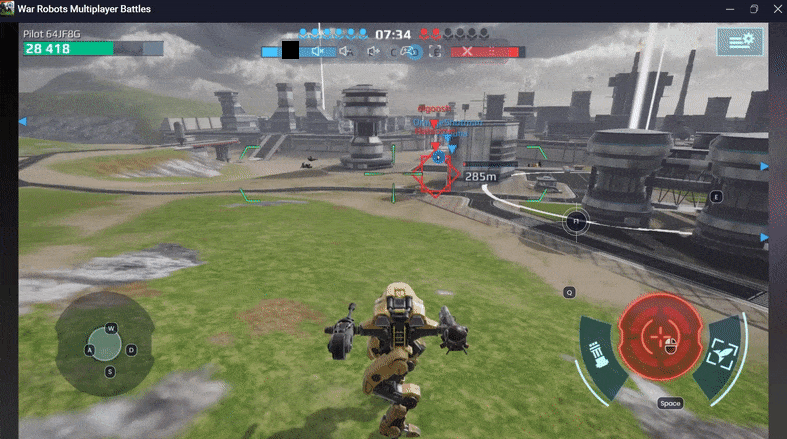 5. Take your creativity a notch higher with Creator Hub
• Find your way to mods faster than before by using the new search bar in Creator Hub. Searching for
mods in the haystack of life is now easier than ever!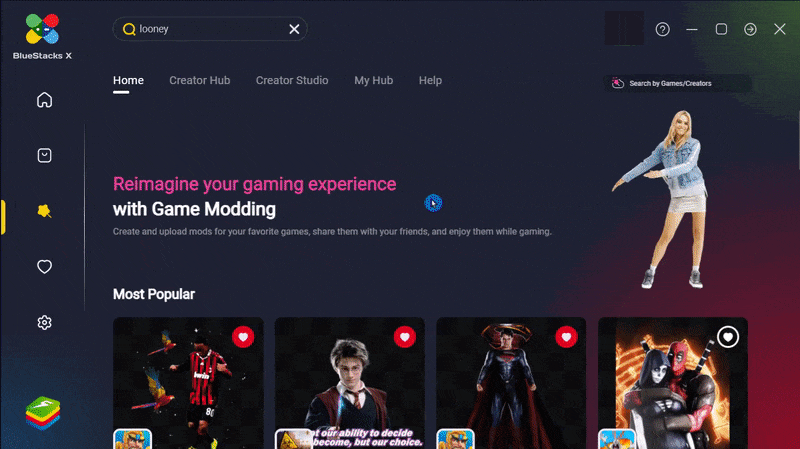 • You can customize the number of times an effect appears on screen for every in-game scenario. Have
fun... have fun... have fun watching your favorite effects play on loop!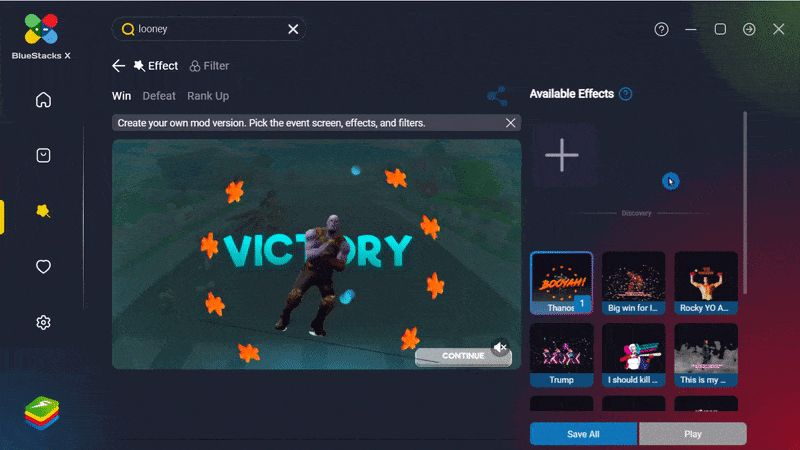 • Your created mods, effects and favorites now sit together under the revamped "My Hub" section. All
your supplies will fit in one bag!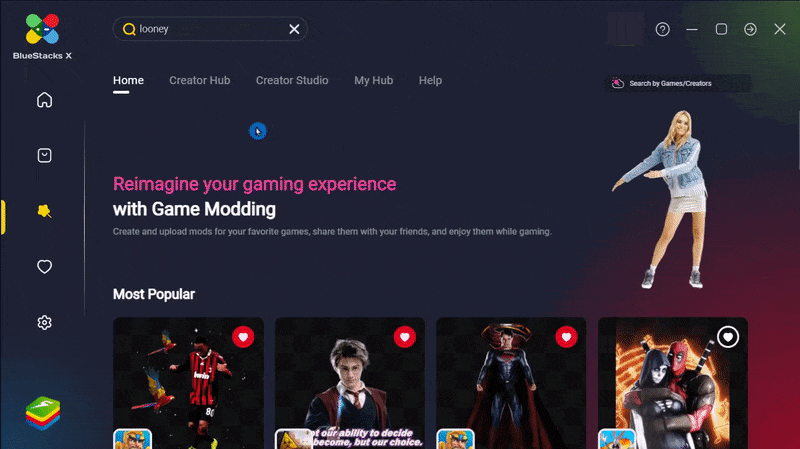 • Play your favorite modded version of a game instantly by setting it as the default mod. Because every
second counts!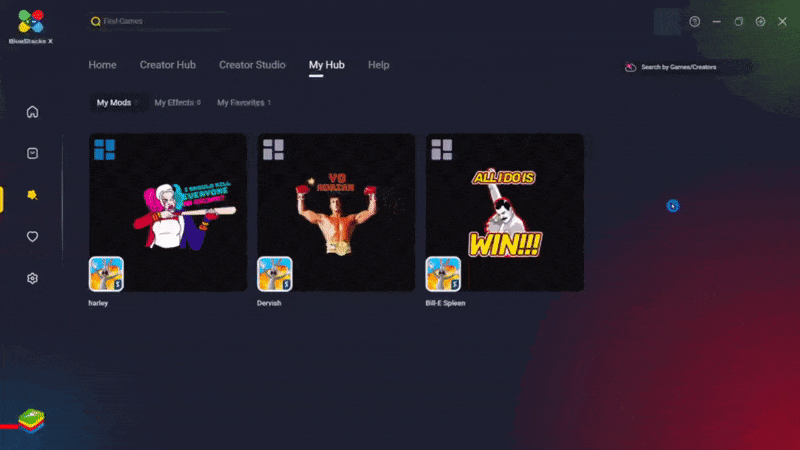 6. BlueStacks 5 Enhancements
To ensure a smoother installation of BlueStacks 5 on BlueStacks X, you will now be notified if you have insufficient disk space on your desktop/laptop.
Embark on an unparalleled gaming journey by:

Playing your favorite games in 4K resolution

Creating and switching between multiple custom resolutions to suit your preference

Give your BlueStacks 5 files an additional layer of protection by updating the format of the existing user data to the latest data format.

Locating your cursor in MOBA games like Mobile Legends is now easier than ever with the new bright yellow cursor. You can also right-click anywhere on your game screen to find it immediately.

Take charge of your gameplay as you will now be notified when game controls get updated in your favorite games on BlueStacks 5.

Experience enhanced gameplay with native mouse controls in Minecraft.
Bug Fixes:
Build your realm in Crafting and Building (com.mmircil.cnb2) without the game crashing.
Play the role of the messenger of Wangchuan in 忘川风华录 (com.netease.pm03.aligames) without the game crashing.
Put an end to the injustice prevailing in the Martial World in YULGANG GLOBAL (com.tigonmobile.yulgang) without the game crashing.
You can now apply the LUX filter to enhance your photos on Instagram (com.instagram.android) and show the world your glamorous side.
No more crashes or error messages to stop you when you play Apex Legends Mobile (com.ea.gp.apexlegendsmobilefps, com.levelinfinite.apexlegendsmobile, com.tw.fivexgames.apexlegendsmobile).
Released on: June 1, 2022
---