正確に状況を把握し解決策をご提案させていただくべく、Mac版に関する問題をBlueStacksカスタマーサポートまでご報告ください。
BlueStacksバージョン
BlueStacks Mac版すべてのバージョン
対象
BlueStacks Mac版すべてのユーザー
対象地域
すべての地域
ステップ
1. BlueStacks内の「お問い合わせ」をクリックし、「問題を報告する」を選択します。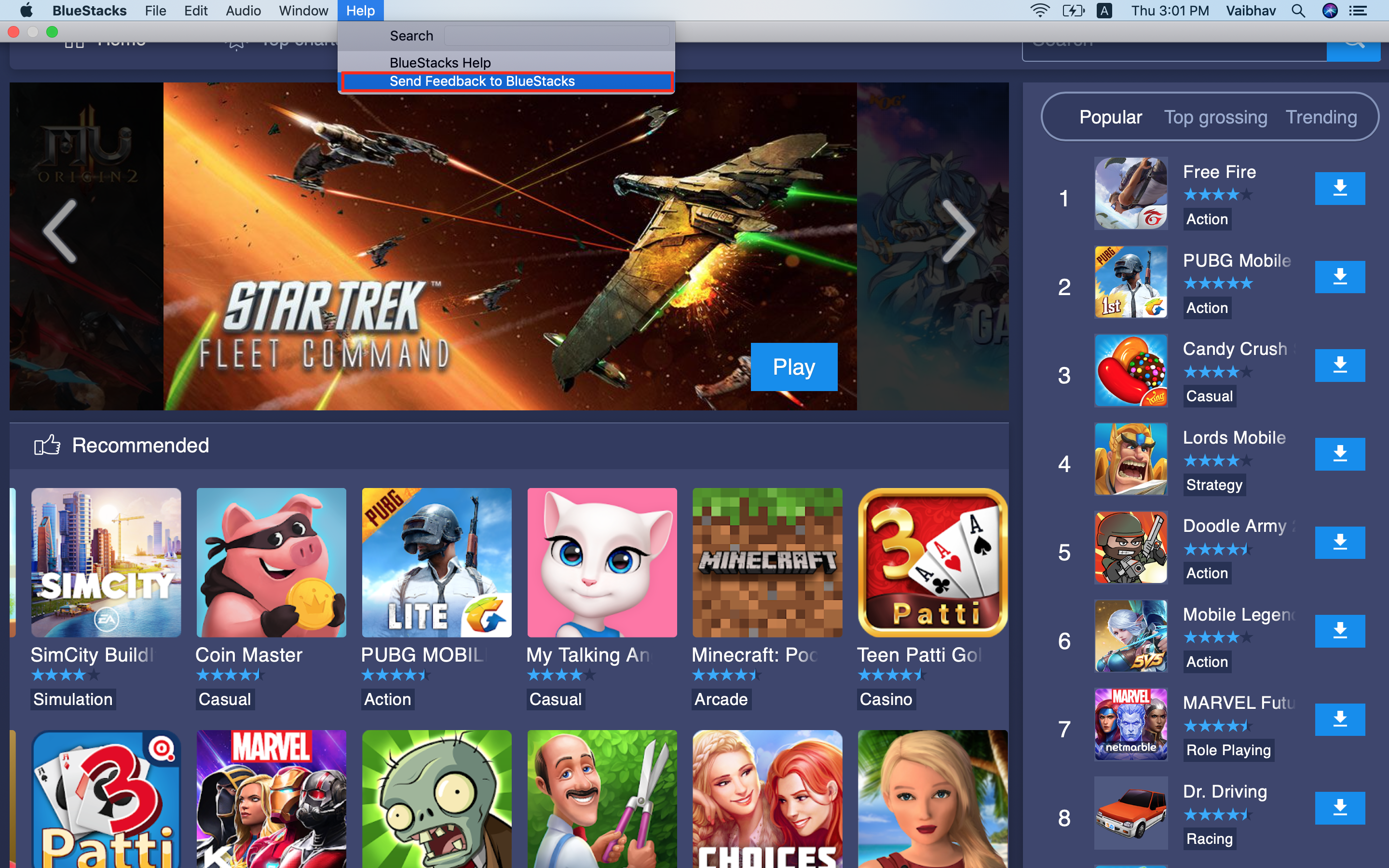 2. It will open 'BlueStacks Support Tool', and where you can provide us with your email address and a clear description of the issue you want to report along with.
After filling all the necessary information, click on 'Send Feedback' button'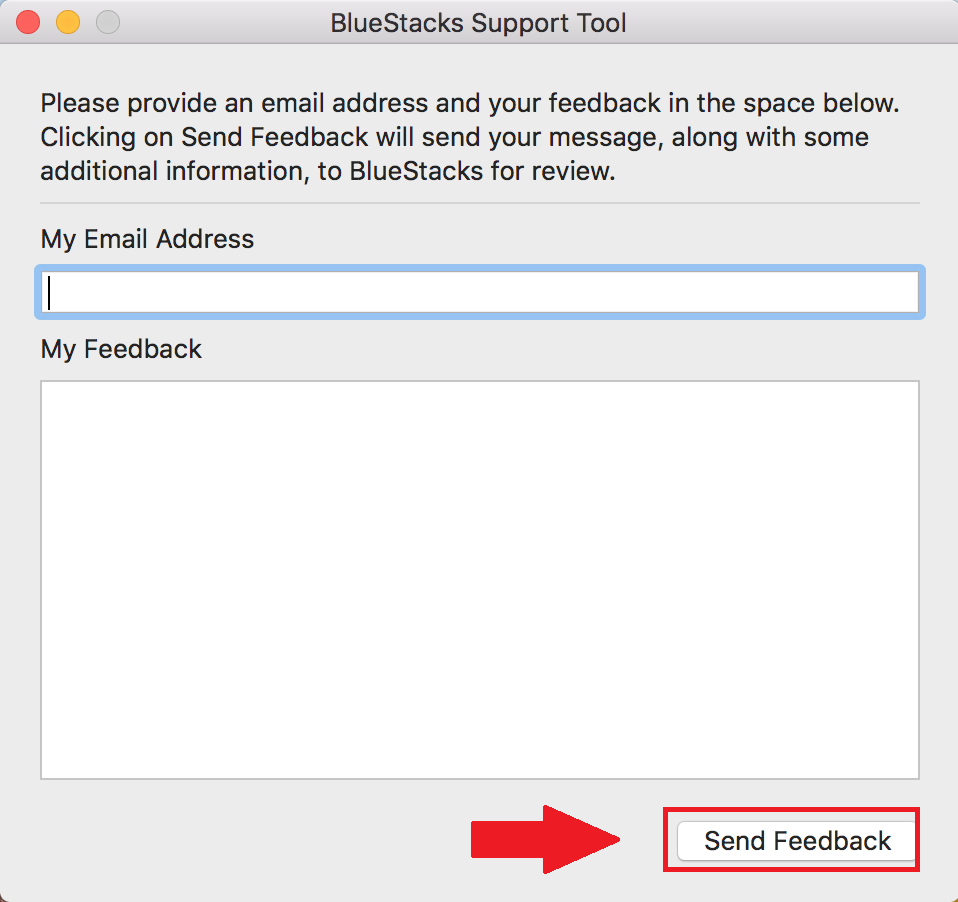 3. BlueStacks Support Tool will start collection log files that record error information for BlueStacks.

4. Once the the process is done, it will notify you. You can close the notification by clicking on 'Quit'.

Please provide all the information required by this BlueStacks Support Tool, especially provide a description of the symptoms you are observing. Click on the "Send Feedback" button to complete the process.
What happens when you click 'Send Feedback'?
Upon clicking 'Send Feedback', you will be sending us log files that have recorded error information for  BlueStacks. Our Technical Support engineers categorize the problems according to the symptoms described by you and analyze the log files to identify the nature of the problem and diagnose its root cause.
What is actionable information?
Primarily, we need log files generated by BlueStacks where it records error information, including BlueStacks version, Mac OS version. This information is "actionable" for us, i.e., we can begin acting on it through analyzing the log files to identify the nature of the problem and diagnose its root cause, in order to resolve the problem.
Isn't an email/post on this support forum sufficient?
Unfortunately not. An email/post on the support forum is informative because it describes the symptom you are observing, but it does not provide us with any actionable information. This means it does not provide us with the error information that is necessary for identifying the nature of the problem and diagnose its root cause for resolving the problem.
For example, if an email/post states, "Cannot start BlueStacks", there could be several reasons causing it:
The latest version of BlueStacks and it is not working specifically on your Mac
You are using an older version of BlueStacks and the issue you are experiencing may be resolved in a later version.
A Mac OS update has changed the configuration of your system.
There is an interaction with an antivirus or security software on your Mac.
A new Android app is using some graphics API that is not supported by the version of graphics driver on your Mac.
It is difficult for us to conjecture why you are experiencing this problem without tangible, actionable information.
Why do we ask for your email address?
Our Technical Support engineer may send you an email suggesting a workaround or a solution, that will resolve the problem quickly. When a critical problem that affects many users is resolved and its software update is available for download, we may also send you an announcement by email.
How soon should I expect to receive a response?
If we have a quick resolution to offer, you'll receive an email within a couple of days. However, please be patient, we may not be able to respond to you personally. The analysis of logs and especially the diagnosis is a manual process and can take a few days. We rank issues based on their frequency and the severity of their impact on our user community and address them in rank order. So, it is entirely possible that your perception of our responsiveness may be governed by the fact that we either have not responded directly to you or the issue you reported still remains to be addressed.
We genuinely appreciate your choosing BlueStacks. We hope you enjoy using it. If you have any further questions, please contact us at support dot bluestacks dot com. Thank you very much.
Last updated 9th February 2018