|
App Player Updates
1. You can now seamlessly multi-task using BlueStacks 5's Mini mode which condenses the App Player into a compact mini-player, liberating your screen for other tasks with uninterrupted access to your games! Browse, work or play at the same time and streamline your multi-tasking experience! For more details, you can go through our detailed guide on BlueStacks 5's Mini mode.
2. Expand your gaming and media library without any fear as BlueStacks 5 now has 128 GB of internal storage! Indulge in a cornucopia of apps without having to delete cherished content to make way for new arrivals.
3. Get the drop on your enemies by quickly switching weapons using your mouse wheel in games such as Standoff 2, Free Fire, Pixel Gun 3D and more!
4. Customize the notifications you receive from BlueStacks Services around game deals, recommendations and more! To do this:
Head over to the "Preferences" tab in BlueStacks 5 Settings
Click on "Manage" beside "Windows Push Notifications"
5. Tailor your mouse wheel to either scroll up/down or zoom in/out and embrace the versatile mouse wheel functionality!
6. You can now easily exit fullscreen mode while using BlueStacks 5 on a touchscreen device by swiping down from the top of your screen and selecting "Exit fullscreen".
7. Effortlessly access any BlueStacks 5 functions by assigning your mouse's programmable side buttons as a shortcut key!
8. Bug Fixes:
You can now type effortlessly while in tablet mode using the onscreen keyboard in touchscreen devices.

Play Whiteout Survival (com.gof.global) without any error message blocking your path.

Bid farewell to distorted graphics on the NeXTerra map in Free Fire.

Test your skills against witches and wizards in Harry Potter: Magic Awakened (com.netease.wb.goog.hpma & com.netease.harrypotter.na)

as you can now:


◦

Draw and complete tasks without coming across a black screen in "Divination Classroom".


◦

Record videos and view them easily without coming across a black screen.

Explore the vast world of Prasia in 프라시아 전기 (com.nexon.er) without any crashes or graphical glitches.
Fight for honor in Ragnarok Arena - Monster SRPG (com.gravitygamehub.ragnarokarena.aos) and defeat other guilds as you can now play without coming across the "Device incompatible" error message on Google Play.
Unleash your creativity on Instagram (com.instagram.android) in Compatibility mode on BlueStacks 5 as you can now:


◦

Preview new videos without coming across a black screen.


◦

Watch previously uploaded videos/reels without them being inverted.


◦

Capture pictures and record videos while keeping camera inversions at bay.
Play the following games without hitting any graphical snags on BlueStacks 5 Android Pie and Android 11:


◦

That's Not Vampire (com.thatsnotvampire.android)


◦

카발 모바일 with SIA (com.estgames.cabalmkor)


◦

DOFUS Touch (com.ankama.dofustouch)

You can play Isekai: Slow Life (com.iskslowtest.mislen) and Kingdom Maker (com.gww.km) without any hassles as graphical glitches will no longer stop you from succeeding!
Unleash your inner champion as you can play the following games without seeing any error messages:


◦

MIR2M : The Dragonkin (com.wemade.mir2m.thedragonkin)


◦

妖怪ウォッチ ぷにぷに (com.Level5.YWP)


◦

Battlegrounds Mobile India (com.pubg.imobile)


◦

FIFA 모바일 (com.nexon.fmk)


◦

Tower of God: NEW WORLD (com.netmarble.tog)


◦

Minigame Party: Pocket Edition (com.com2us.minigame.android.google.global.normal)
Awaken the creator within Minecraft Trial (com.mojang.minecrafttrialpe)

as crashes will no longer hinder your path!

Crashes will no longer stop you from proving your mettle in the following games:


◦

Project Stars: SEA (com.herogame.gplay.projectstars.sea &
com.herogame.gplay.outerland.wandereruniverse)


◦

Third Person (com.YourCompany.ThirdPerson)


◦

You said give me half of world (com.cyberxgames.herotower2)


◦

takt op. Symphony (com.dgames.g65002002.google)


◦

takt op. 運命は真紅き旋律の街を (com.dgames.g85002002.google)
Dive deep into the rigors of competitive examinations in VedPrep (com.chemacademy) without the app crashing!
Say goodbye to graphical glitches in Revelation: Infinite Journey (vng.games.revelation.mobile) and

embark on an adventure beyond the horizon of sky and sea!

You can view regional languages in WhatsApp Messenger (com.whatsapp) without any inconvenience.
Play 히트2 (com.nexon.hit2) without coming across any "Illegal program has been detected" error message and embark on a grand feast of battles to prove your dominance.
Experience the next generation of soccer gaming in eFootball™ 2023 (jp.konami.pesam) as you can now play the game at 120 FPS after enabling "High frame rate" from BlueStacks 5 settings.
Get ready to swap, match, and crush in Genies & Gems - Match 3 Game (com.sgn.geniesandgems.gp) as the black screen will no longer come your way.

Adventure through the world of Blade & Soul 2 (com.ncsoft.bns219) without any crashes on BlueStacks 5 Android 11.
Released on: August 28, 2023
---
|
App Player Updates
1. Immerse yourself in breathtaking adventures when you play Myth: Gods of Asgard (com.managames.myththor) and Tower of God: NEW WORLD (com.netmarble.tog) as we've polished away any smudges to ensure your gaming journey is nothing short of extraordinary!
Released on: July 28, 2023
---

|

Main Updates
1. You can now quickly find and play popular games from different genres, making it easier than before to expand your gaming library! Navigate to your preferred genre with ease by selecting it directly from your home screen.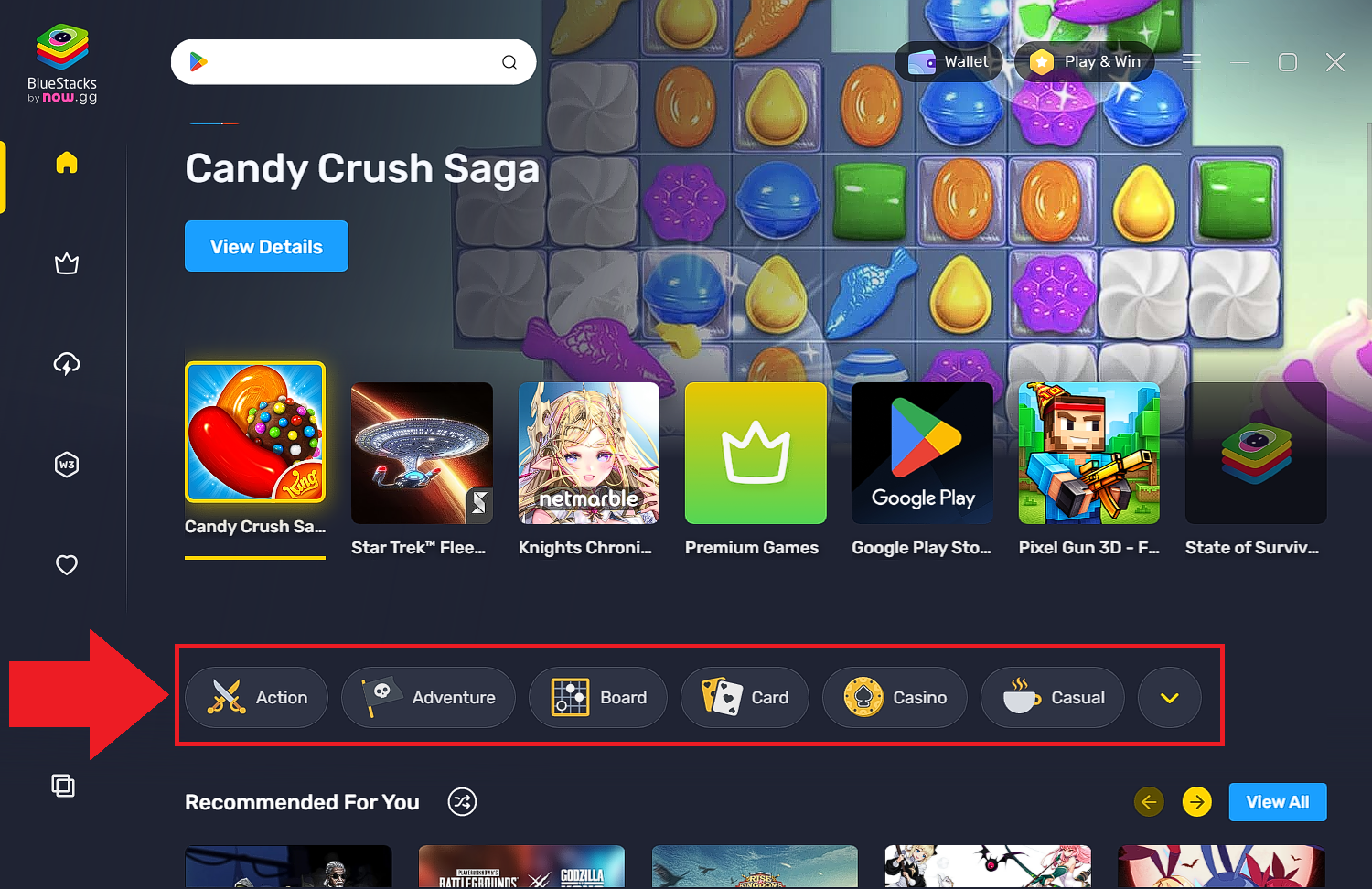 NOTE: This feature is available in certain regions only.
2. You can now easily manage the notifications you receive from BlueStacks Services from "Push notifications" within the Settings menu.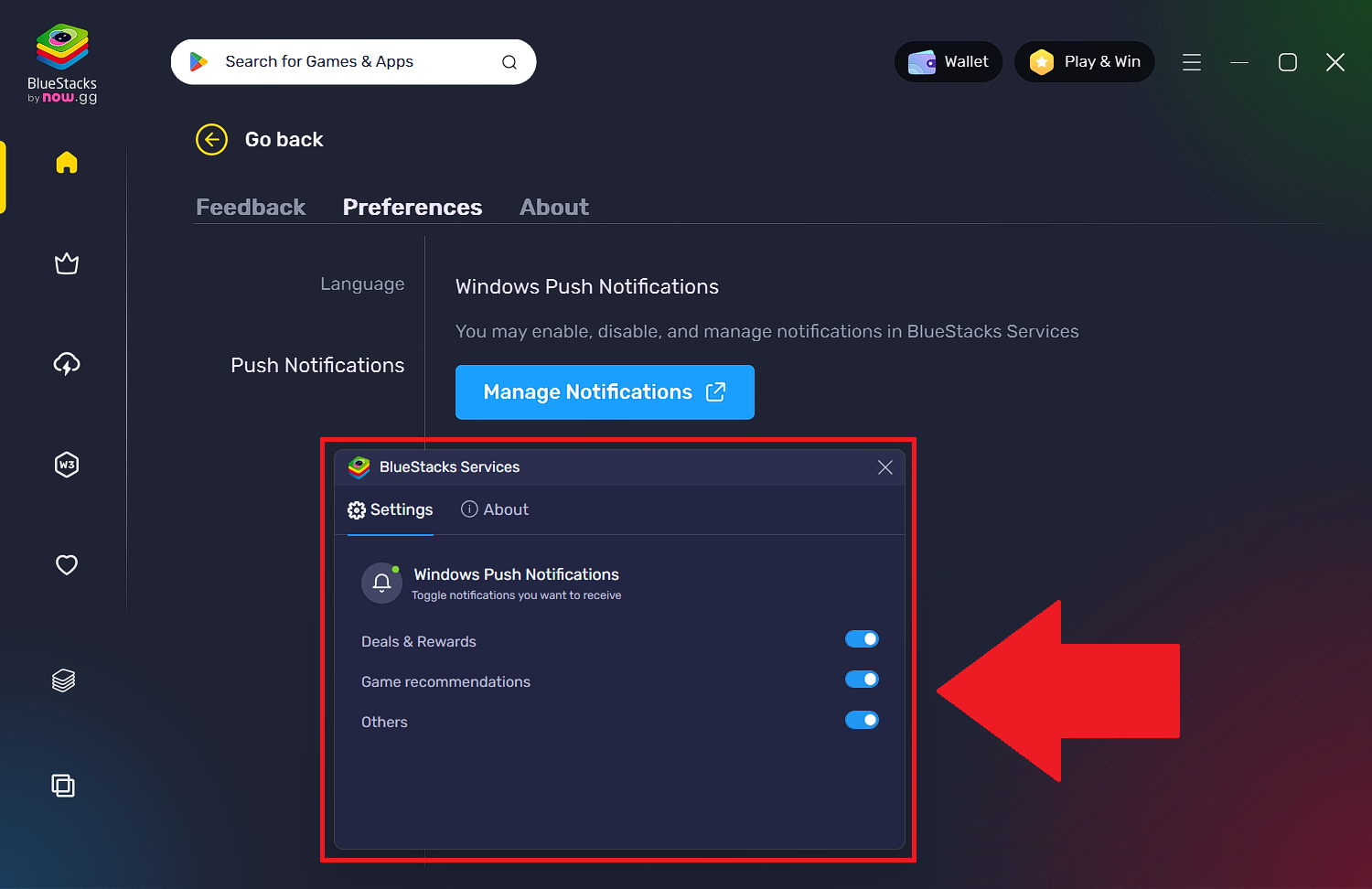 3. The pesky bug interfering with the installation of FIFA Mobile has now been banished! Build your dream team and pave your path to victory!
4. We've made various performance improvements across BlueStacks X to ensure you have a streamlined experience including reduced resource usage in the Instant Play tab.


|
App Player Updates
1. We've straightened out some internal wiring for a more seamless experience in Dragon Nest 2: Evolution (com.proximabeta.dn2.global, com.proximabeta.dn2.taiwan, com.proximabeta.dn2.kr) and 파트롱2:컨트랙트 (com.hnsb.yflhkr.google)!
Released on: July 18, 2023
---