How will this help?
If the game you want to play requires a specific Android version, you can choose it from the different Android versions available on BlueStacks 5 for running your game.
This detailed guide will explain:
---
Which Android versions are available on BlueStacks 5?
BlueStacks 5 lets you create and run the following types of instances:
Nougat 32-bit (default)

: This is the Android Nougat 32-bit version that you can use for playing Android games, such as Free Fire and Call of Duty: Mobile. Most games work on this Android version and it is the default.

Nougat 64-bit

: This is the Android Nougat 64-bit version that allows you to play games that are only available on Android 64-bit, such as Teamfight Tactics.
---
How can I choose the Android version for an instance?
You can create an instance based on an Android version of your choice by using the Multi-Instance Manager. The steps below will guide you on how to do this.
1. Open the "Multi-Instance Manager" from the Side toolbar and then, click on "New Instance", as shown below.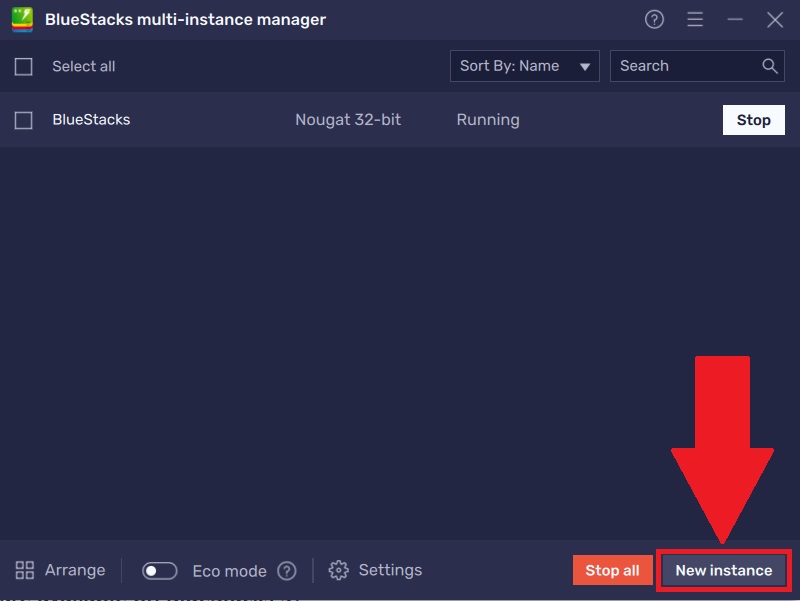 2. Now, select "Fresh instance".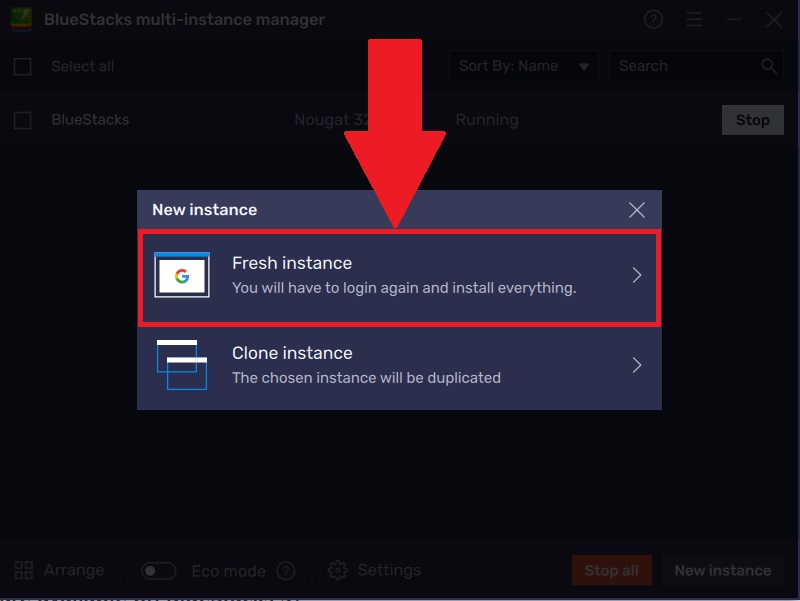 3. The next screen allows you to select the Android version from a dropdown menu, as shown in the image.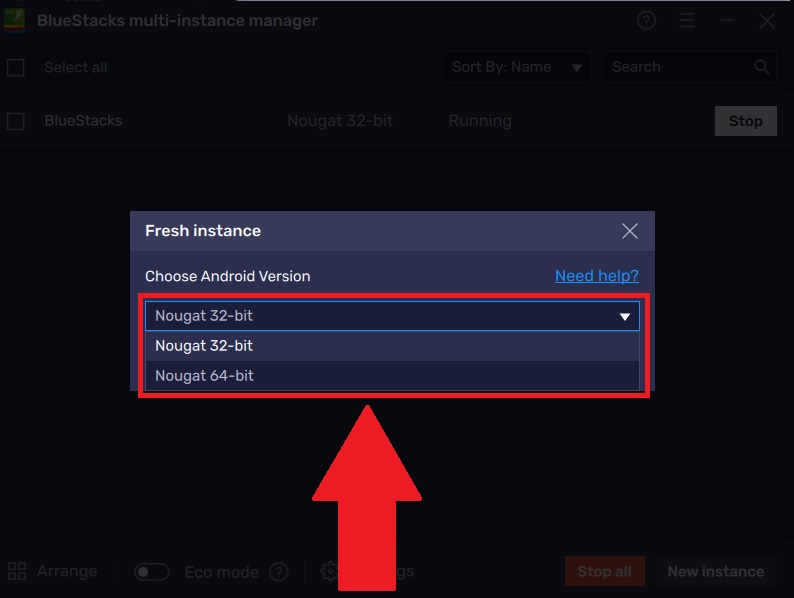 4. If you select a version for the first time, a message will appear asking you to download additional files associated with that Android version, as shown below. Click on "Next" to continue.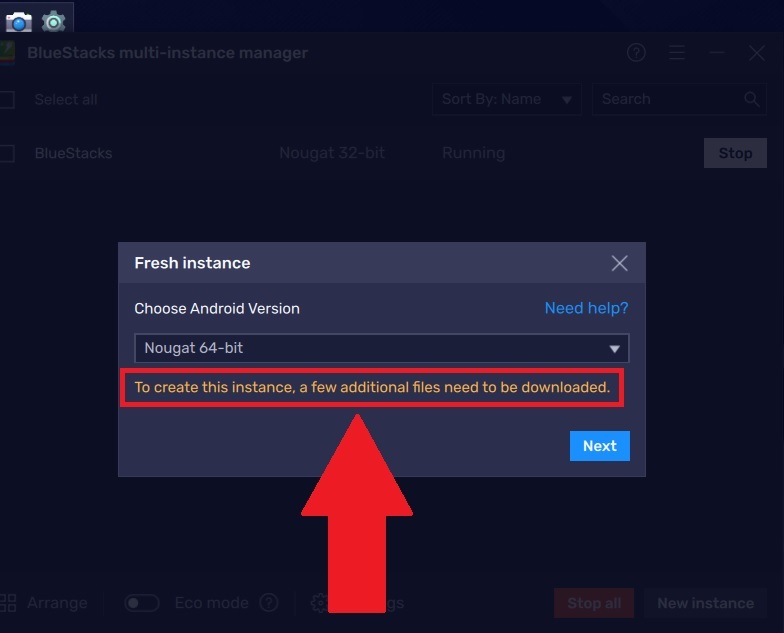 5. Now, you will have to customize the instance as per your preference by specifying the following:
CPU Cores: Specify the number of CPU cores you wish to assign for this instance.
RAM (MB):

Assign the amount of RAM for this instance.
Resolution: Select the resolution for your instance here.
ABI setting: Choose the desired ABI libraries for your instance.
DPI:

Allot a DPI from 160, 240 and 320.
Instance count: You can create one or more instances with the same settings.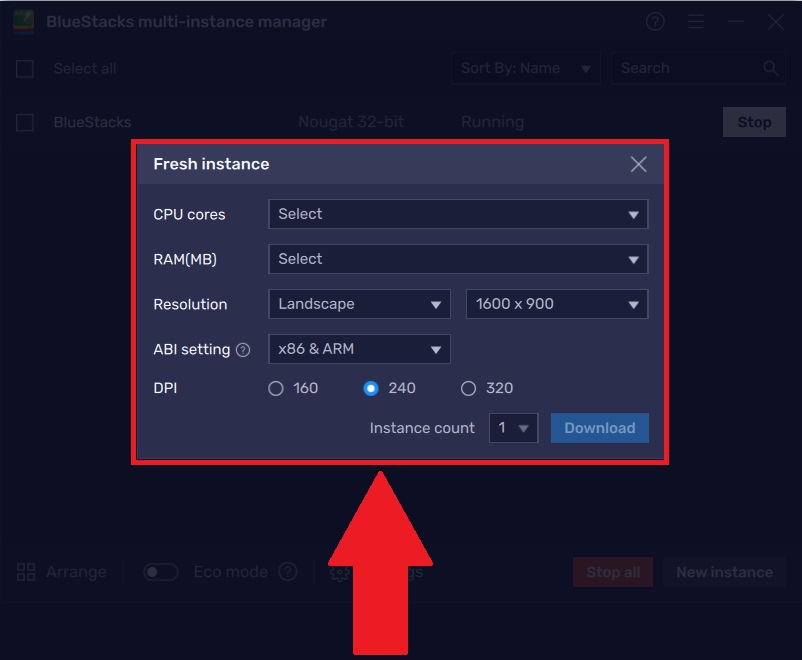 6. Click on "Download" to get the additional files for the selected Android version.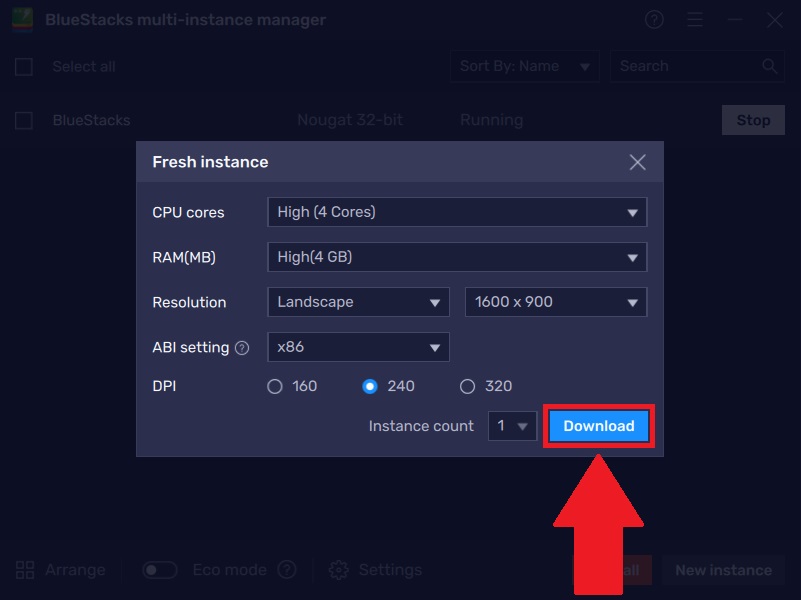 7. The instance you have created will now appear in the Multi-Instance Manager. You can check the download progress here.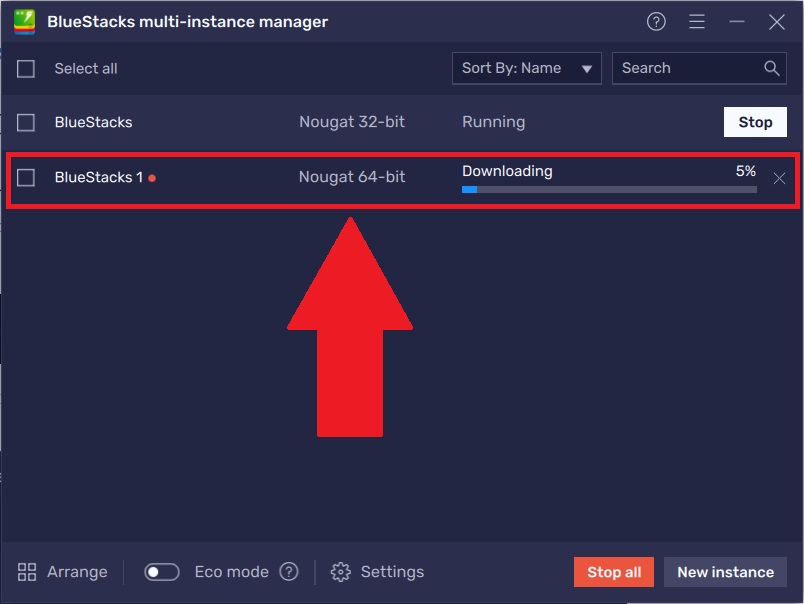 8. If you have already downloaded the additional files in the past, then in Step 6, you will see the "Create" button in place of the "Download" button, as shown below.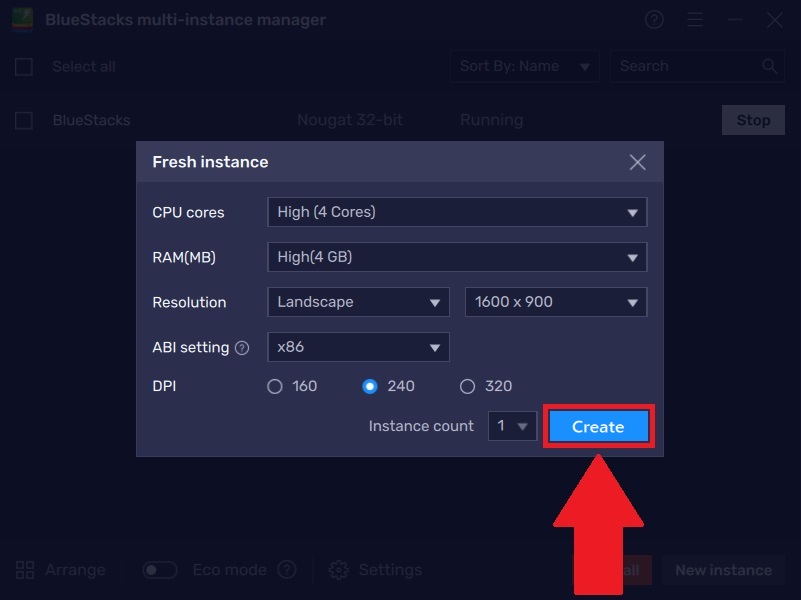 9. The instance you have created will now appear in the Multi-Instance Manager. Click on "Start" to begin using it.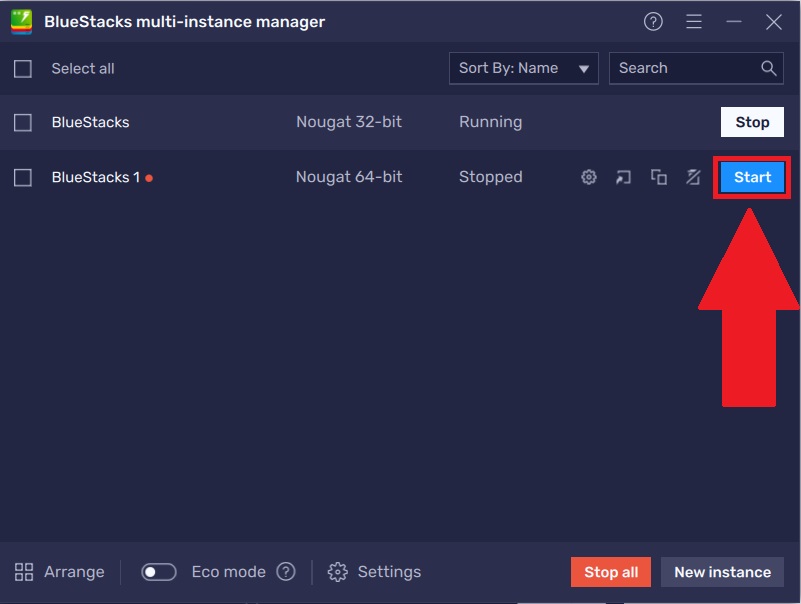 ---
Which games can I play using the different Android versions?
Nougat 64-bit: Here are some examples of games that can be played only on 64-bit Android version:
Teamfight Tactics (

com.riotgames.league.teamfighttactics)

Tera Hero (com.redsahara.terahero)

Rangers of Oblivion (com.gtarcade.lhjx)

KarDia tou ABel (com.r2.myrzx.kr)

Alchemy Stars 백야극광 (com.tencent.baiyeint)
Nougat 32-bit: Supports almost all popular games and is the choice by default.
Free Fire (com.dts.freefireth)
PUBG: Mobile (com.tencent.ig)
Call of Duty: Mobile (com.activision.callofduty.shooter)
Rise of Kingdoms (com.lilithgame.roc.gp)
NOTE: Since there are numerous apps on Google Play Store, the names above are just a few examples. There might be many more apps that are supported on these versions but not mentioned in the list.
---
Have some questions?
Q. What advantages do I get from choosing between Nougat 64-bit and Nougat 32-bit instances?
A. You gain the flexibility of being able to play games designed for Android 64-bit and Android 32-bit.
Q. Can I run both Nougat 64-bit and Nougat 32-bit instances at the same time?
A. Yes. You can run any combination of instances, 32-bit to 64-bit at the same time on BlueStacks 5.
Q. My laptop/PC has low/average specs. How many instances is it recommended I run at a time?
A. Running numerous instances can affect overall performance. We recommend limiting the number of instances running at one time.
---
Thank you for choosing BlueStacks. We hope you enjoy using it. If you have any further questions, please contact us at support@bluestacks.com. Happy Gaming!