BlueStacks version 5.1.110
Play the official emulator version of King's Raid (com.vespainteractive.KingsRaid) on BlueStacks 5 for an enhanced gaming experience.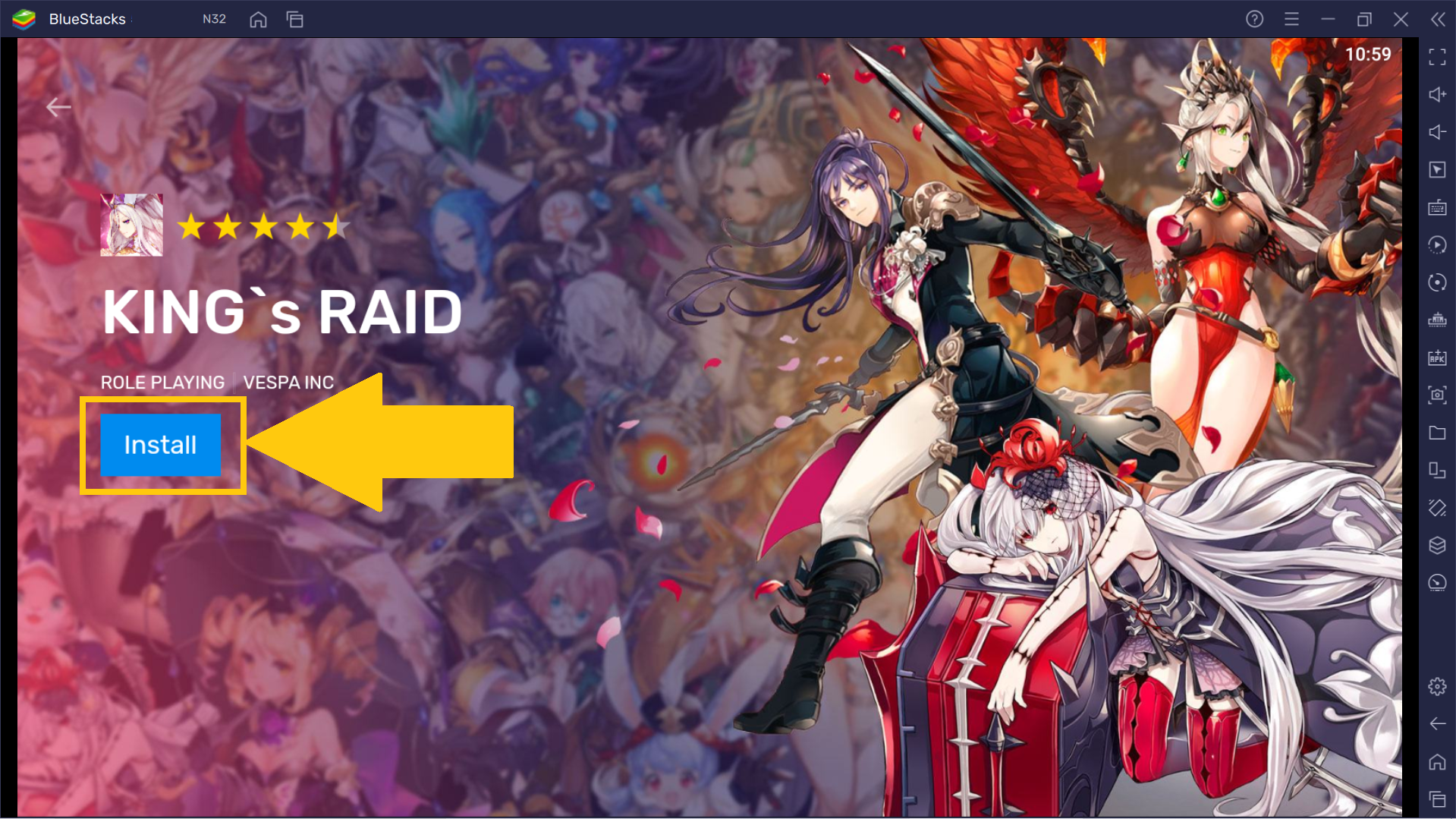 You can install the official emulator version for King's Raid from the "Popular games to play" section on your home screen. Alternatively, you can also download this version from the topmost section of the Game Center. To learn more, click here.
Released on: July 19, 2021
---
BlueStacks version 5.1.100
1. You can now experience optimum performance for your favorite games, reduce the memory usage or keep a balance between the two by simply switching between built-in performance modes.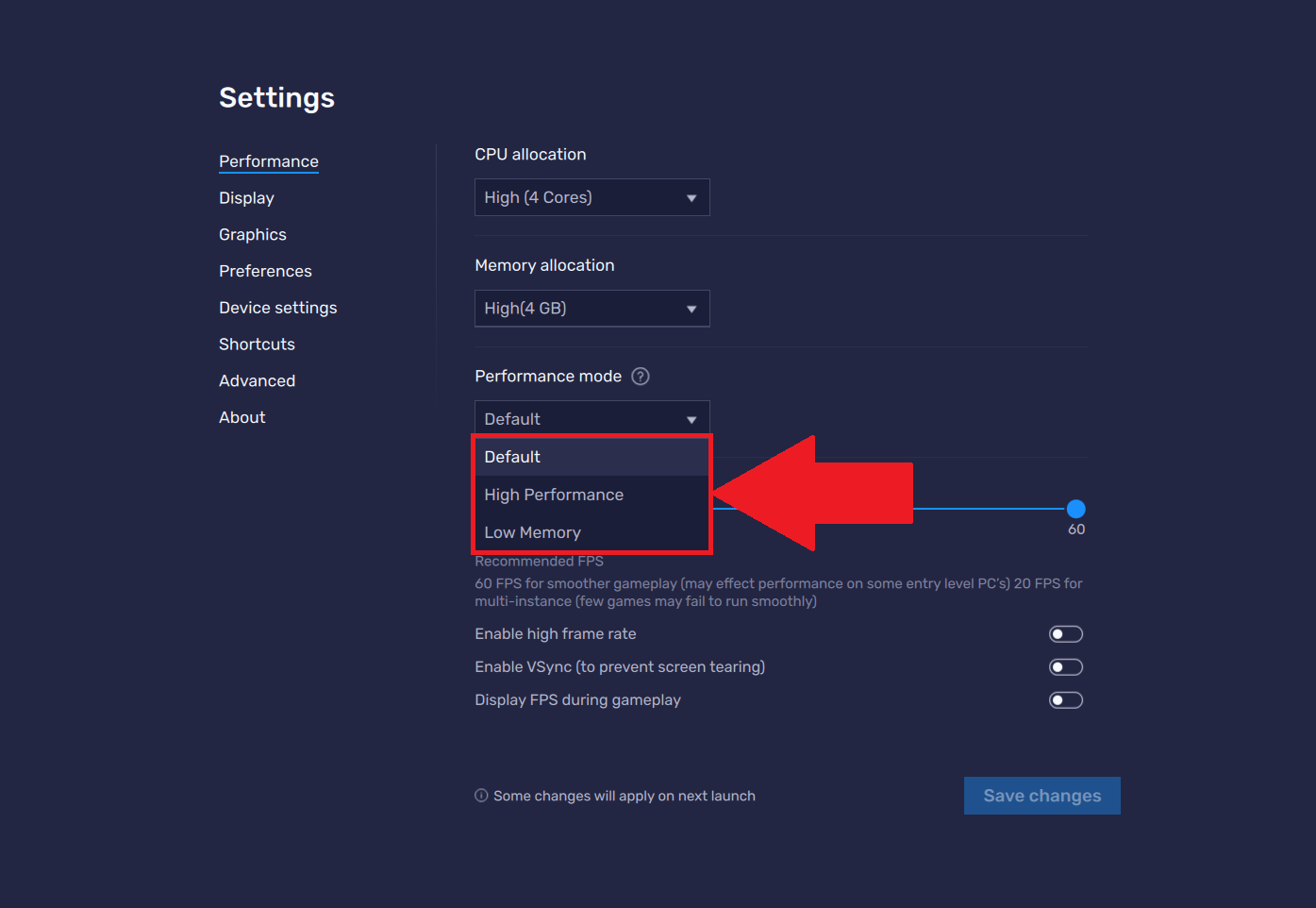 2. You can now play Honkai Impact 3rd (com.miHoYo.bh3global, com.miHoYo.bh3oversea, com.miHoYo.bh3rdJP) on BlueStacks 5 using your gamepad. You can do this by simply connecting your gamepad to a USB port and then launching BlueStacks 5 to start playing the game.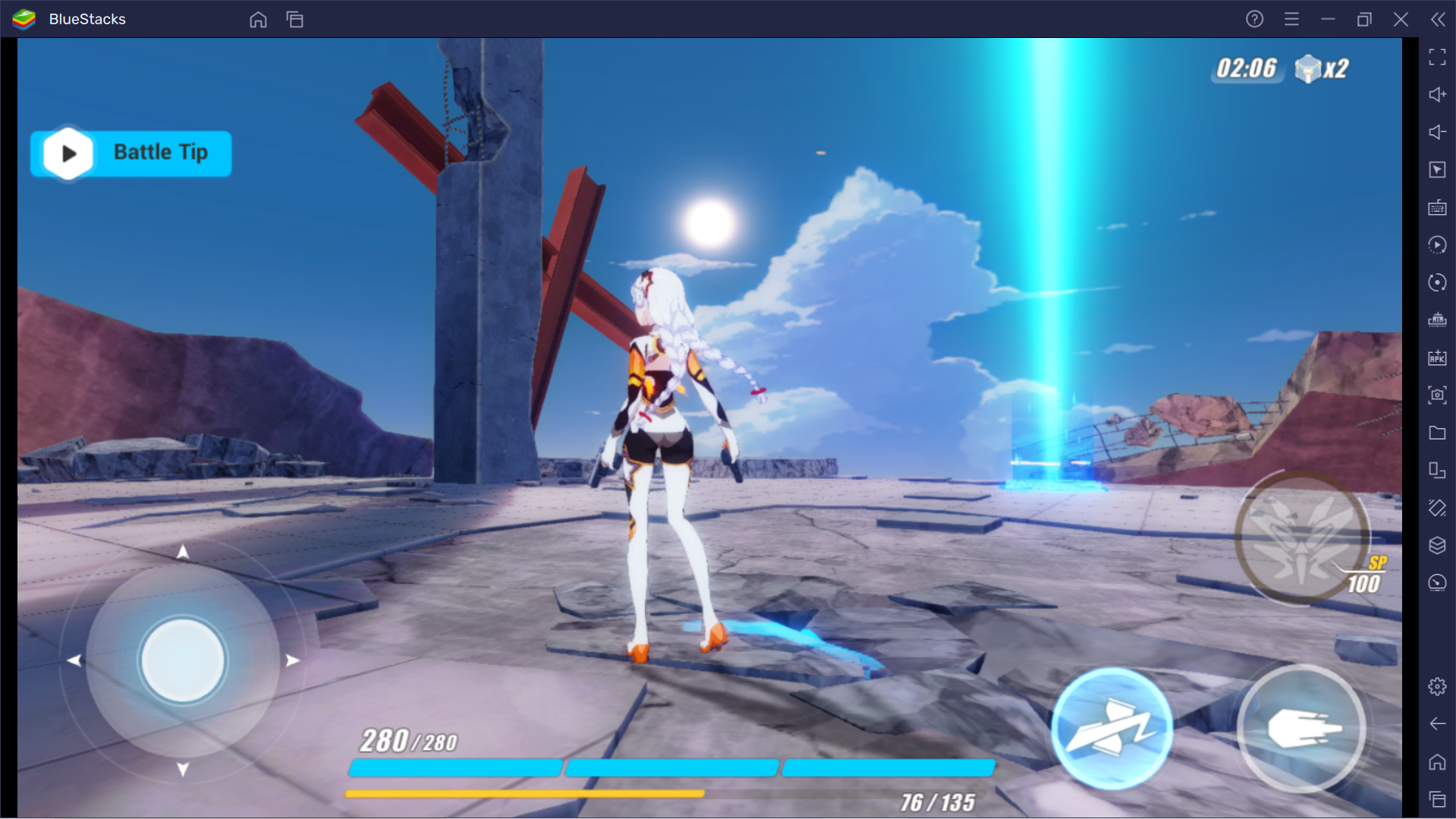 To learn more about playing Honkai Impact 3rd with your gamepad, click here.
3. Play Punishing: Gray Raven (com.herogame.gplay.punishing.grayraven.kr/tw/jp) using your gamepad with BlueStacks 5, the official PC partner of the game.
To do this, simply connect your gamepad to your PC through USB and then launch BlueStacks 5 to begin playing.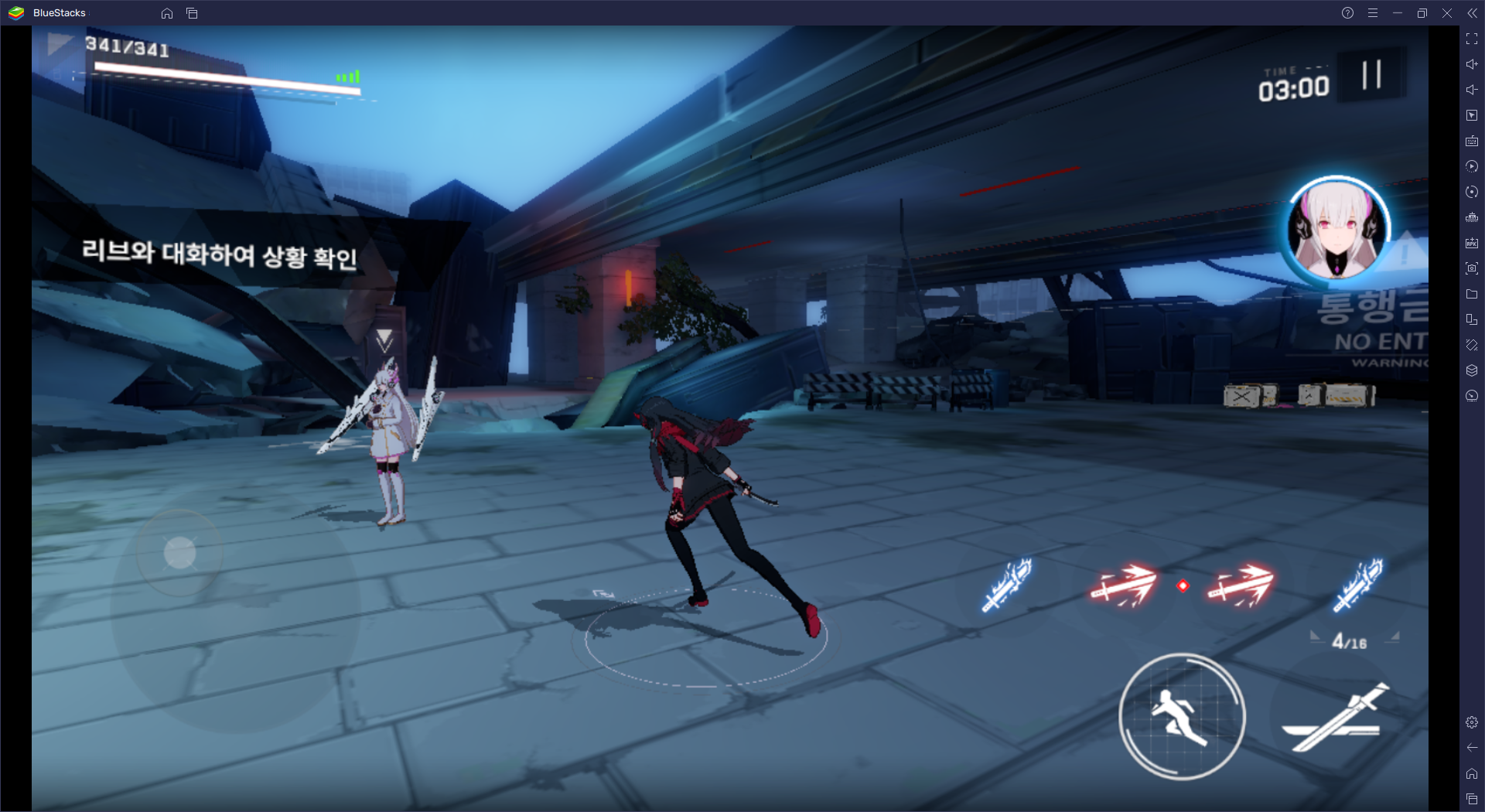 You can learn more about playing Punishing: Gray Raven with your gamepad by clicking here.
4. You can begin using your apps much faster than before as BlueStacks 5 will launch up to 40% faster due to several optimizations that we've made in this version.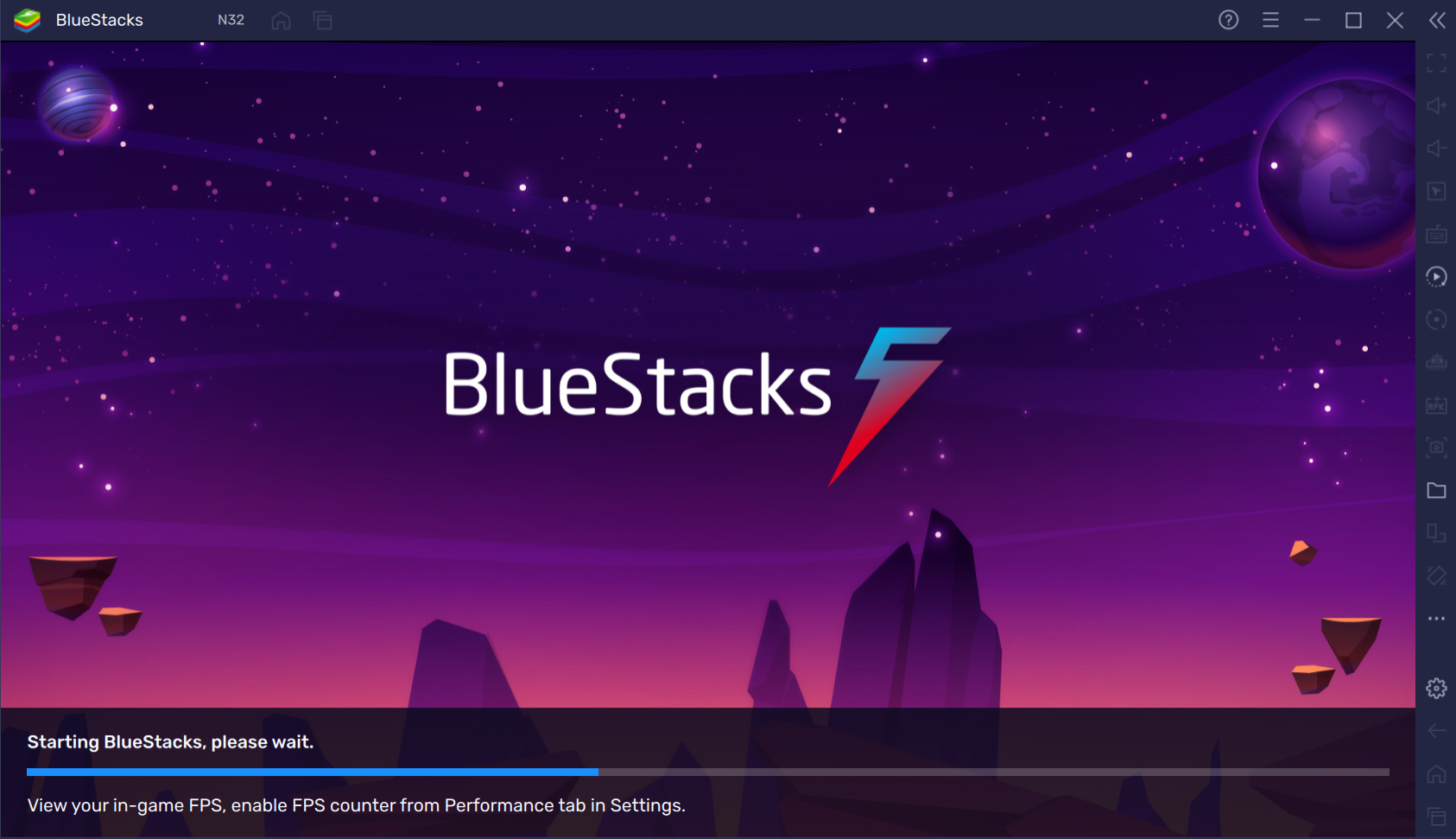 Bug Fixes
1. You can now launch and play Free Fire (com.dts.freefireth) on BlueStacks 5 Nougat 32-bit without getting stuck on a black screen for a long duration! Get ready to dominate the competition in no time.
2. You will now be able to open and use iAM48 (app.bnk48official) without facing any issues such as its app icon disappearing.
3. You can now play Sim Empire (com.trueknownewgame.ec2) without facing a black screen! All pesky issues have been ousted from your Empire!
4. You can now play KartRider Rush+ (com.nexon.kart) without facing any error messages at launch on BlueStacks 5 Nougat 64-bit. Now, leave all other racers far behind!
Released on: July 12, 2021
---
BlueStacks version 5.1.0
With this version of BlueStacks 5, you can do a lot more than you could with earlier versions. Take a look below to get started with everything that's new and improved.
1. You can now coordinate gameplay across multiple BlueStacks 5 instances using "Sync Operations". You can automatically replay gameplay, touch and keystroke/typing actions from your primary instance on other active instances of BlueStacks 5 you have selected using "Sync Operations".
2. You can always keep the BlueStacks 5 window above all other applications running on Windows using "Pin to top". This allows you to play games on BlueStacks 5 and multi-task on other activities such as watching videos side-by-side, without having to switch between tabs.
This lets you be aware of everything happening inside your game, even while performing other activities. For example, if your village in Rise of Kingdoms is attacked while you're watching a video, you will see it immediately and you can quickly fight off the enemy.
3. Now, you can access all the tools from the Side toolbar and more, using shortcut keys to:
Enter or exit fullscreen.
Access the Settings menu.
Increase/Decrease the volume.
And do much more!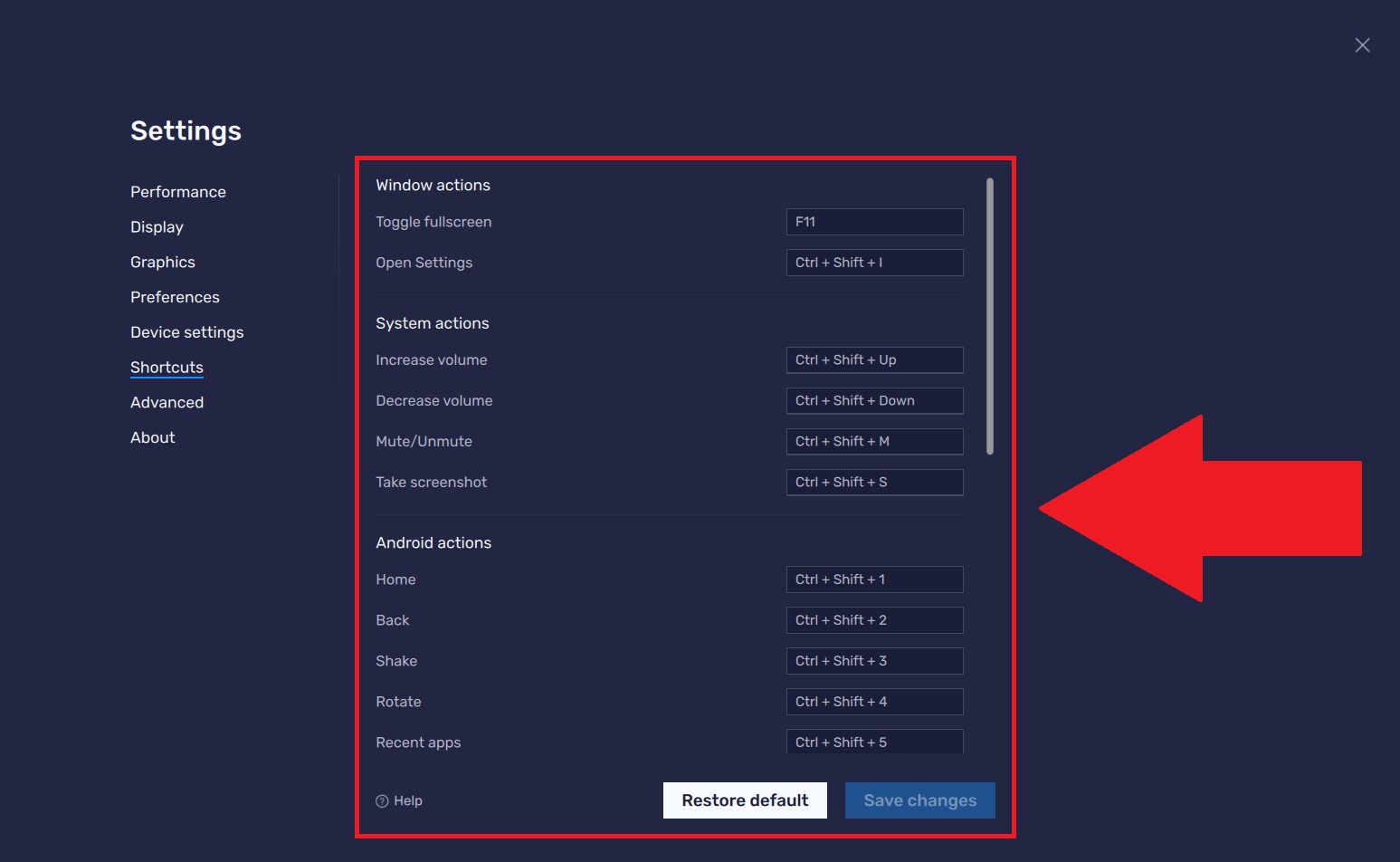 You can view and edit all these shortcuts keys from the "Shortcuts" tab in the Settings menu. However, if you just wish to see the shortcuts for the tools in the Side Toolbar, you can simply hover your cursor over them.
4. You can now have desktop shortcuts for all apps installed on BlueStacks 5 or on any of your preferred instances. You can even recreate the shortcuts that you may have deleted for any of your apps.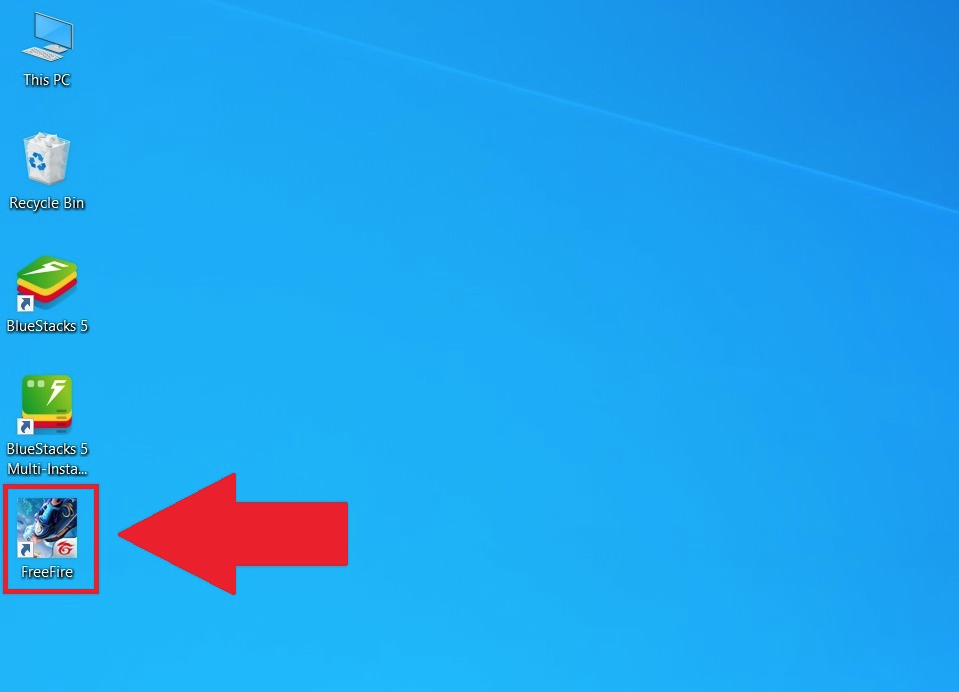 5. On your Ultrawide resolution monitor, enjoy an increased field of view (FOV) in different games using BlueStacks 5. You can select this resolution to:
Make BlueStacks 5 fit perfectly on top of 21:9 ultrawide monitors.
Enjoy an increased field of view (FOV) in different games. For example, in Mobile Legends: Bang Bang, this will allow you to see your enemies earlier and quickly anticipate their attacks, giving you more control over team fights.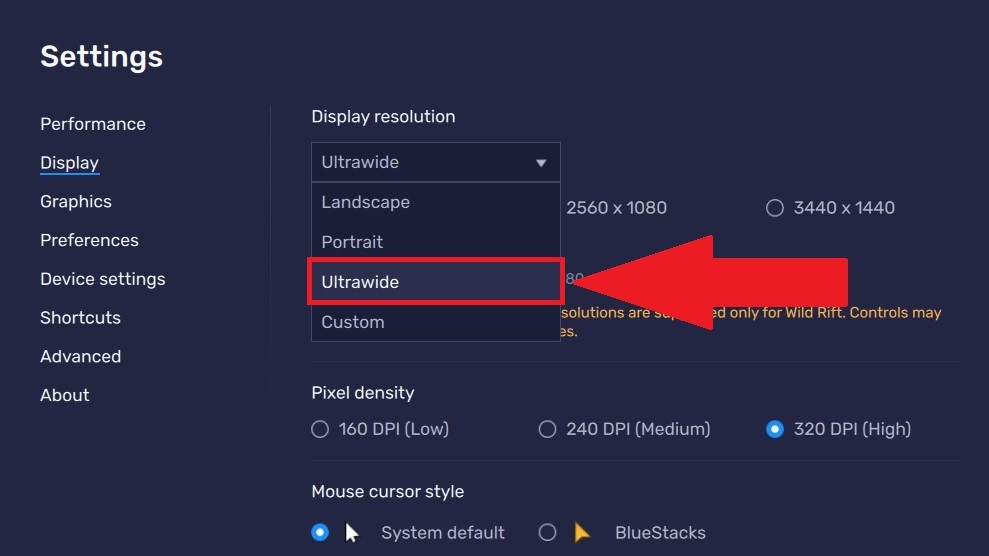 If you face any issue with the key controls for an app while on ultrawide resolution, you can simply edit or make new key controls using the Controls Editor.
6. You will now experience an even faster launch time for games such as Free Fire and Cookie Run: Kingdom. Your CPU usage for games like Cookie Run: Kingdom will now also be further reduced, thanks to several enhancements that improve the overall performance of BlueStacks 5.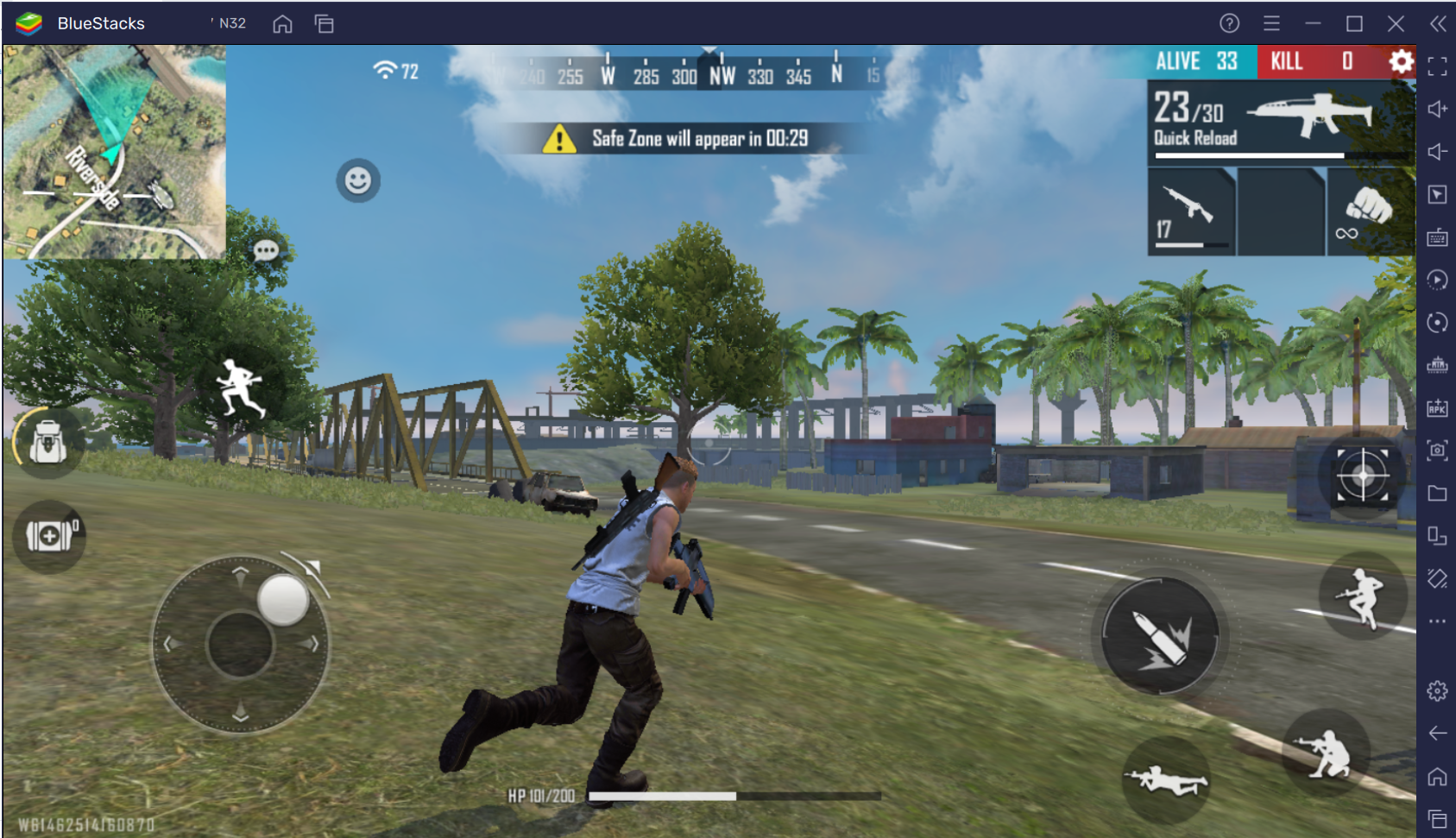 These performance enhancements have also significantly increased the benchmarking score for BlueStacks 5 using Geekbench.
7. You can now "Shake" BlueStacks 5 from the Side toolbar for performing different in-game actions that require you to shake your device. For example in games like War and Order, you can now use the "Shake" feature to collect different resources.
8. Choose from two different styles available for the mouse cursor in BlueStacks 5. Either, select the classic white cursor or the zippy new orange cursor!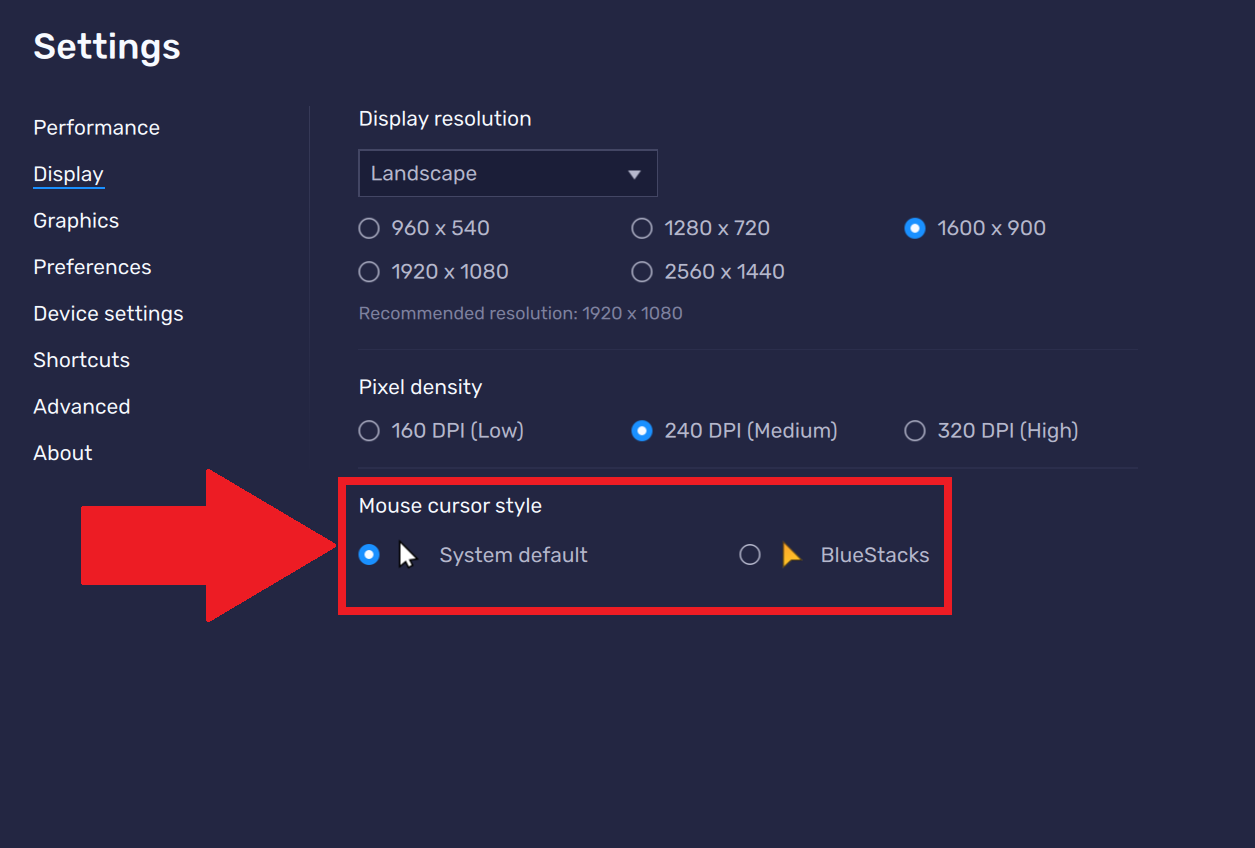 Bug Fixes
Your number keys on the right-side of the keyboard (commonly know as Numpad keys) will now function properly when you assign them to perform different in-game actions.
Enter the fantastical world of Honkai Impact 3 (com.miHoYo.bh3oversea) on BlueStacks 5, where you won't face any crash or graphical issues.
You can now play AnimalTower Battle (jp.planet12.AnimalTowerBattle) without facing any flickering graphical issues! Now, take your tower to great heights with ease!
You can play Cash Frenzy™ Casino – Free Slots Games (slots.pcg.casino.games.free.android) without facing any black screen issues in the game. The game will now also switch between both portrait and landscape mode without any issues.
Play ステラメイデン ~リフレクスター~ (com.gholdings.stella) without facing a crash at launch! Defend the universe in this breathtaking RPG adventure.
Buy whatever your heart desires from Amazon (com.amazon.venezia) on BlueStacks 5 in both portrait or landscape mode.
Play 슈퍼스트링 with NAVER WEBTOON (com.fg.ssaos) without any graphical issues on BlueStacks 5 for Nougat 64-bit by simply selecting "Compatibility Advanced mode".
You can play Gardenscapes (com.playrix.gardenscapes) on BlueStacks 5 without any black patches above the in-game font by selecting "Compatibility Advanced mode". We won't let anything taint your beautiful garden!
Spread your gameplay over BlueStacks 5 multiple instances and play without any worries of experiencing a blue screen. We have resolved the BSOD issues some of you were facing while using multiple instances of BlueStacks 5.
Play チェインクロニクル チェインシナリオ王道バトルRPG (com.sega.chainchronicle) without facing any issues. Venture into this epic saga for the adventure of a lifetime!
You can play Homescapes (com.playrix.homescapes) without any black patches appearing in the game by selecting "Compatibility Advanced mode" on BlueStacks 5. We've cleaned out all the black spots from your glorious mansion with our mighty mop!
You can now change your character image in State of Survival (com.kingsgroup.sos) without facing freeze issues in the game. Display your most epic persona to all other survivors!
TikTok (com.zhiliaoapp.musically) will not freeze or show a black screen on PCs without a camera, when you click the + button within the app.
While playing ピグパーティ~着せ替えゲームでかわいいアバターを作ろう。ピグパでかわいいデザインのアバターに着せ替え (jp.co.cyberagent.miami) on BlueStacks 5, you won't face a black screen upon trying to link your Twitter account to the game.
---
Released on: June 30, 2021